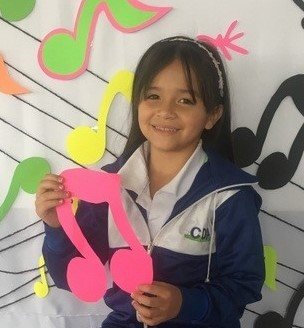 When you provide a desk for students studying in the CDA God is Love Schools in Colombia, you lift them up, inspire them to dream and study hard, so they can break free from the cycle of poverty.
We would like to introduce you to one of those students. Ashly is a very loving, responsible and collaborative girl. Her favorite hobby is to watch television. Her favorite colors are purple and pink and she likes very much to eat soups.
Ashly currently lives with her brother Daniel (13 years old) and her parents Jhon (33 years old) and Yuri (31 years old), who have lived in common-law marriage for 14 years. Her father works as a security guard. His schedules rotate from Sunday to Sunday. With their financial incomes, they cover basic daily necessities such as rent, food, education, transportation, clothing, bank loans, among others.
Ashly shares quality time with her family. During free time they like to go to the church, go to the cinema and watch soccer games and films. In her spare time, she enjoys doing her homework. The intra-family relationships are very caring, with healthy communication between family members. Ashly would like to spend more time with her parents, but the working hours for her parents are long.
The house in which they live is taken for rent. It has four-stories. Her family lives on the first floor. There are two bedrooms, a living room, kitchen, bathroom and yard.
Ashly dreams of becoming a veterinarian because she is passionate about animals. Her parents´ dream is that Ashly becomes a professional and continues her love of God.
With your support, Ashly is receiving an amazing, holistic, Christian education. Thank you so much for your generous heart.