Project Report

| Feb 28, 2019
David's resilience: a Venezuelan migrant in Mexico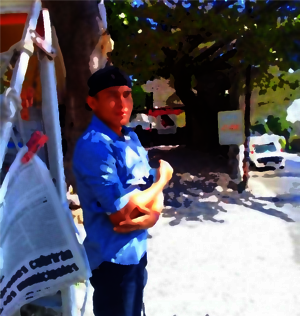 David is a 21-year-old Honduran who arrived in November 2018 to Mexico. At the beginning of December he arrived at the Centro de Derechos de las víctimas de la violencia "Minerva Bello" (Human Rights Center of violence victims "Minerva Bello") in Chilpancingo, Guerrero, where he stayed to live. Thanks in part to the donations received through GlobalGiving platform, 3 months later David has a permit from the Instituto Nacional de Migración (National Migration Institute) that legalizes his stay in Mexico, a job and plans to enroll at the local public university.
"Right now, my country's situation is very difficult […] there are many problems… there is too much poverty […] the people who do not "go" where "they" want, they only kill them […] at the end, where I was living, I couldn't even study […] "they" wanted me to do things I didn't want […]. Then, since my family, almost all of it, is not in my country, I decided to migrate to another country. First I was going to the United States because I have my aunts there, but looking at the situation of so many people migrating, I found the people of Centro Minerva".
Then David changed his mind about Mexico, and after, his plans.
"Here in Mexico it's not like I thought it was [...] it motivated me how the country receives you, even though you're so many, people are always looking for a way to help you... I decided to stay in Mexico, mainly in Guerrero because Father José told me that they could give me support. [Centro Minerva's people] support me so that I myself [get ahead], they are making me do good, got me a job, give me where to live, so I can make an effort, work harder [...] and even I am getting papers".
At the beginning of December 2018, David began his procedures to request political asylum. At the end of January 2019 he obtained a provisional permit from the local Migration Institute delegation that accredits him as a visitor and allows him to work and study in the country.
"[Today] I'm working in a barbershop, cutting hair... I did a course, I passed it and today I work from 11 in the morning to 8 at night, daily, from 1 month and 1 week ago. I feel good right now, I do not earn much or little [...]. [Also] I am in the process of whether I can revalidate the classes or I have to start the U again. In Honduras I was studying law."
In a few months, David hopes to enroll in the Law Degree at the Universidad Autónoma de Guerrero.