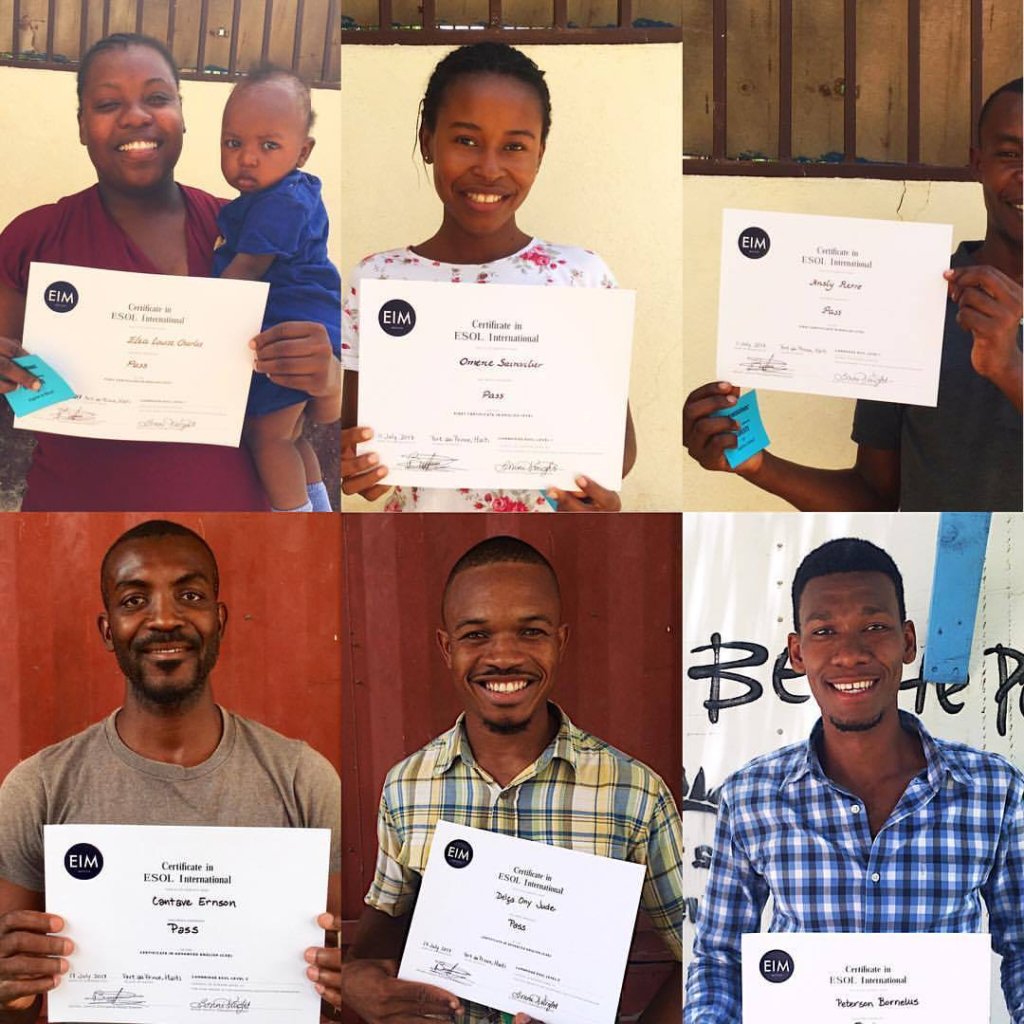 Thanks to your amazing generosity the English in Mind (EIM) Institute in Haiti is celebrating the end of an incredible academic year.
Like our last project report we asked EIM's International Director, Steph, to provide an update from Port-au-Prince. Here's what Steph had to say:
"EIM's 2016-17 school year is officially finished – and what a year it was!
On the academic side, we had a killer exam season this year, which included adding six new graduates to our growing list of alumni. Congratulations to Elza, Omene, Ansly (sorry about the cropped pic!), Ernson, Ony, and Peterson.
Although they've now finished our highest level class, we'll still actively support them all to improve their resume and interview skills. We'll also network with our in-country partners to help our grads find as many employment opportunities as possible.
On the organisational side our teachers in training, Omene and Jure, did an amazing job this year. In recognition they'll soon be promoted to full-time teachers when the next academic year starts in the fall.
We also welcomed in a new Advanced 2 teacher towards the end of the year. Lepty has spent extensive time in the States, and his modern teaching style has been a hit among his students. We're thrilled to have him with us moving into 2017-18.
Our women also continued to excel this past year! When EIM began only 15% of our student body were women. Unfortunately, this number reflected common male / female gender representation in education and employment in Haiti.
But, after our intentional work to change this, such as by admitting more female students, hiring female teachers and starting women's only classes to help with retention, we're proud to announce that a full 45% of our student body are now women!
We hope to make it even in the coming year.
Lastly, after our recent admissions process in July, we're excited to soon be welcoming 80 new students into our community, who will begin classes in September. We're looking forward to getting to know them and watching them advance through the program like this year's graduates.
In the future, once our new school campus is complete, we'll be able to accept far more than 80 new students each year. To learn more about our construction plans, and find out how you can help, shoot me an email at info@englishinmind.org"
We're delighted to see EIM thriving in this way and we want to thank you again for your incredible donations in support.
Again if you have any questions about EIM's plans or work then please don't hesitate to email Steph at the address or above, or me using Andy@IDVolunteers.org.
For more updates about IDV's work please like us on Facebook or follow IDVMedia on Twitter. You can also email Andy is you would like to be added to our direct mailing list.