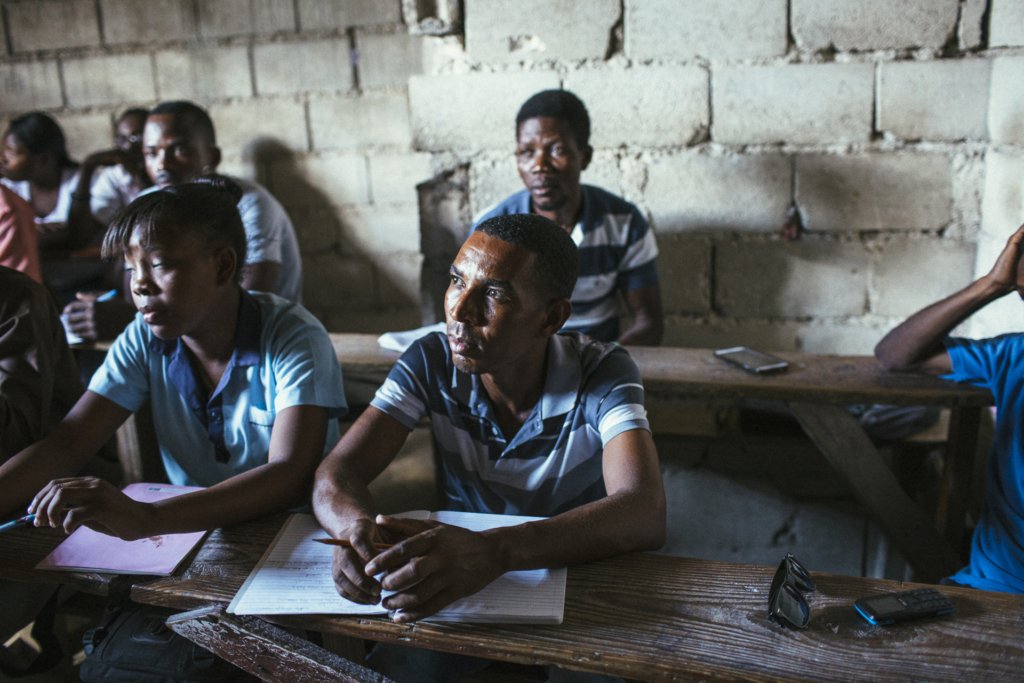 Thanks to your incredible support the English in Mind (EIM) Institute in Haiti is continuing to go from strength to strength.
For this report we asked EIM's International Director, Steph, to provide an update. Here's what she had to say:
"We're halfway through the academic year here at EIM, and our students and staff are hard at work!
At the start of year, in September, we expanded to offer a total of eight classes, serving 230 students. In order to accommodate everyone we've had to get a bit creative with scheduling, but so far everyone's helping to make it work.
We're also delighted to have retained more female students than ever, and now have a 60/40 ratio of men to women. Our plan of separating beginner students by gender seems to be working, and we're hoping to be at 50/50 soon!
Earlier this month we also welcomed EIM's Education Advisor Bonni to Haiti for two weeks of teacher training. Bonni is a retired French teacher from the USA with thirty years of experience. Her role in helping our teachers adopt best practices has been invaluable over the years, and this visit was no exception. Thanks Bonni!
We've also started our planning for the summer exam period. Every July our students take one of four official Cambridge exams that test their skills in reading, writing, listening and speaking. The stakes are high as those who pass will move up a level and start a new class at EIM come September.
The exams are tough for both students and staff. So, this year we're extremely grateful to have a group of eight returning volunteer teachers visit to help us revise and administer the exams. The additional support will allow us to cut the time needed in half – from one month to only two weeks!
Lastly, we're pleased to continue offering our 10-day volunteer trips, with our newest group arriving on March 3. These trips employ EIM students as guides and generate profits that are folded back into the school to help make EIM more sustainable and less reliant on foreign donations. Interested in joining us? Check out EIMAdventures.com, and thanks so much"
We echo Steph's thanks - your support over the years has been critical in turning informal language exchange sessions into a fully fledged English school with a sustainable business attached! But the journey isn't over, and your ongoing generosity continues to make a huge difference every day.
As always, if you ever have any questions, please don't hesitate to email Andy@IDVolunteers.org or Steph@Englishinmind.org, both of us are always happy to provide direct updates.
For more updates about IDV's work please like us on Facebook or follow IDVMedia on Twitter. You can also email Andy if you would like to be added to our direct mailing list.