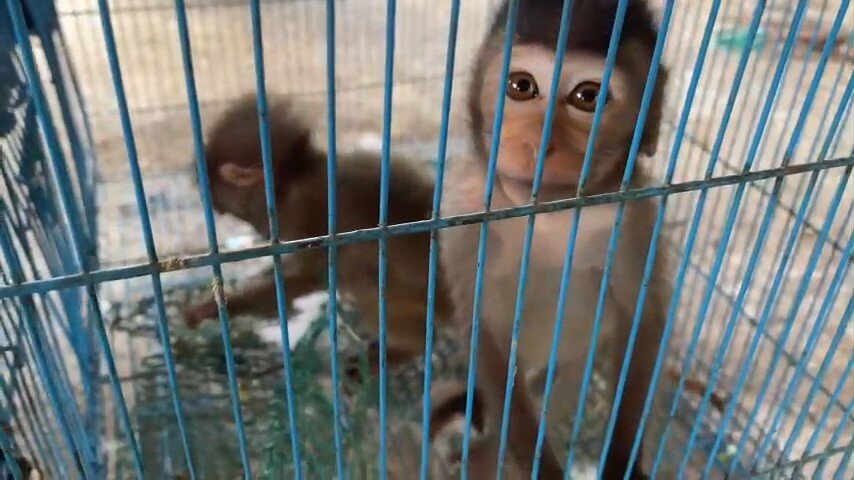 ENV has continued to see measurable progress towards ending Vietnam's illegal wildlife trade since this vital campaign started in December 2020. Two years on, from January 2021 to September 2022, we have handled 6,303 wildlife crime cases, including 319 trafficking cases, 4,469 retail selling and advertising cases, and 1,549 cases involving illegal possession of wildlife.
In total, there have been more than 3,050 live wild animals confiscated and transferred out of the illegal wildlife trade in the same period, to be safely rehomed to a rescue center or released back into the wild. The species included 321 macaques, 48 Asiatic black bears, and 36 tigers, amongst hundreds of other species.
In November 2022, our Wildlife Crime Unit was especially busy with success cases, with there being more than 270 live wild animals rescued from the illegal wildlife trade! We look forward to sharing the stats for the full year as 2022 comes to its end.
The movement to end the exploitation and trade of wild animals is a cumulative effort, with every success leading us closer to eradicating the illegal wildlife trade. Twenty years ago, we didn't have the strong actions we see today from both law enforcement agencies and the public in protecting wildlife. With sustained and consistent efforts, we will continue to make progress to realize a Vietnam where wildlife protection is the norm. On the road to get there, we will continue to update you on recent news from the field.
Some key cases in the third quarter of 2022:
Following ENV's information, Hanoi Environment Police confiscated two rhino horn pieces, weighing more than 2 kg in total. Two men were arrested, and police later searched one of the subjects' houses, finding more pieces of rhino horn. A third subject involved in the case was later arrested.
215 birds were seized from an online trader in Ca Mau, following a report to the ENV Wildlife Crime Hotline. The species included 128 spotted doves, 64 white-breasted waterhens, 19 Eurasian moorhens, and four greater coucals. The subject was fined VND 11,250,000 for advertising and keeping wildlife.
ENV received a report from a member of the public about an online trader who was advertising pangolin scales on Facebook. After further investigation, police successfully confiscated 250 g of pangolin scales from the subject.
Police raided two separate apartments and seized a total of 123 wine bottles containing wildlife such as common cobras, tokays, Chinese cobras, many-banded kraits, greater coucals, deer, water monitors, banded kraits, common rat snakes, and Indochinese rat snakes. Two subjects were arrested.
An Asiatic black bear was confiscated from a house in Truc Ninh district by authorities following a report to the ENV Wildlife Crime Hotline. The bear had been in captivity for more than 17 years before being reported. It was subsequently transferred to Vietnam Bear Rescue Center.
Cao Bang authorities inspected a truck and seized 14 live macaques. The truck driver claimed to have been hired to transport the macaques from Cao Bang to Hanoi.
12 live rhesus macaques were confiscated by authorities in Trang Dinh district from a vehicle that was headed to the Chinese border via Cao Bang province. The driver of the vehicle was fined VND 17,500,000 while the macaques were transferred to a rescue center at Cuc Phuong National Park.
Online supplier arrested following an evidence package supplied by ENV to the Ninh Thuan Environment Police, leading to the seizure of 27 bear claws, 87 suspected tiger claws, nine suspected tiger claw tendons, and 24 tiger skin wallets.
Following ENV's internet crime reduction campaign, we sent information to Soc Trang FPD, resulting in the confiscation of a juvenile sun bear and a juvenile Asiatic black bear, as well as a Germain's langur and an otter. The initial advertisement was for the bears, while the langur and otter were found on the property during the search.
Policy and Legislation Team
Another prosecution training was held in July, this time in Dak Lak province. There was the participation of 33 judges from Dak Lak Provincial Court, and 15 from district and city-level courts. This was the first prosecution training that ENV has held in Dak Lak Court, and it was an opportunity to share insights from our team on how to most effectively handle wildlife crime cases using wildlife protection and other relevant laws.
A media workshop was held in Hanoi in September, featuring the proposal of a "clean list" of wildlife that can be commercially farmed in Vietnam. As opposed to a list of prohibited wildlife, a list of permitted wildlife makes it clearer what can be bred, thereby making the monitoring and regulation of facilities an easier task. The list would exclude any species that are endangered, do not breed or grow well in captivity, or who's breeding would be harmful to wild populations of the species. The workshop resulted in 29 news articles and was featured in 2 TV segments, generating interest and discussion around the "clean list" proposal.
Key prosecution and punishments:
5-year sentence for the leader, and 18 months and 15 months for the other two subjects involved in transporting and possessing 59 kg of antelope horns and 90 kg of Sunda pangolin scales in Quang Ninh province, following the trial in September 2022.
Also in September, six subjects receive sentences between 2 years and 5 years, 3 months for possessing a dead common palm civet, two dead red giant flying squirrels, six red-shanked douc heads, and three red-shanked douc bodies.
5 years for a subject transporting four live Sunda pangolins by motorbike in Quang Tri province, trialed in August 2022. The pangolins were transferred to the rescue center at Cuc Phuong National Park.
36 months in prison for online trader in Hanoi in September, caught with three Asiatic black bear paws following information from ENV.
VND 500 million criminal fine for restaurant owner in Phu Quoc caught with 7 kg of dugong meat, 0.5 kg of stingray meat, 2.9 kg of wild boar meat, and three live clouded monitors, trialed in July 2022.
VND 70 million administrative fine for an online supplier, issued by Ha Giang Provincial People's Committee in August 2022 in response to evidence sent by ENV. The subject was first reported to ENV on April 12, 2022 for advertising tiger bone TM, bear bile vials, and gallbladders.
Communications and Public Awareness
In July 2022, ENV released the short film, "Say NO to Traditional Medicine from Wildlife". This month we also focused on our ivory crime campaign, holding a media roundtable in Dak Lak with the participation of 32 local journalists and reporters. The event aimed to raise media coverage on the ivory issue, and was held in Dak Lak due to it being the hotspot in Vietnam for ivory crime.
In September 2022, ENV distributed the 52nd PSA, "Do not expose yourself to wildlife diseases", highlighting the risk of zoonotic disease spreading from restaurants serving and keeping wildlife. It ends with the message, "You don't have to eat wildlife to expose yourself to zoonotic diseases. Avoid restaurants and other establishments where wildlife is kept and consumed."
In October 2022, ENV organized a round table meeting under the Elephant Friendly Business campaign, in Buon Ma Thuot city, Dak Lak province. There were 29 participants, including 13 local business owners, as well as local journalists and government agency representatives. The event was in collaboration with the Department of Culture, Sports, and Tourism in Dak Lak, and the Department of Agriculture and Rural Development in Dak Lak. The workshop aimed to enlist support from tourism companies and related businesses in an effort to stop ivory trade in the city.
In the same month, the Department of Information and Communications in Dak Lak sent a text to their 2.17 million subscribers calling for the public not to consume ivory products, and to report all wildlife crimes to the ENV Wildlife Crime Hotline. The text stated: ""Do not trade or consume ivory products. Report violations related to ivory and other wildlife to the toll-free hotline 1800-1522".
In November 2022, ENV partnered with Sporting Republic and Ciputra Hanoi International Club to hold the Hanoi Half Marathon 2022, raising awareness on the issue of traditional medicine made from wildlife. The Run for Wildlife spread the message that "Wildlife is not medicine!". Watch 'The ENV Minute #9' for a summary of the event.
ENV released several publications in this period, including our Law Enforcement Responsiveness Report 2021, the Vietnam Tortoise and Freshwater Turtle Identification Book and the State of the Trade: Rhino Horn Report.
Thank you for continuing to support ENV in the fight to end Vietnam's illegal wildlife trade.