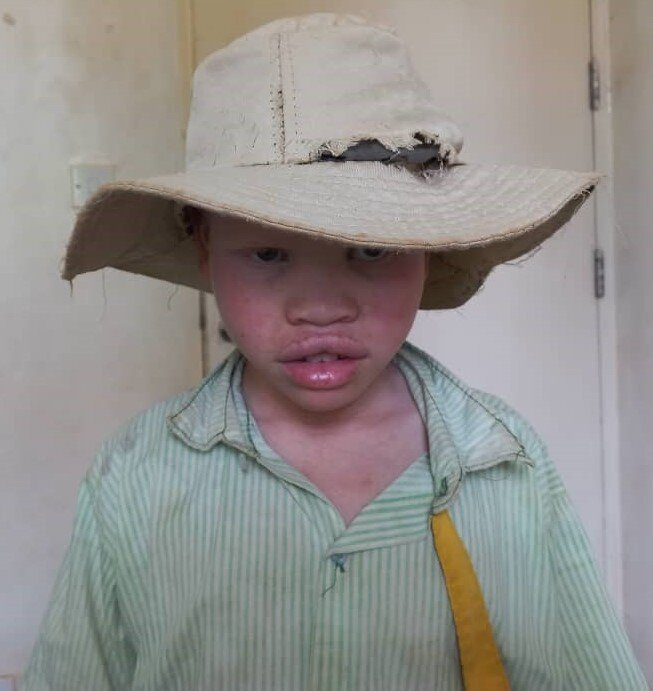 So far, 2023 is proving as busy as ever in our work with SNUPA to help people with albinism to keep themselves safe from skin cancer. Your donations have directly supported three district skin clinics in the far south-east of Uganda in this first quarter, enabling 47 people with albinism to have skin checks, receive cryotherapy if required and sun protective resources including sunscreen and wide-brimmed hats.
The clinics were conducted in local health centres in order to bring the skin care challenges faced by people with albinism to the attention of the respective district health workers. As ever during the skin clinics, the SNUPA team ensured that local government authorities were also invited so that they could better understand the challenges facing people with albinism and help promote long-term change.
Unfortunately, recent attendance at our skin clinics has been diminishing. Prolonged droughts, global instability and inflation means that vulnerable families, including those affected by albinism, are facing extreme poverty and struggling to meet their daily needs. Minimal as it is, many people with albinism simply can't afford the cost of public transport to reach our clinics. This is of huge concern as it puts their very lives at risk and, while we're aiming to undertake home visits to those most in need when necessary, this is not sustainable.Therefore, we're starting to help families affected by albinism to undertake small enterprises to improve their self-reliance to meet their basic needs, such as transport costs for health checks. Your ongoing support for our skin cancer prevention services is vital - it means we can seek and allocate other resources to ensure people are in a position to receive them!
This month, your donations have also contributed to life-saving surgery for three young men with albinism. This includes 17-year old Brian who had never had any sunscreen and didn't know how to protect his skin before recently meeting members of the SNUPA team. Brian had dropped out of school and was in despair because of the painful and fast-growing skin cancer on his head. When his surgery and reviews are complete he will be able to get back to school and look forward to a full life ahead of him, equipped with knowledge about keeping his skin safe and supported with regular checks and sunscreen.
The SNUPA team brings hope and friendship not just to people with albinism but also to their whole families. Your support and encouragement helps them daily as they welcome new visitors, often from distant parts of Uganda, to their office and provide advice and fellowship, along with sun protective resources. Thank you so much for partnering with us in this life-changing work!