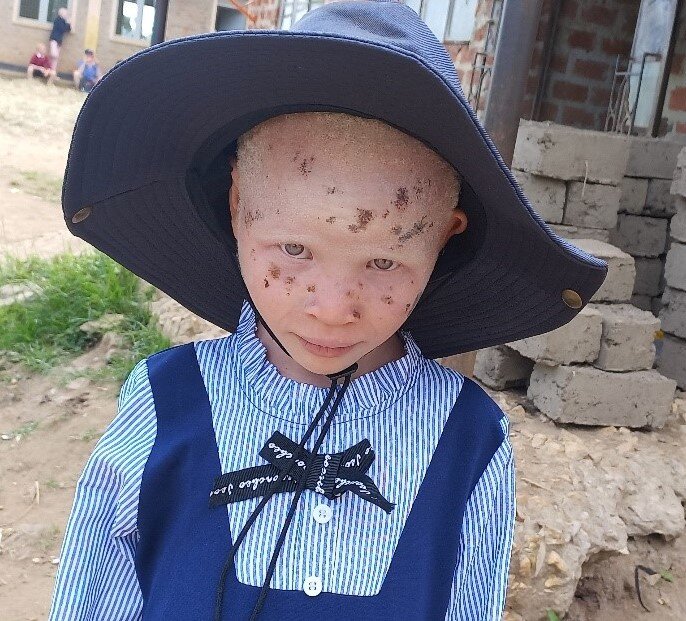 April to June 2022 was a busy quarter for the SNUPA team. With your help they undertook further skin clinics, skin cancer treatment and national campaigning for access to healthcare and skin cancer prevention for people with albinism.
25 children and adults with albinism attended April's skin clinic in the district of Pallisa. Many had small pre-cancerous lesions needing swift attention and 16 people received cryotherapy from our dermatologist Dr. Ngobi. All attendees received new stocks of sunscreen and wide-brimmed hats along with healthcare training about how to keep themselves safe from skin cancer.
In June, a young man called John travelled across Uganda to seek help from SNUPA because of extensive skin cancer around his neck and throat. Without urgent treatment John's prognosis was very poor. Your donations helped ensure that he swiftly received an operation and follow-up care to save his life. John has since recovered, is doing well and says that members of the SNUPA team have become his new family.
On 13th June 2022 SNUPA commemorated International Albinism Awareness Day (IAAD) in Jinja by holding a campaigning march through the city, a large skin clinic, distribution of skin cancer prevention resources and enabling survivors of skin cancer to share their stories and lobby for improved healthcare. Your support helped ensure the day was an immense success: more than 700 people with albinism took part in the march, 289 people with albinism received skin checks with 117 receiving cryotherapy. 549 people received sunscreen and wide-brimmed hats.
In our last report we mentioned single mother Annette whom you supported with an operation to remove severe skin cancer around her ear. She joyfully took to the podium during the IAAD commemoration to share her story. She told the attendees "I am so excited seeing all these persons with albinism. It has been my first time to march with my colleagues. It's the best thing I have seen in life. I thank SNUPA for looking out for me… I was having sleepless nights battling the cancer. The care and the sunscreen lotions have greatly improved my skin."
Annette, other skin cancer survivors and SNUPA's Chairperson Paul Sezibwa called on the Ugandan government "to include sunscreen lotions among the Ministry of Health minimum health care package to be distributed free of charge to all health centers in Uganda to ensure accessibility for all persons with albinism." They also called for an "increase in the number of dermatologists in government hospitals to complement the work of SNUPA in the fight against skin cancer."
Thanks to your help we're making steady progress in saving lives and reducing skin cancer among people with albinism in Uganda. However, there is still much to be done. Widespread droughts and rocketing food and fuel costs are exacerbating the extreme hardship and poverty faced by marginalised families in the wake of the COVID-19 pandemic. People with albinism struggle to meet their basic needs - including affording the modest costs of public transport to receive skin checks and ensure we can intervene early to prevent the spread of skin cancer. Your support and encouragement are needed and appreciated more than ever – thank you!