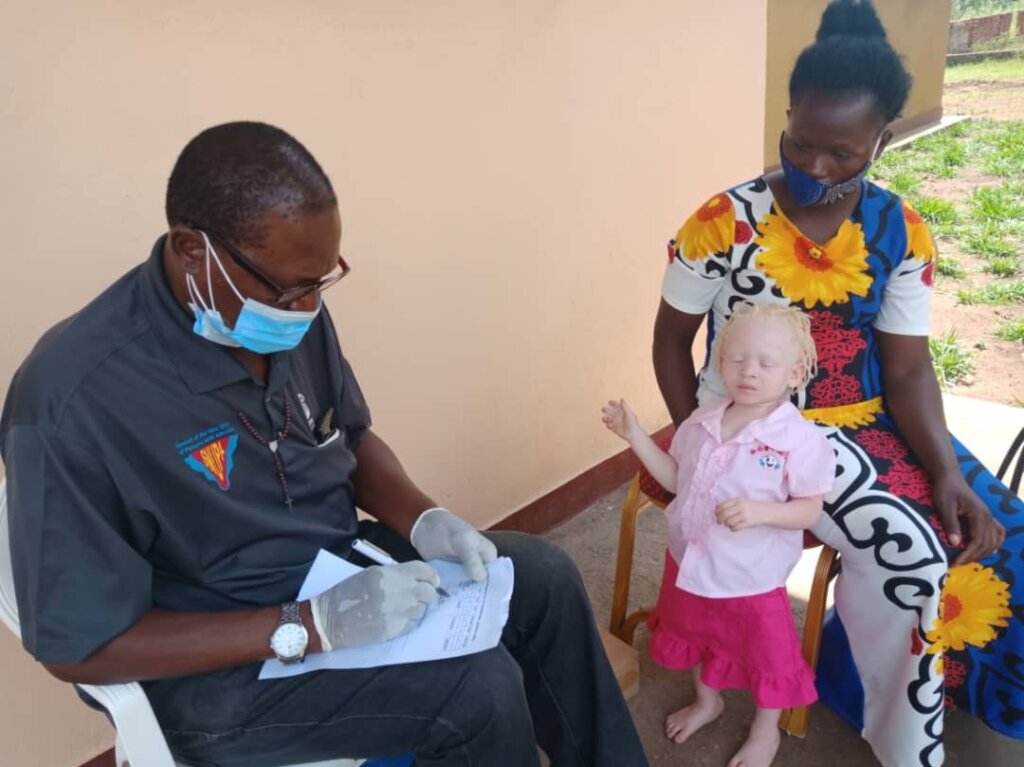 Your generous donations through GlobalGiving are enabling Advantage Africa and our partner, the Source of the Nile Union of Persons with Albinism (SNUPA), to reach people with albinism in parts of Uganda where they've previously had no, or very limited, support to stay safe from skin cancer.
From October to December 2021, you enabled us to provide skin clinics in four eastern Ugandan districts to help 88 children and adults with albinism to protect themselves. Each person attending these clinics received a comprehensive skin check, provided by our dermatologist Dr. Ngobi, along with cryotherapy if needed to remove small pre-cancerous lesions. Many people had extensive damage to their skin and 56 per cent required cryotherapy. Following their check, each attendee received three months' supply of high sun protection factor (SPF) sunscreen and a wide-brimmed hat. Your support enabled us to purchase 300 high quality wide-brimmed hats for distribution at these and future clinics.
When attendees at our clinics are identified with extensive skin cancer, we aim to support them as quickly as possible with surgery and follow-up care. With your help this quarter, we've been able to provide five young people with albinism (three women and two men) with urgent skin cancer surgery to save their lives.
In line with our long-term aim of influencing local and national government policy, SNUPA precedes each skin clinic with a visit to the respective district authorities to explain the skincare needs of people with albinism, share powerful evidence and demonstrate how we can all work together towards a 'skin cancer free generation' in Uganda. For example, before the Butalejja District clinic supported through GlobalGiving, SNUPA's Director Peter met with the area's Chief Administrative Officer. This led to Butalejja's local government chairperson hosting a radio talk show to encourage people with albinism to attend the clinic and care for their skin.
As well as preventing and treating skin cancer, these clinics also help us to identify and offer practical support to people with albinism and their families facing extreme difficulties in meeting their basic needs. The privations of the extended COVID-19 lockdowns throughout 2021 have caused severe and ongoing challenges for the most marginalised families.
Thank you so much for partnering with us in this life-saving work which is bringing us ever closer to ending skin cancer for people with albinism in Uganda.