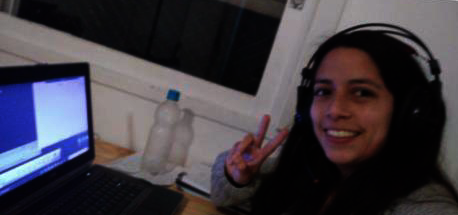 Dear Friends,
First of all, we want to thank you for your constant support throughout all these years. The Trust for the Americas is continuously working to promote social and economic inclusion for vulnerable communities in the Americas together with our local partners.
As you might know, Venezuela is going through a convoluted political and economic crisis that has resulted in an unsustainable situation for many. For those who have left to seek more optimal opportunities, we have been able to extend our hand and help them with our projects, which would not be possible without you. Thanks to your support, we've been able to provide training in digital and employability skills to +225 Venezuelan refugees through the POETA Social Franchise in the first half of 2020. Lorena is an example of our work and commitment.
Lorena is a 22-year-old Venezuelan woman that arrived last year in Buenos Aires and began working as a waitress in a bar, but shortly after, she was fired due to the pandemic. Lorena started looking for opportunities when a friend introduced her to the App Development curse of POETA DigiSpark. She used the training to enhance her entrepreneurship by creating an app from scratch. All the tools gave her a lot of self-criticism and self-learning abilities. Lorena developed that feeling of self-improvement and registered for the CV development course, which helped her to find a job in the call center of Banco Santander. She told us: "There is a clear before and after. In the future, I would like to be the director of a startup that develops applications that are accessible to all and that have social purposes". Lorena's mission is clear, to create to help, and this attitude gives more meaning to our projects and drives us to grow and always desire more.
Another achievement is that we were able to secure +$ 1,500 through the World Refugee Week campaign. We carried out a strong crowdfunding campaign through email, social media, and live interviews on Facebook with Venezuelan refugee graduates from our projects.
COVID-19 significantly impacted our POETA centers' operations, which were forced to gradually transition from an in-person to an online training strategy. All the changes, the new platforms, and the new way of coping with reality motivated The Trust and its local partners to increase the use and appropriation of technology by teachers to further develop life, technical and digital skills of the vulnerable populations they serve. Lorena is an example that no matter the circumstances and no matter the difficulties, there is always room to help others and that with compromise, we can achieve big things.
While we look forward to the time when our local partners can safely open their POETA Centers, we continue to invest our efforts in improving the project model, developing a robust online training and mentorship program as a strategy that promises to reach an ever-increasing number of participants and give more Venezuelans in the region a second chance to shine. We are happy to keep counting on your support and continue impacting lives together.
Thank YOU!