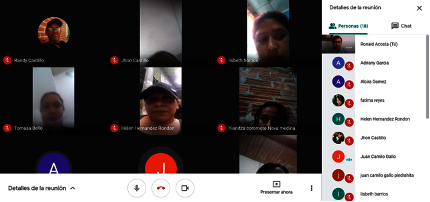 Dear Friends,
Thank you for your support during all these years. The Trust for the Americas is continuously working to promote social and economic inclusion for vulnerable communities in the Americas together with our local partners.
Thanks to your support, we've been able to provide training in digital and employability skills to +225 Venezuelan refugees through the POETA Social Franchise in the first half of 2020.
We have also managed to train +100 Venezuelan refugees in digital skills and entrepreneurship through POETA with the support of our local partner Microempresas de Colombia, in Medellín, and its alliance with the International Organization for Migration (IOM)
Another achievement is that we were able to secure +$ 1,500 through the World Refugee Week campaign. We carried out a strong crowdfunding campaign through email, social media, and live interviews on Facebook with Venezuelan refugees graduates from our projects.
COVID-19 significantly impacted the operations of our POETA centers, which were forced to gradually transition from an in-person to an online training strategy. Despite the challenges, this was an opportunity to promote opportunities through technology by developing life, technical and digital skills. With The Trust's support, local partners have utilized online tools, such as Moodle, Microsoft Teams, Skype, Facebook, YouTube, and WhatsApp, to offer training and mentorship. COVID-19 challenges motivated The Trust and its local partners to increase the use and appropriation of technology by teachers, to further develop life, technical and digital skills of the vulnerable populations they serve.
While we look forward to the time when our local partners can safely open their POETA Centers, we continue to invest our efforts in improving the project model, developing a robust online training and mentorship program as a strategy that promises to reach an ever-increasing number of participants.
Thank YOU!