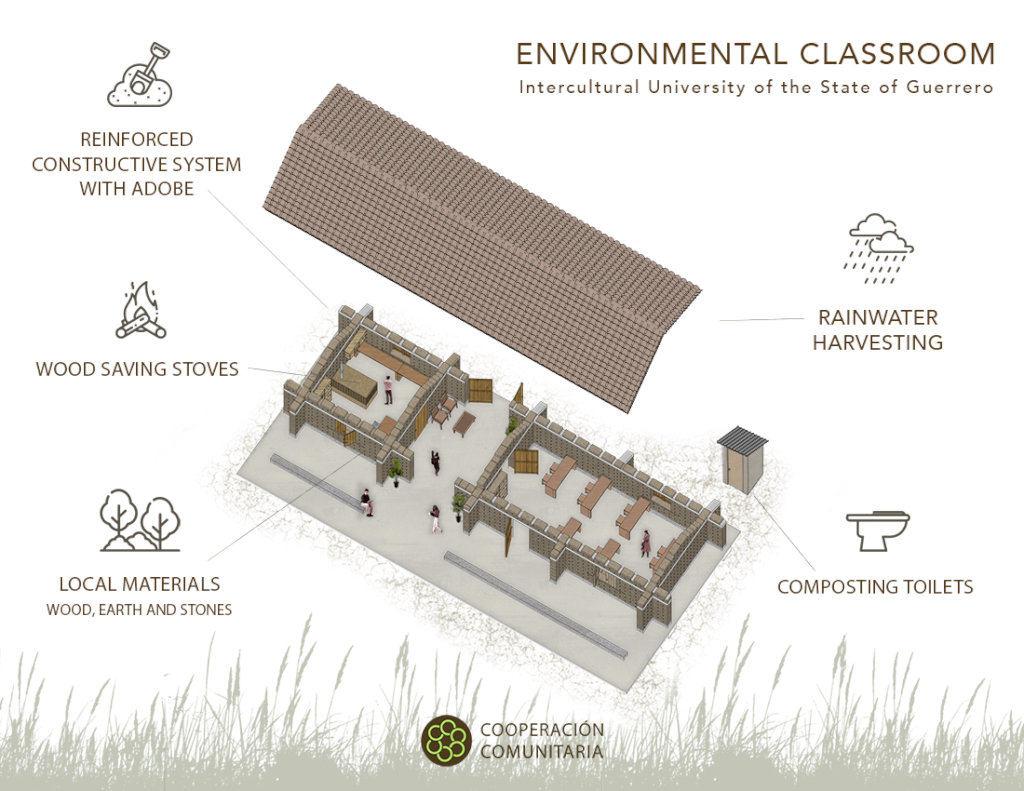 This last trimester we have developed activities to evaluate the actions carried out during the Comprehensive and Social Reconstruction of Habitat project in the Mountain region of Guerrero, in order to conclude Phase III and start designing the following stage.
For Cooperación Comunitaria is very important to receive feedback from the different participants of the project. So, we decided to advance in this process during the rainy temporary, since the constructions are inevitably stopped due to the climate conditions.
On one hand, in June we met in the Intercultural University of the State of Guerrero (UIEG, in the Spanish abbreviation) to identify how we can improve our work methodology with representatives of:

indigenous education teachers;

authorities, academics and students of the UIEG;

community promoters trained throughout the whole project;

and members of Cooperación Comunitaria.
It is worth recalling that in the University we started the project of the Environmental Classroom, where students from 31 communities and 15 municipalities will receive practical workshops about the reinforced constructive system with adobe, proposed by Cooperación Comunitaria, and about different eco-technologies.
Besides, to strengthen the evaluation we visited the community El Obispo, where the whole project started with the construction of community buildings, housing, composting toilets and wood saving stoves, along with Grabiel Cantú, a local promoter who learned all of these techniques and continues collaborating with our team as master builder.
On the other hand, mè'phàà (local indigenous group) poet Hubert Matiúwàa, who produced eleven radio capsules along with some inhabitants of the region, about themes such as defense of the territory,landslides risk prevention and self-management, deforestation, use of agrochemical products, construction with adobe, and the right to adequate housing; evaluated dissemination strategy of these in several community radios by applying questionnaires to their listeners.
Also, we worked on the final edition of a testimonial video about different ways of housing production in the communities of the municipality of Malinaltepec after they were affected by the hurricanes Ingrid and Manuel in 2013: the ones built by real estate companies, spontaneous self-construction of the inhabitants, and the ones produced by the people with the reinforced system with adobe proposed and advised by Cooperación Comunitaria.
The video addresses fundamental aspects such as: habitability, vulnerability, the degree of cultural, geological, climatological and productive adequation. The purpose of this material is to serve for advocacy towards housing policies of the current government; and to impact in post disaster housing models to improve their adaptation to sociocultural, environmental and economical aspects of the most vulnerable populations in Mexico.