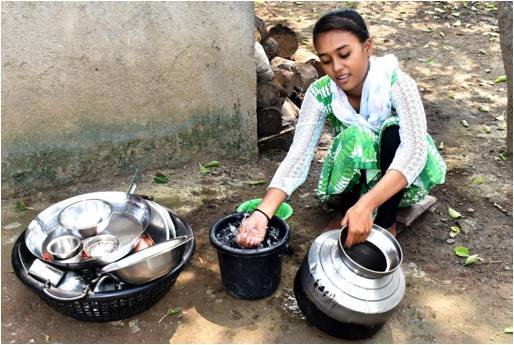 The unstoppable Amrapali
Amrapali (name changed) lives with her parents in a small village, Dongaon. She is the youngest of four daughters in her family.Her father has merely 6 years of schooling and her mother is illiterate. They have one acre of agricultural land. Both parents work on their agriculture field. Her three older sisters are already married. Amrapali has to do most of the household work.
Her parents arranged the marriage of her two sistersas soon as they reached 13 years of age,since her village had a school only till 7th grade. Her third sister was married off at the age of 15 years soon after she had completed 10thgrade of school. All three were child marriages.
Amrapali completed Life Skills Education conducted by Institute of Health management Pachod (IHMP),when she was 13 years old, studying in the 7thgrade,in her school. She learnt about the adverse consequences of early marriage. Her Life Skills Education teacher motivated her to continue with her education so that she can be self-reliant in future.
Amarapali says "after attending the Life Skills Education course, my communication skills have improved. Now I am able to present my point of view in front of others, negotiate and convince them. I am not intimidated by any one or anything".
She attended the Sexual and Reproductive Health modules, which are a part of the Life Skills Education course. Recently she was sent by her school to participate in an inter-school competition on reproductive health. Girls from 7th to 10thgrade participated in the competition. Amrapali answered all the questionsrelated to the female reproductive system and menstruation, with confidenceand without a trace of embarrassment. Now, Amrapali goes from house to house educating parents about the adverse consequences of early marriage.
During the Life Skills Education classes conducted by IHMP, she shared with the other girls in her group, the problems faced by her three sisters because of early marriage and pregnancy. She convinced thegirls in her batch not to agree to get married before the age of 18 years.
Currently, Amrapali is studying in the 10thgrade,in a school located in a village that is at a distance of 9 miles from her village. Even though there is a school up to the 10th grade in her own village, Dongaon, she convinced her parents and took admission in the school in the neighbouring village as she can continue studying up to her graduation in this school.
She needs Rs. 500 per month to commute daily to the school. Since her parents cannot afford to pay for her transportation, she raises this amount by working in the fields during holidays.
She tells other adolescent girls in her village, "now girls should pursue their dreams as they are doing better than boys in each sphere". She has convinced her parents, that she will get married only after she has completed her education. Unstoppable, Amrapali wants to be a doctor.