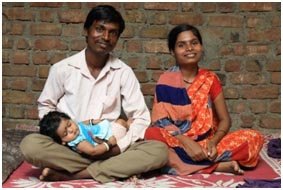 A quintessential, empowered and unstoppable girl
Sunita (name changed) is a 14 year old mother. Her parent's home is in another district far away from where IHMP works with adolescent girls.
Her father is an alcoholic and is notorious for domestic violence. Sunita suffered from discrimination right from the time of her birth. Her mother sent Sunita to an aunt who took responsibility for her education in a nearby city. When she reached 13 years of age and was in the 8th class in school the aunt refused to continue to keep her and so the mother decided to get her married off.
Her mother received a proposal from the parents of a boy who is far less educated than Sunita, yet she married her off as quickly as possible. Within months of marriage Sunita discovered that she was pregnant.
She had no idea how a child is born and where it comes from. When she started labor pains her in-laws took her to a large hospital in a neighboring city. She saw women with their legs spread out and strapped to obstetric tables and she started crying. Following a very difficult delivery she gave birth to a baby girl.
After her delivery Sunita and her baby were provided with post-natal care by IHMP's community health worker and nurse. She was counseled by IHMP's workers and was invited to attend the Life skills Education classes being conducted in her village. She learnt that the sex of a child is determined by a man not by the wife.
Sunita took a pledge that she will not allow her daughter to go through what she had experienced during her childhood. She told her parents-in-law that her husband is responsible for the sex of their child. Since her husband has produced a girl child they should take care of her the way they would have taken care of a male grandchild. She also told her husband that he would have to take equal responsibility of child care along with her.
When she was interviewed by us Sunita said "I made sure that my baby girl is the centre of attention in my husband's family. The life of my husband and in-laws revolves around my little girl. I will never allow her to be discriminated against. If I get pregnant again I would like another girl".
Sunita also took a pledge that she will not allow any girl in her village to go through what she went through. She is conducting training in Sexual and Reproductive Health for married adolescent girls in her village. Sunita desires to study further. IHMP is supporting her to fulfill this dream.
Life skills education and counseling by our frontline workers have resulted in many quintessential, empowered and unstoppable girls like Sunita.