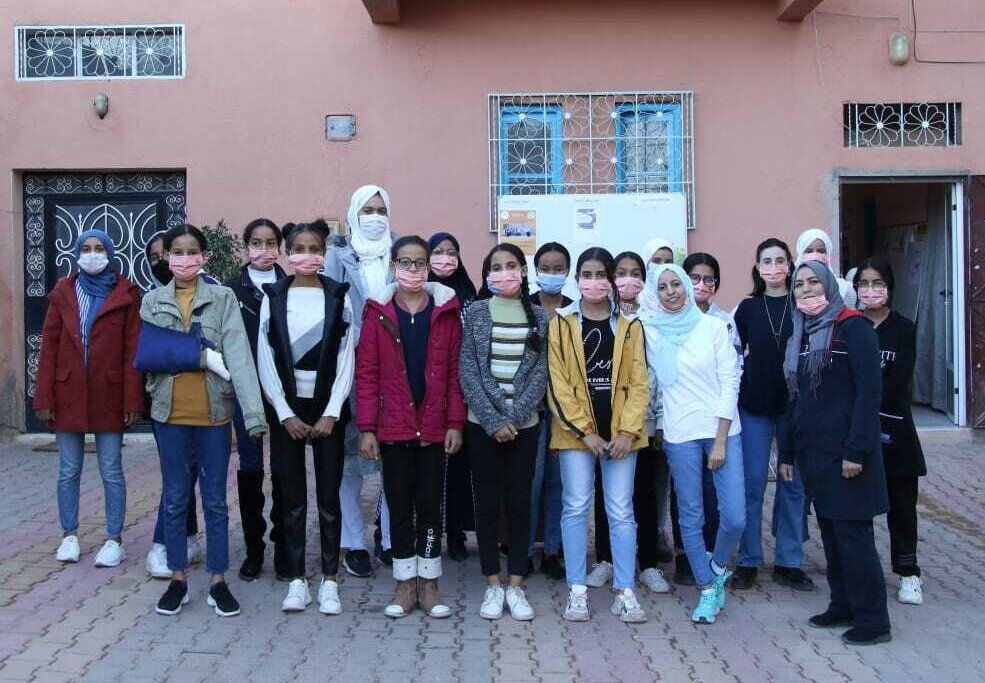 Dear friends,
Project Soar is sending its gratitude to you, our supporters, and positive wishes for good health and happiness for you and your loved ones.
Project Soar is now full steam ahead with our programs, operating 37 squads across 7 regions of Morocco with a total of 71 active Empowerment Facilitators at this time. This year, as with every year, Project Soar is privileged to have strong, feminist, women mentors leading Soar Girls through our five module Empowerment Curriculum focused on Value, Voice, Body, Rights, and Path.
One such rockstar Empowerment Facilitator is Oumaima Bedduaf of Ouarzazate, who never ceases to impress us with her dedication to and passion for teen girl empowerment. A selfless leader in every sense, Oumaima has powered through the Soar Empowerment Curriculum, personally delivering 22.5 empowerment hours to 21 Soar Girls in Ouarzazate so far and is poised to host their second of three Community Dialogues that allows space for Soar Girls as well as community stakeholders to engage in conversations on gender equity challenges and brainstorm actionable ways to improve them.
Project Soar Empowerment Facilitators often times find that not only are they leaving an impact on the girls, but the girls are leaving an impact on them as well. "I find myself evolving and learning more about the girls more and more with every encounter. I make sure to treat them equally and support them when needed," Oumaima says, "I get so delighted when I hear my name is mentioned by one of their teachers or their coaches - this tells me that I am doing this right. I feel happy encouraging them to do well in their studies and I already see that their grades have improved. It is an honour for me and for Project Soar that we are able to help and guide these girls and leave a positive impact on them. Now my joy is their joy."
Faciliators like Oumaima take this inspiration and motivation to not only deliver the Project Soar programs with passion and patience, but also continuously exceed expectations by finding additional opportunities for Soar Girls that boost their exposure to cultural events, networking opportunities and more. For example this month, Oumaima initiated a field trip to a local history museum for her squad and even brought three Soar Girls to a public speaking workshop hosted by a local non-profit.
We are so grateful for your continued support of our Empowerment Facilitators, like Oumaima, who go above and beyond to ensure Soar Girls excel and succeed no matter the challenges they face.
Stay tuned for more stories from these incredible women, and never doubt you are making a difference!
Warmest Wishes,
The Project Soar Team