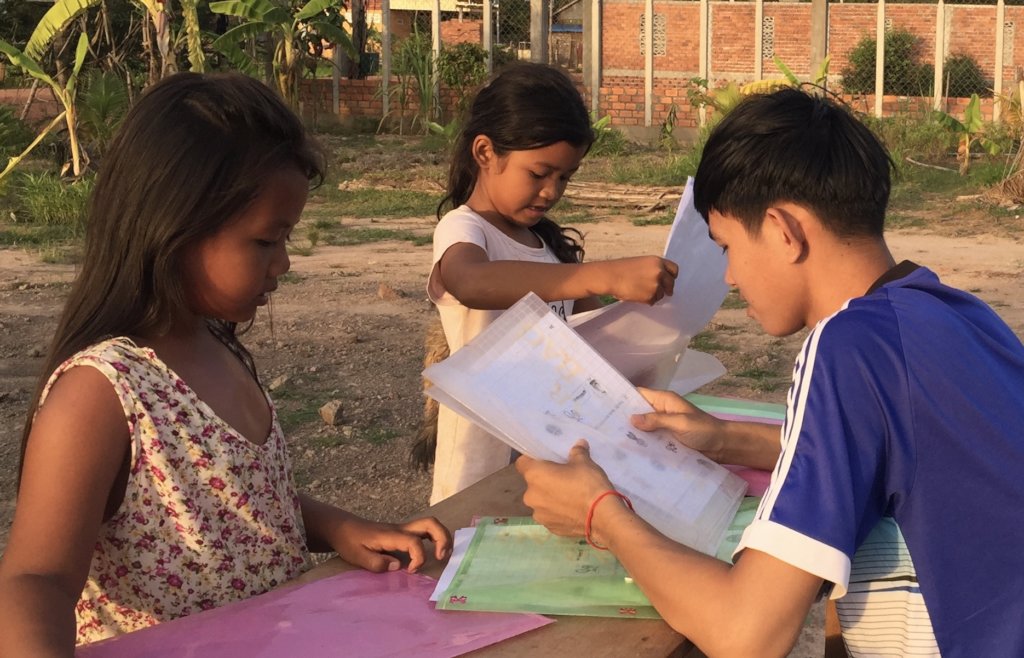 Dear Supporters, Teachers, Students, Parents and Family Members,
With the Covid-19 pandemic impacting everyday life, we hope you're in good spirits and health! We would like to begin by expressing our deepest gratitude for your continued support in these unpredictable and challenging times.
We had hope to reopen and welcome back our students to the classroom but unfortunately the Cambodian Ministry of Education has not given permission for NGOs to do so due to the ongoing pandemic. In the meantime, we have adapted to this new reality of non-contact learning and found innovative and creative ways to engage our students and reach out to our community safely. Our teachers continue to work tirelessly to connect with our students daily, via telephone or/and the internet. Educational materials are distributed weekly and students' progress are closely monitored. These new approaches have provided opportunities for the teachers and students to utilize technology as a fun and effective way to learn. We are extremely proud of our ODC staff, students and parents who continue to show tremendous resilience during these uncertain times.
ODC has taken advantage of this time to provide additional professional development to our teachers by upskilling their IT competency and introducing creative and more inclusive teaching strategies. Teachers are undertaking an advanced English course to further improve their own English proficiency. They are looking forward to putting into practice their new skills and further engaging their students whenever they are allowed to return to the classroom.
Our Teaching Scholarship program has begun with three young trainees who have a real passion for teaching English to young children. They are learning valuable professional skills that will assist them in their future career. They will act as Teacher Assistants at ODC when the school reopens. They are very keen to share their own experiences with students. The ODC Merit Scholarship introduced in July identified three students with outstanding academic potential whose families were particularly devasted by Covid-19. ODC has been able to provide some financial assistance to these families.
The pandemic has given us much time to reflect upon and evaluate our work. We are constantly seeking better ways to deliver our educational outcomes. After due consideration, we have decided to pilot an extended curriculum to include Maths, Science and Social Sciences and increase teacher-student contact time to two and a half hours daily. The pilot program will commence in May 2021 and the first cohort of students will be children aged 5-6. This will expose them to the learning of English at an early age and broaden their understanding in other important learning areas. All subjects will be instructed in English, with greater emphasis on the 4 macro-skills; listening, speaking, writing and reading. In December we will be providing you with more detail on the scope and intended impact of this new program. We are very confident that it will enable our students to achieve much more advanced educational outcomes and empower our students through education. Our dream is that our students will be able to access greater opportunities to build a bright future for themselves and the country.
In times like this, we're reminded of how connected we all are. Thank you for being part of our community. Without you, none of it is possible. Your impact will be long lasting and the people of Cambodia thank you most wholeheartedly.
Sincerely
Chhaiya IM
Founder and Headmaster, ODC Organization