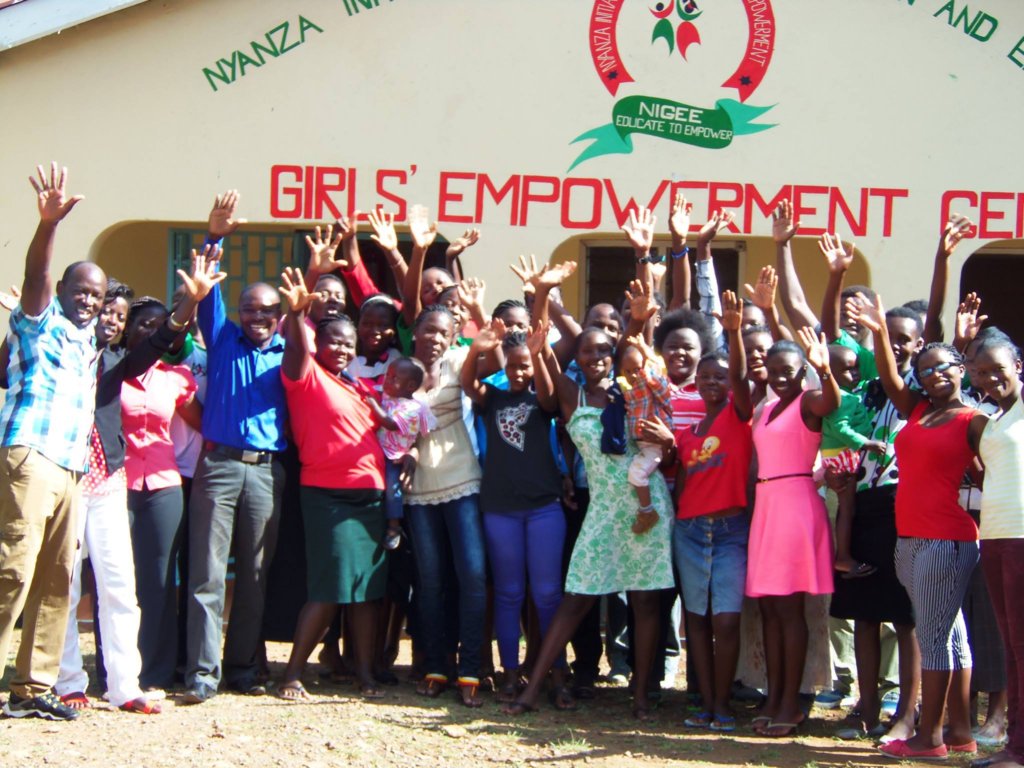 "I was sinking. You know…I was, I mean my family was sinking and there was nothing I could do to save everyone but NIGEE cared and they listened and helped. They really helped and it was a relief." Says Marissa
The success and gratitude of our beneficiaries is all the reward and motivation NIGEE staff needs to continue their work to empower the girl child. Join us to promote many more girls and see their lives transform and their dreams come to life. NIGEE is proud to share their success thus far:
During the period November – December 2016 NIGEE continued to advance the Girls' Empowerment Centre (GEC) within Kisumu:
Presently, 61 girls have been registered at GEC for vocational training and out of these, 38 were new recruits during this reporting period. Mobilization has improved as a result of our revamped approach with more girls being reached
Currently there are 18 girls enrolled in computer classes, 10 girls in hairdressing and 10 girls in tailoring; meaning classes now are at maximum capacity
There are 10 girls who have completed their computer packages training and are to be issued with certificates
Of the girls who completed their training, 4 have been absorbed by NIGEE as volunteers who receive a stipend
There are 7 girls and their children presently boarding at our hostel which has a total capacity for 14 girls
The girls at the hostel have now pooled their resources to shop for groceries, to cook their meals together and support one another, so that no person would be left out
There were an additional 2 girls who were hosted at the hostel while issues at home were being dealt with such as sexual exploitation and family conflict; family counseling was done with meaningful reconciliation so the girls were able to return home for Christmas to an improved and safer environment; both girls will return to school in 2017
The Community Mobilizer, using a peer to peer approach, has mobilized 103 girls within the catchment area and they await enrollment in 2017
The GEC Coordinator and Training Coordinator work towards expanding our training capacity, identify employment and internship opportunities in Kisumu County, and prepare the girls for the job market.
Our 3 dedicated volunteer tutors for computer, tailoring and hairdressing courses, continue to give quality lessons
An exchange program at Spring Ministries in Kisumu, who work with young women to develop IGAs in tailoring, exposed the girls to new ideas regarding tailoring and how to market their products. A total of 9 girls from the GEC dressmaking class gained valuable experience from this exchange program
As part of an effort to showcase our girls' talent and nurture them so that they explore their potential to the fullest, a football match was held. Seven staff of NIGEE challenged 10 beneficiaries to a fierce and competitive football match, which was approached with enthusiasm and a very competitive sense of camaraderie. The teams were mixed and it served to create a strong bond between all participants.
The Training Coordinator took part in training the GEC girls in production of liquid washing detergent. A practical demonstration was given within the GEC with 20 litres of detergent produced, which is now being used at the GEC. The 25 girls who attended the demonstration are encouraged to start an IGA on liquid detergent and marketing the product is now in discussion
Life skills classes are offered to the girls who register for our GEC courses as a form of psychosocial support, empowerment and for the girls to face the challenges they meet in their day-to-day life with confidence; a total of 20 girls attended the sessions
All our GEC girls participated in the World Aids Day procession on 1ST December 2016
A girl's forum was conducted in Kuria west at Ikerege Secondary School. A total of 150 participants (66 students ,70 parents ,2 school principals ,1 head teacher, 5 teachers, 4 NIGEE staffs, Minister for Education Migori County, HR Officer Migori County Government and 2 area chiefs) were reached with messages on the importance of educating a girl child, ending female genital mutilation and early marriage.The girls benefited from a mentorship session as well.
Marissa's Story
She joined secondary school in 2010 and studied for two years where she was forced to drop out because of lack of school fees. She says "I could not stay home because seeing other people go to school while I stayed at home depressed me. It was very painful seeing their life continue while mine stopped because I used to attend a day school, so they would go in the morning and come back in the evening."
She decided to relocate to Kisumu to stay with a relative and it is during her stay there that she got pregnant. She returned home and when her Father saw her, he was so angry that she had to run away and seek shelter at NIGEE's offices. She says "I feared for my life." It was then that NIGEE offered to pay her school fees so she could resume studies after having her child. However, her mother got involved in a car accident just as she had resumed school and had to be hospitalized for three months.
"So, I was in form three by then and I would go and be by her side at the hospital and take care of my child, and then to make things worse, I had to move my siblings to my Uncle's home because there was no one to look after them when I spent at the hospital. After doing all this I would return to school."
She says that her visit to the hospital depended on her mother's condition. She would wake up feeling much better on some days while on some she would be in so much pain and this meant that Mary had to stay with her. So she would wait for her to fall asleep then study. On her Father she says, "My Father was and still is a drunkard. He never did much to provide for us. It was my mother who worked hard." Mary laughs and then shakes her head as she adds, " In fact NIGEE knew I was a total orphan when they first met me, such that when my Mother got involved in an accident they were shocked, but as for my Father, they have never met him to date. He's never cared that much and that's just the way it is."
She admits that she could barely concentrate on her studies while taking care of her mother, siblings and her young child. One day when she was in school sitting an exam she got a call that her child was ill and she rushed him to the hospital. Her child passed on two days later. Her mother was still unwell and unable to respond and she called Millicent, the NIGEE Field Assistant in her county. She could not finish her exams in her grief, and Millicent and the NIGEE team came to her aid. Mary shakes her head and for a moment she holds her breath, and then she says "I was sinking. You know…I was, I mean my family was sinking and there was nothing I could do to save everyone but NIGEE cared and they listened and helped. They really helped and it was a relief."
Millicent called her every week to check up on her and her family. She says that NIGEE provided them with food and other basic things they needed like clothes. "Like one time, Godfrey asked about my family through Millicent, and he ensured we had twenty kilograms of maize flour which kept us going for months. It was just unbelievable."
Her mother was discharged from hospital when she was in term one in form four. The one who caused the accident paid a huge percentage of the hospital bill while her Uncle paid the remaining bit. Her mother could not walk without crutches and she still needed Mary's help in doing many things around the house. Mary was relieved to have her mother at home, even though it hurt her that her child was gone and she did her best not to burden her mother with her grief.
NIGEE paid for her boarding fees when it came to the second term of school and she went on to sit for her Kenya certificate of secondary examinations. She scored a D+. She admits that she could have earned a better grade but she had missed out on a lot of her studies in the previous year. She contemplated repeating form four to score a better grade but after much deliberation with NIGEE, it was agreed that it would not be the wise decision.
She was called to the NIGEE office later on and after undergoing an interview was employed as a Validator.
Marissa aspires to advance her studies and mentor other vulnerable girls. She would like all girls to know that lack of school fees is not the end of the world and it does not mean that it's okay to get pregnant when your parents cannot afford to take you to school.
She says, "Patience is very important and it is something most young girls need to learn. For example when your parents don't have money to pay your fees, wait, hope and ask about these government scholarships and apply- do something to preserve yourself because your luck might change for the better."
She has five siblings and out of the five are two sisters whom she always advises to be content with what they have and be grateful. She says that her sister who is currently in class seven is not pleased with their economic status and she always tells her that she has to work hard and be grateful for what they have. She adds, "I know it is not perfect, but we are trying and no condition is permanent, but I don't want any of my sisters to go through what I went through and that is why I work hard."
Marissa adds that she is happy that she can provide for her family now with the little she makes as a Validator. She smiles when she tells me of how happy she feels when she sees a change of perception and behaviour in any girl she encourages. Like last year, she says that she supported another beneficiary who had lost her child. She says that being with her through that time and grieving with her was a healing for her too.
When asked about the one thing she wishes she would never talk about, she says "losing my child," and then she smiles, but she adds "you know as a Validator, when you share your story with these vulnerable girls, you have to filter your story. There are many chapters in my life story, and so I share what I know can inspire them. However when it comes to losing a child, not many people understand the psychological effect of that on any mother-forget that I was barely eighteen then, but the pain that comes is unexplainable and that is why it is the one part of my story that I never like talking about, very few understand what it is to lose a child."
She also adds that she is good friends with the other girl who lost a child and they always see each other. She is full of hope about the future like a boxer; she gets knocked down but comes back up swinging.