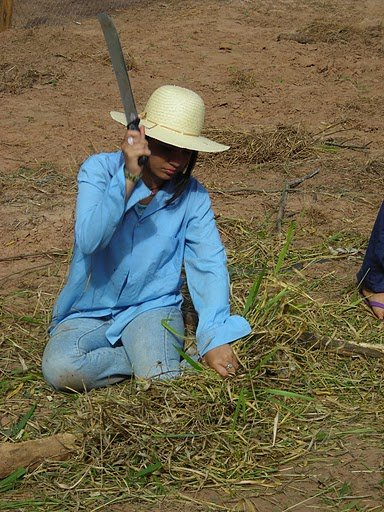 A big thanks to all of our supporters!!!
The donations given so far have made an enormous contribution to the Mbaracayu Centre's mission and vision: A girl's school that all local girls can attend, regardless of income. A school that is a functioning farm, where girls grow the school's revenue stream – and become agricultural professionals, gaining skills and expertise that their farm worker fathers never had. A school that is fine-tuned to the needs of girls and that will support itself in five years. That is our vision: a triple bottom line of social, economic and environmental returns for the entire community.
Currently, a bit more than 100 girl students between the age of 14 and 20 are attending the first and second grade of the school's technical high school program. The location of the Centre is unique, as it brings together girls from different countries, cultures, origins and identities. Students are girls from Paraguayan, Brazilian and Brazilian-Paraguayan smallholder families, as well as from a local indigenous ethnic indigenous group, the Aché.
Coming from families that live on less than 2 dollars a day, these girls are confronted with extreme poverty. Especially in this area of the country, women have always faced a very sad and uncertain life, due to a lack of support, resources, education and opportunities. They are constantly exposed to the pressures of their communities to either find a job and to bring home money for their families, or to marry a rich man, and thus, be "set up for life". Most of the girls are therefore used to an environment in which there is only little motivation to become educated. Particularly hard is the fate of most indigenous women. 90 percent of the indigenous people, like the Aché of Paraguay are pregnant by the age of 14. A 15 year-old girl named Claudia was the first Aché girl from her village to ever attend high school. Claudia's mother actually wanted to send her daughter to the Mbaracayu School in order to prevent her from becoming pregnant. "All my cousins and friends have babies. So they cannot go on to finish high school. I am the only one who is not pregnant yet."
On February 24, 2010, the Mbaracyu Forest School for girls began its second year. Fifty new girls from the poorest families in South America started school that day. A lot of people did not believe in us and predicted that our school would not make it to the second year. We proved them wrong. Our challenge now is to grow, so next year we will have 1st, 2nd and 3rd grade all together, to release the first class of graduates from our school and to achieve self-efficiency. These are big and challenging tasks, but our results so far show, that it is possible and that our dream is achievable.
Please keep on supporting us and help us to create the conditions the girls need to tap their potentials and to become self-confident rural entrepreneurs…..