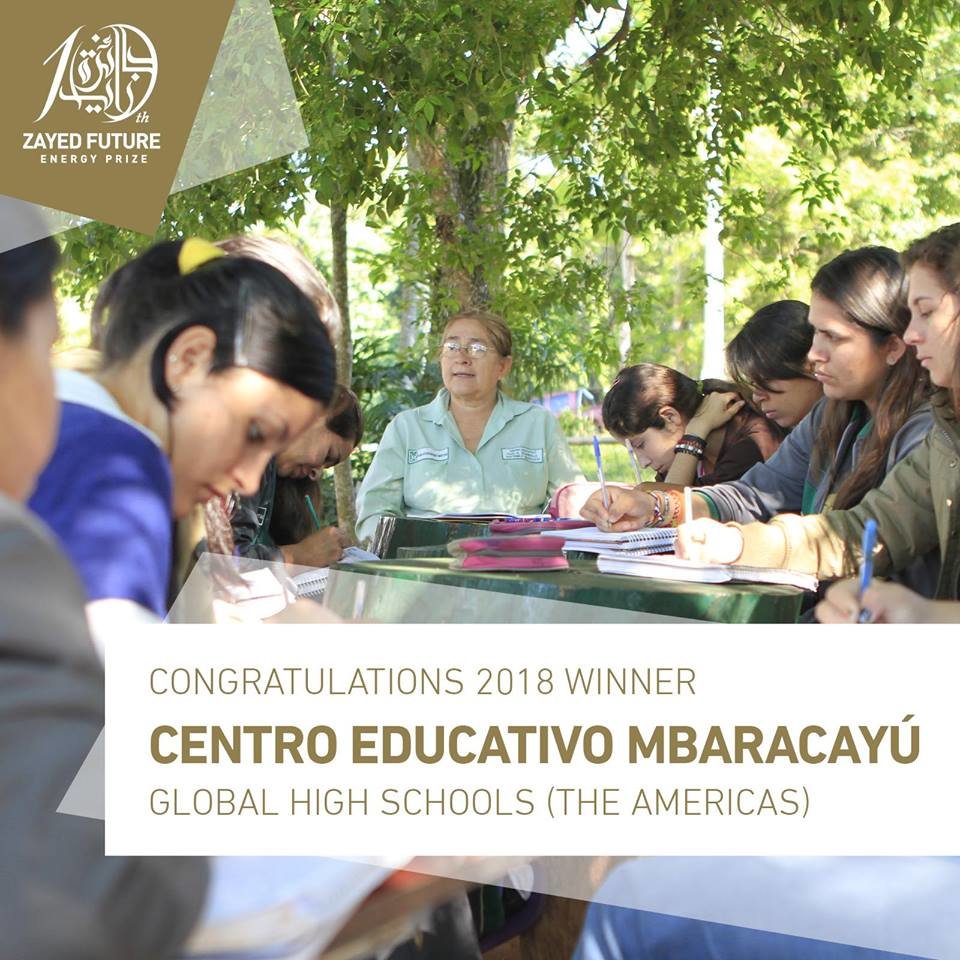 The Mbaracayú Educational Center was chosen as the winner of the tenth edition of the Zayed Future Energy Prize, in the United Arab Emirates (UAE), in the category of Global High Schools for the Americas region. The award ceremony was held on January 15 at 10:00 a.m. (local time) at the Abu Dhabi National Exhibition Center, located in the capital of the Arab country.
The award seeks to recognize innovators in renewable energy and sustainability. The contest is part of the vision of the UAE and its commitment to find solutions that respond to the challenges of climate change, energy security and the environment. In ten years, the winners of the Zayed Future Energy Prize have had a positive impact on the lives of 307 million people around the world, according to the organization.

The winning proposal
For the proposal, the students identified the deficiency in the supply of electricity and hot water as a need in the area. To solve this, the presented project addresses energy security through the installation of a system of thermal solar panels for electricity and hot water, in addition to the assembly of gravity lights that do not require an external power source. In addition, it is proposed to plant trees of the native species Kupa'y (diesel tree) in the community, whose resin can be used for the production of biodiesel that will feed the generator and tractors of the school. The aim is to raise awareness about the sustainable use of natural resources among the inhabitants of areas close to the school. This includes a system of thermal solar panels that will provide 15,500 Kw of electricity and 51,500 Kw of hot water at 55 degrees Celsius. It also includes the elaboration of a comic and puppet show, which will be part of the outreach efforts to share the lessons of sustainability with other schools.
Our representatives
The young women who represented the school in Abu Dhabi are 16-year-old Analía, from the town of Guayaibí, Department of San Pedro; and 17-year-old Pamela, from the city of Ypehû, Department of Canindeyú. Both are in the third year of the Technical Bachelor in Environmental Sciences. Pamela was in charge of receiving the award during the award ceremony. "I am very happy to have won the award, because this award is not just for me and my school, but for my community and my country," the student commented excitedly when thanking the organization of the contest. The students participated in the event wearing typical Paraguayan attire, as well as making presentations on the culture of our country. "We hope to know a lot about the Arab culture, and that they know about ours," said Pamela and Analía. They also participated in the Sustainability Week of Abu Dhabi, where they carried out various activities such as work tables, talks, conferences, among others.