Nellai Cancer Care Centre in coordination with TAFE organised capacity building of community based organizations for Cancer Prevention and Control in Southern Districts of Tamil Nadu viz., Train the Trainers approach on 15th & 16th November and 22nd & 23rd November 2018 at J Rehabilitation Center, TAFE Complex, Madurai.
46 people participated. The training was facilitated by Dr. E. Vidhubala, Mrs. Sangeetha, Mr. Ramkumar Sethupathy from Nellai Cancer Care Center, Oncologists Dr. Deepak, Dr. Krishna Kumar Rathnam Dr. Murugesh. Radiation Oncologist were the resource persons.
Screening camp for TAFE staff conducted at Madurai after the Training. 108 employees were screened and one person was identified for cancer.
Capacity building of Community Based Organizations for Cancer Prevention and Control in Southern Districts of Tamil Nadu - Training of Trainers Approach
Background:
Elevating general public awareness on the cancer problem and the strategies to control as well as advocating for suitable policies and programmes are primary elements in population-based cancer control. Comprehensive cancer control involves prevention, early detection, diagnosis and treatment, rehabilitation and palliative care.The prevention and control programmes focus on eliminating cancer at its earliest stages through effective awarenessand advocacy campaigns. In rural parts of India, most people have no access to cancer screening, early diagnosis or treatment. Therefore, prevention campaigns are proposed to be the most cost-effective, long-term strategy for reducing the burden of cancer.
In this context, as initiating comprehensive and intensive awareness campaigns in rural areas of Tamil Nadu for cancer prevention, screening and early detection, treatment, survivorship and end of life care is considered as the need of the hour, a training of trainers programme for community-based organizations was proposed and conducted.
Objectives of the Project
Based on the positive experiences and findings from various researches worldwide, the current project aimed to address the prevention and control of cancer with the following objective.
Reaching the community through a comprehensive awareness campaign using the community-based organizations (NGOs/CBOs) using training of trainers' approach;
Identification and selection of NGOs
An open invitation for participating in this project was made to all NGOs and Community Based Organizations (CBO) in the selected districts. Based on the applications, a strict scrutiny on the track record, commitment and fund raisingcapacity and the ability to execute the project on their ownwas assessed. Based on these criteria, the NGOs/CBOswas selected for participation in the Training of Trainers (TOT) programme.
This project involvedtwo members working for health issues in the community from each selected district of Tamil Nadu. A total of 40 senior level leaders, i.e., two representatives from each NGO / CBOwas invited for a two-day training programme at J Rehabilitation Center, TAFE Campus, Madurai.
Training content:
The training module was developed by a team of experts incorporating the following.
cancer prevention strategies,
screening methods,
self-breast examination,
warning signs,
treatment strategies,
end of life or palliative care,
cancer myths,
cancer survivorship and
cancer care facilities available in the selected districts.
The course module (Appendix 1), and the programme schedule (Appemdix 2) is attached herewith.
TOT programme:
A total of 36 community leaders were trained from 18 community based organizations in two batches, between 15th and 16th; and 22nd and 23rd of November, 2018. Many of them have worked/working either in maternal and child health, HIV/AIDS programme and cancer controlprogramme at the community.The list of participants, organizations, and their respective districts is in Appendix 3.
The training was facilitated by Dr. E. Vidhubala, Mrs. Sangeetha, Mr. Ramkumar Sethupathy, Oncologists, Dr. Deepak, Dr. Krishna Kumar Rathnam and Dr. Murugesh.
The training was started with an ice breaking session by Ms. Sangeetha, she initiated the participant's introduction session with an activity.
To begin with, the participants were divided into groups and were asked to list down the myths associated with cancer prevailing in their respective locality. One representative form each group was asked to come forward to present the myths identified through their group discussion. Thereafter, each myth was taken one by one and was asked about the understanding and belief of the participants about that myth. Finally, the factual information was clarified to them either through video and oral presentations. Similar methodology was adopted to train the participants on each component of cancer control. In addition, the skills required for a CBO leader in reaching out the community was discussed. During the workshop, cancer survivors Mrs. Dhanalakshmi and Ms. Janaki, shared their journey with cancer and their experiences while conquering the disease. They reiterated the importance of family and social support for the cancer conqueror, not only during cancer treatment but through their survivorship.
Oncologists from three disciplines such as surgical, radiation and medical oncology were invited and they shared their experience on the psycho social challenges of treating the cancer patients with special reference to southern districts. The availability of various cancer care facilities and the services offered were explained. The major focus of the discussion was about the financial challenges in treating the cancer patients. The participants had many queries related to the financial aspects of treatment which was acknowledged as a major challenge by the oncologists in cancer treatment. Therefore, they emphasized on the importance of prevention and early detection in cancer control as it is very cost effective and the role of CBOs in achieving the same. Also, the participants clarified their doubts related to cancer and its treatment with the Oncologists.
One of the major issues identified during the discussion was, the role of alternative medicine in treating or curing cancer. As many myths associated with cancer treatment was spread through social media, a video message was taken from Dr. G.Sivaraman, a renowned siddha physician and played during the session. He explained the scope and limitations of alternative medicine in cancer control and not to believe or spread the false claims made in the social media.
Mr. Ramkumar conducted a session on the importance of mental wellbeing for the CBOs and conducted a laughter therapy session for the participants.
Myths and perceptions related to cancer in southern districts of Tamil Nadu:
It is understood that bringing the perspectives of the public and patients to stakeholders, including policy makers and health care managers, into cancer care discussions will add a critical new dimension to ongoing discussions about access to diagnoses, treatments and the future of cancer care. The public perception of cancer will always serve as a useful starting point to develop strategies to impart knowledge and awareness in future trainings. Therefore, to explore the myths and perceptions associated with cancer in southern districts of Tamil Nadu, the NGO leaders from 9 districts of Tamil Nadu who participated in the training were asked to list down the common myths and perceptions associated with cancer in their respective districts. In addition, the issues related to cancer control and treatment were also explored and summarized in Table 1.
IEC materials
The NGOs/CBOs were provided with soft copies of audio visual and print materials and the strategies for dissemination was designed and discussed. The participants were encouraged to conduct similar programes using the materials. Time to time guidance in organizing further cancer control programeswas ensured.
Knowledge before and after the training:
A baseline evaluation was conducted to understand the existing knowledge level of the participants on various aspects of cancer control. The post evaluation was conducted at the end of the training to assess the effect of training in enhancing their understanding about cancer.
Key learning-
Cancer care
Cancer types
Myths about cancer
Treatment process
Nutritional care
Communication strategies
Cultural media to be utilized.
Overall rating was high, training process and location were highly rated.
Training assessment 2
Objective: To assess the training process, learning impact, training outcomes of the two training sessions.
Overall training impact is 51.3% with better knowledge and support system.
Cancer care program to be intensified, participants motivated to engage in cancer care.
Overall, the training was highly rated by all the participants.
Training methodologies, process correlates with the increased knowledge and skills of participants.
Training venue, materials, food and all were also rated high.
Screening camps by NCCC team
Nellain Cancer Care Center, a unit of Udhavum Ullangal Public Charitable Trust, exist in Tirunelveli since 2011 and have undertaken cancer care awareness and screening camps and reached out over 1,00,000 people through 1124 camps in the last 6 years.
On November 17th, 2018, a screening camp for the TAFE J. Rehabilitation Center at Alampatti had been conducted with our team. The details are given below:
Number of people attended awareness 60
Number of people attended screening 46
Married 34
Un married 12
Pap taken 26
Via-positive 2
Cervix refferal 1
Breast refferal 3
Pre-cancerous 1 - (Mrs.Azhaguboobathy)Name Changed LSIL
Tobacco users Nil
Feedback
The team consisting of 2 doctors, nurses and other staff conducted the screening camp as per the standard guidelines.The screening test and the methods used were, VIA and Pap smear for cervical screening and clinical breast examination for breast cancer. The team had felt the staff members who were screened were very co-operative and followed the procedure and tests.
Again, on November 24th, 2018, a screening camp for the village people of Alampatti at the TAFE J. Rehabilitation center was conducted by the team. The details are given below:
Number of people attended awareness 80
Number of people attended screening 60
Married 44
Un married 8
Pap taken 39
Via-positive 1
Cervix referal Nil
Breast referal 4
Pre-cancerous Nil
Tobacco users 8
S.No. Name of the NGO Location
RUSS Foundation Madurai
Equitas Micro Finance Nagercoil
Shanthi Seva Dindugal
AXIOM SSS Dindugal
BEST Foundation Pudukottai
AMAATA Sivagangai
YACT Trust Madurai
WIN Center Ramnathapuram
Cancer Survivors Madurai
List of participated NGOs on November 22-23, 2019
Shriram Cancer Trust Kanyakumari
AHM Trust Theni
Vivekananda Trust Tirunelveli
CSR Kanyakumari
MSST Tuticorin
TEED Foundation Virudhunagar
CRD Ramanathapuram
IRWO Ramanathapuram
NCCC Tirunelveli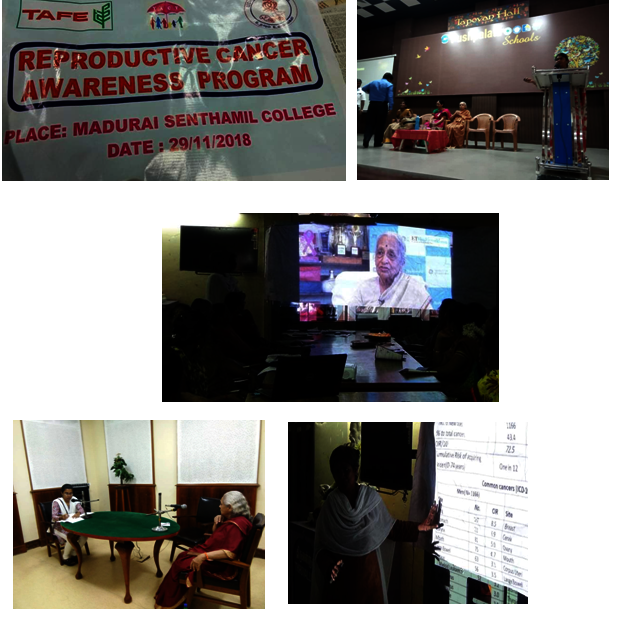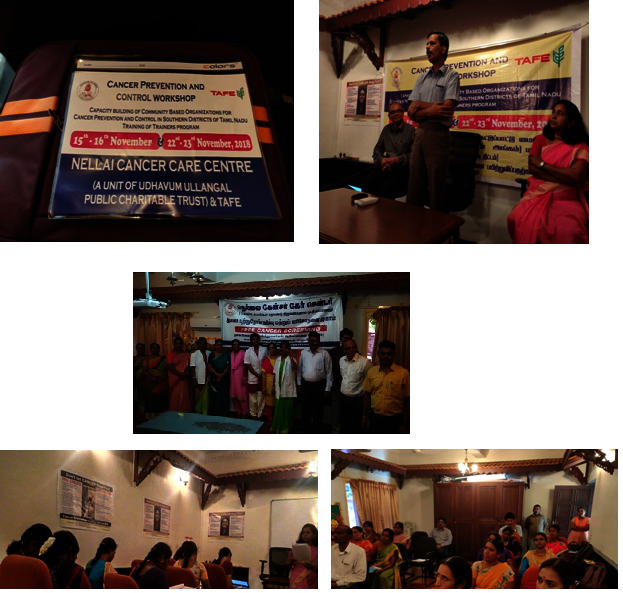 Attachments: