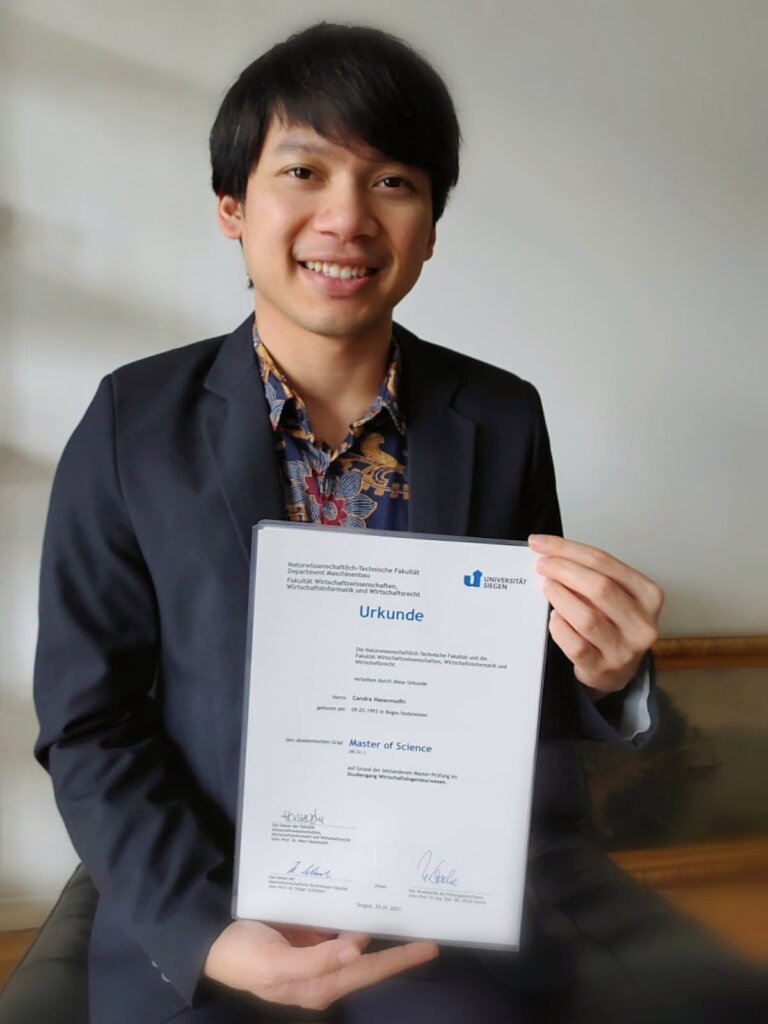 The speech of Steve Jobs in 2005's Stanford Commencement Address always stays on my mind. It inspires me deeply and give me the hints of living our lives. My decision to stay working for YCM is without no reason. Being a "dot", in someone's life and a witness of their success stories is a feeling that I hardly to describe with words. I feel so content and yet so proud without any intention of overbearing it. Jobs' speech taught us about connecting the dots that somehow will connect our future.
The stories that I will present you are about three young people, who joined YCM in the past. They came to YCM some years ago, they fought their dreams and now they experience the success of their dreams.
They are Candra, Ronald and Uni. For them, being able to live and study abroad were their main dreams. Candra lives in Germany now and also Uni. Ronald just recently returned from Australia for his master in Melbourne. Three of them can successfully prove us that even though they were not born with a silver spoon and had to struggle their lives they can reach their dreams!
Henceforth I will share you their stories:
Candra a young man who is currently working as a Health and Safety Expert at an international courier company in Cologne, Germany. He completed his Master of Industrial Engineering at the University of Siegen. He was born from a humble family. His mother is a cake seller in a traditional market, his father passed away in 2014 caused by stroke. Although everything is so limited in his family, Candra knows that education and positive characters are the most important things in life. After he graduated his high school, he received a scholarship for his school fees of his undergraduate study in Jakarta the capital. He went back and forth Jakarta-Bogor by public transport. While he also worked as freelancer of a delivery call operator for a pizza's restaurant. When he heard about YCM, he decided to join us and eagerly participate our activities. I was always amazed on how he managed his time between his activities at YCM, his study and his freelance work. He pushed himself to his limit. He fought his life's circumstances. Ultimately, he had to give up his freelance work, as he had to choose between joining YCM or draining up his energy after work. Luckily, he also received another scholarship to support his life (transport etc. for his study) named PMD scholarship. He did not regret his decision as he chose the right one that brought him to his life in Germany now.
For Candra, YCM is a place where he felt at home and school at the same time. The combination of local tutors and international volunteers opened up their knowledge, sharpen their ability on how to deal with people from different background, cultures, and nationalities. When Candra at YCM, his biggest dream was to go abroad either for working or studying. His steppingstone was becoming an Au Pair to Germany. Finally with all support from YCM's family, PMD and friends he flew to Germany as an Au Pair in October 2015 for a year. But after being an Au Pair, what's next? That question on his mind motivated him to look for a scholarship for his master. After ups and downs during his journey in Germany long short story, he finished his study and now he works there.
The second story is about Ronald. A young man who just recently returned from Melbourne, Australia. Ronald grew up in a household which didn't really appreciate the importance of education. When he was about to turn sixteen, his mother and stepfather kicked him out from home when he had just graduated from junior high. His parents thought that it was a waste of money if they allowed him to continue his study. That situation brought him to YCM with the information from a neighbor who formerly had joined YCM. She told Ronald that YCM is a great place to learn English, make new friends and do fun activities. To his surprise, he did not only learn English, but he also gained opportunities such as a scholarship to continue his study in a high school. He lived at YCM since then, he always been so grateful that he had a shelter and a family at YCM.
Ronald said that his "dot" at YCM had greatly impacted his life, especially because YCM's role in instilling soft skills to its students makes a huge difference compared to other schools or places. YCM emphasises that principles such as responsibility and independence are very important for its students. For example, students are given a weekly cooking schedule. This activity clearly teaches the students to be more responsible individuals. This means that apart from developing hard skills such as English and computing, the students also gain soft skills which are useful in the future. Another difference would be students at YCM get the chance to learn English with volunteers who are from different countries. This means that students can learn the volunteers' cultures and broaden their knowledge.
Another thing that makes YCM different is that it encourages its youths to shoot for the stars. Prior to joining YCM, Ronald remembers vividly that he hadn't had any significant dream in mind. Plus, he didn't even have any idea what he wanted to be when he grew up. As time went by, he broadened his horizons. He dared to dream big now, regardless of his family financial background. Another reason would be he wanted to challenge himself. One day at YCM, he wrote down his biggest dream on a large piece of paper: "I want to study a master's degree at the University of Melbourne." He guessed at the time he was greatly immersed in Australia in many ways. He met many Australian volunteers throughout his journey at YCM. He read about the country on the internet, including its most prestigious universities. In August 2021, he obtained a master's degree in Creative Writing, Publishing and Editing from the University of Melbourne. He never thought his biggest dream would come to reality a decade later.
Last but not the least is Uni, a young woman who lives in Germany as an Au Pair since May 2021 for a year. Like many other young people at YCM, going and live abroad is such a luxury dream, especially if our families' situation does not support us. Uni's father is a parking attendant with a housewife mother and three younger brothers. Her family's background challenges her on a hardship of life. When she was in high school, a friend suggested her to come to join YCM as she was always wanting to learn English. But taking a course is so pricey while her parents could not afford it. As part of YCM's family' member she was not only learn English. She also learnt on how to operate the computer, leadership, communication, problem solving and character building. Being the discipline one, an integrity person and having dreams are the values she mostly gets from YCM.
After high school, she received scholarships to continue her study. She studied accounting for three years, then another two years to complete it. She obtained her bachelor's degree in accounting already. After she finished her study, YCM's network offered her a job in Germany, she learnt German and sharpened her knowledge, and she also helped YCM's accounting while she was waiting for her visa to Germany. Well, her journey to work in Germany was not as smooth as we expected. But she did not give up, until finally she received her visa to live in Germany as an Au Pair for a family of our network as well. She has to postpone her dream to work as an accountant and after her Au Pair she has a plan to do "Ausbildung" an internship program to be acceptable to work in Germany.
The most significant and relevant character she built during her time at YCM shaped her into an independent, honest, open minded and a hard worker woman. She applies them wherever and whenever she is.
The three of them are only few from many other success stories. YCM and its' team including founders, core team, volunteers and for sure donors are the dots that taking part on the youths' life. They are so grateful that they had a chance to join YCM. They and the dreams they achieved are the prove of you, I, we, and us together the dots that connect to each other. Thank you again for everyone who directly and indirectly letting us to assist others to connect their dots, our dots.
Season's Greetings, Happy Holiday, Happy New Year of 2022. Be safe and stay healthy everyone!