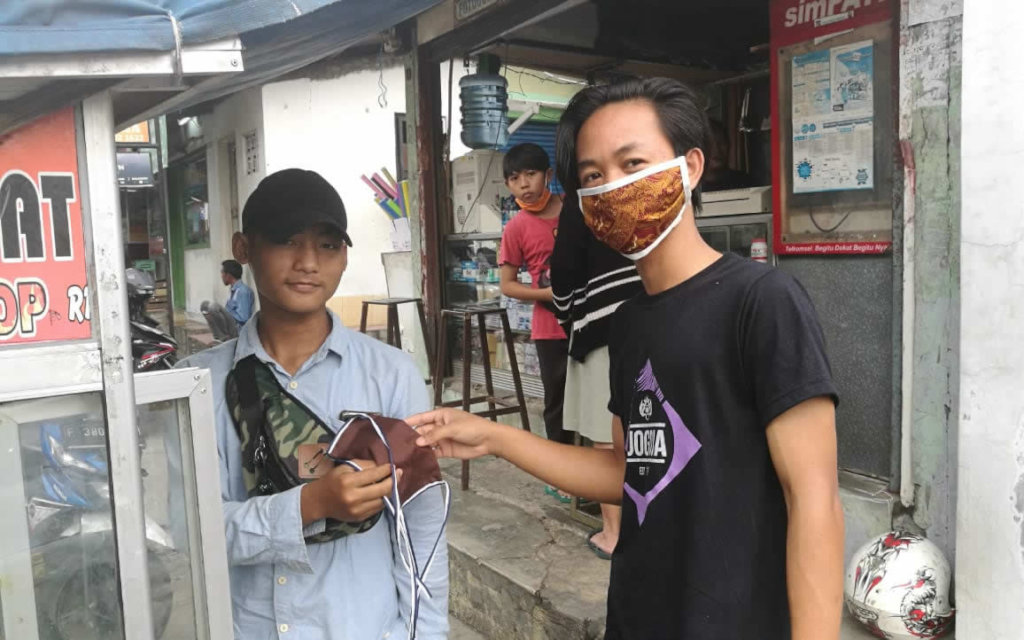 Since the pandemic hits the world every body tries to survive, not to mention our organization. Thank you so much for all donators who sincerely allow us to survive and to assist others.
The first months of quarantine following the outbreak in March 2020, we supported communities by producing fabric maskers and distributed the maskers for free to the people who cannot afford to buy them. We also collected some money from the donators and distributed foods and groceries to the people, especially the families of YCM's member and our neighbors. Until just recently, to lighten the burden of the YCM's member families, we also share some foods' materials for them. As we cannot use YCM's house as a place to gather many people in one time and as the schools' lesson only can only be done online, we facilitate our space and internet to study online in our place (we apply strict covid protocols and limit the number who can come to our house). The youth who have no internet or equipment to study online, can come to YCM and use our facilities.
YCM's youths' families' background generally are underprivileged with financial hardship. Most of the youths' parents are casual worker or unemployed. Casual worker in Indonesia means earning ridiculously small and uncertain incomes. They hardly enjoy privileged lives while they have to survive day to day living.
Icha's family for example. Icha is a young woman (18-year-old) who had to gave up her formal education when she finished her junior school (when she was 15-year-old). She has two other younger siblings whom her parents need to look after for as well. So, Icha should stop dreaming about further education since her parents no longer able to support her for formal education. Her father is an online motorbike taxi driver while her mother is a housemaid with a little income every month. Icha's father must stop taking passengers during the pandemic and depending on foods or sending goods order (he only get one or two costumers the whole day mostly), well it is not much to support the whole family's member. Her family received some foods' materials from donators through YCM. She gets an opportunity to study in a "package" school (an afternoon school to catch up formal school lessons and gets a high school certificate). She continues learning skills and knowledge at YCM. During pandemic, we try to support her with necessary skills she loves to do and we pay her transport to come (we can only accommodate few people per day) or to learn online buy lending her a laptop and give her an internet data.
Puja (a 15-year-old boy)'s family more and less experience the same condition with Icha's family. His father is an online motorbike taxi and his mother is a housewife. Four of them (parents with two kids) live in a small rented "house" and have to experience difficulties to pay the rent and school fees. The situation is really tough for them. Day to day living cost is a challenge for them for sure. YCM assists them on some foods' materials and a place to learn and internet connection. Puja is an extremely diligent and smart one, he grabs the opportunity to study at YCM's. He comes early in the morning, sets up his lesson and returns home late in the afternoon everyday.
Bunga is another youth of YCM. Her family is facing a real tough situation. With six other siblings and parents who are casual workers (her father is a cheap accessories vendor and her mother is a housemaid), they cannot afford the online learning system. During the pandemic, her father hardly to sell his accessories caused by the strict rules of the local government due to the covid's prevention. Day to day necessities are already so difficult for them, the pandemic causes even harder for them and many other families.
Dear donators, we would like to say that your donations allow us to survive. We do not know what else we can say to express our gratitude to you. From the bottom of our hearts, please allow us again to say thank you very much. May we stay healthy and peace within.
Warmest regards and love from us in Bogor Indonesia!!!
Putu and YCM's family.