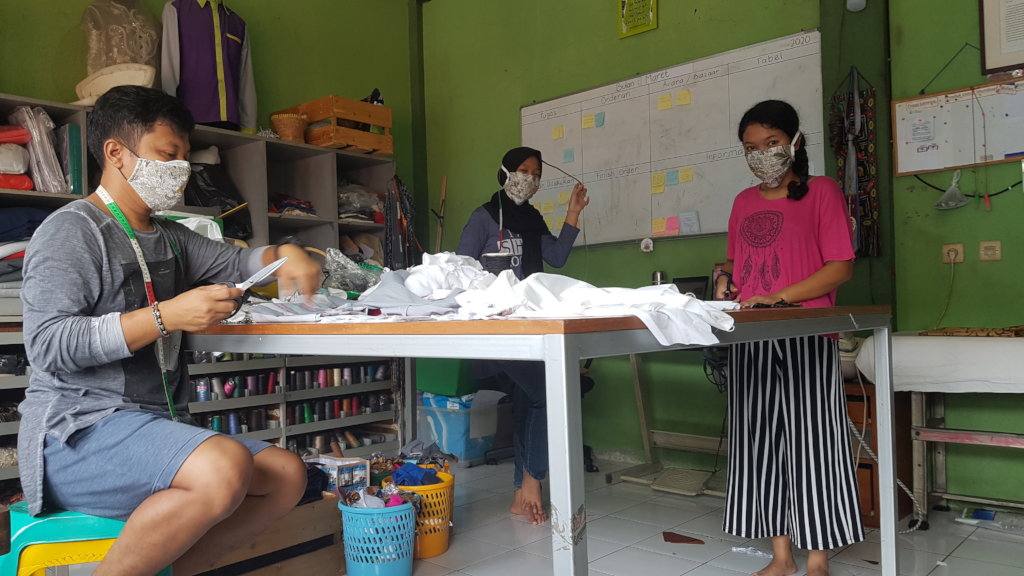 As the effect of Covid-19 pandemic, Yayasan Cipta Mandiri (YCM) has to be closed until further notice from the government. The uncertain condition requires us to keep creative yet meaningful to others. YCM's team tries to keep the service to our students via online basis lesson that the youth of YCM can access via smartphone for the one who own it. While the most challenging situation for our youth are not only about the limited tools but also the internet connection to access the lesson itself. Even for those who have a smartphone, it does not mean that they can smoothly access the lesson as most of them cannot afford to buy the internet's data. Most of our youths' parents are working as daily casual workers or low-income labours. Their necessities' cost solely depend on the income they earn daily from their work as "angkot" (minibus taxi for about 11 people that we use as public transport) driver, motorcycle taxi online driver and some other casual works that nowadays hardly to get any income as most people stay at home.
Our team is making fabric masker for the community in order to be able to earn a little income to help themselves and their families as they sell some of the maskers while they also share them for free to the one who cannot afford to buy. By the support of another organization and individual supporters, YCM has shared some foods' material and cooked foods to the families of YCM's member and the people who live nearby our site and hardly to get any food.
This situation is affecting most of our youths' condition, not to mention to Puja. A youth of YCM whom I know since he came to YCM for the first time about five years ago.
I noticed that among others, he was always diligently attending the classes of YCM after he return from his formal school. He always concentrates to learn and shows his enthusiasm to study. When I moved to another country for about one and a half year, and then I returned to YCM again, I was so happy to meet Puja again! Well, he is so much taller now, and still as bright and diligent as before. Puja's father was a street vendor, he sold chicken porridge for breakfast not far from our site. Unfortunately, he often had no return capital to sell the porridge for the next day, so he changed his profession to an online "ojek" driver (ojek is a motorcycle taxi). Puja's family, who depends on daily income, badly impacted from this pandemic. His father could no longer take passengers and hardly to earn money for the family. Puja who will finish his study from Junior High School this mid-year, perhaps has to postpone his study in his dream's High School if his father cannot afford to let him study. Yet every day his family has to worry about their daily necessity. Puja, a smart and diligent boy from an underprivileged family who most probably has to postpone or cancel his dream because of the pandemic. This difficult situation is not only faced by Puja but also other youths of YCM and their families. We hope we are still able to support and assist our youths, run the project smoothly without feeling worried about tomorrow's condition. We hope we can get through this difficult situation together.
We are not alone, yet many people in the world face difficulties also. Thank you for your support to us in this difficult situation. Stay healthy and safe everyone!