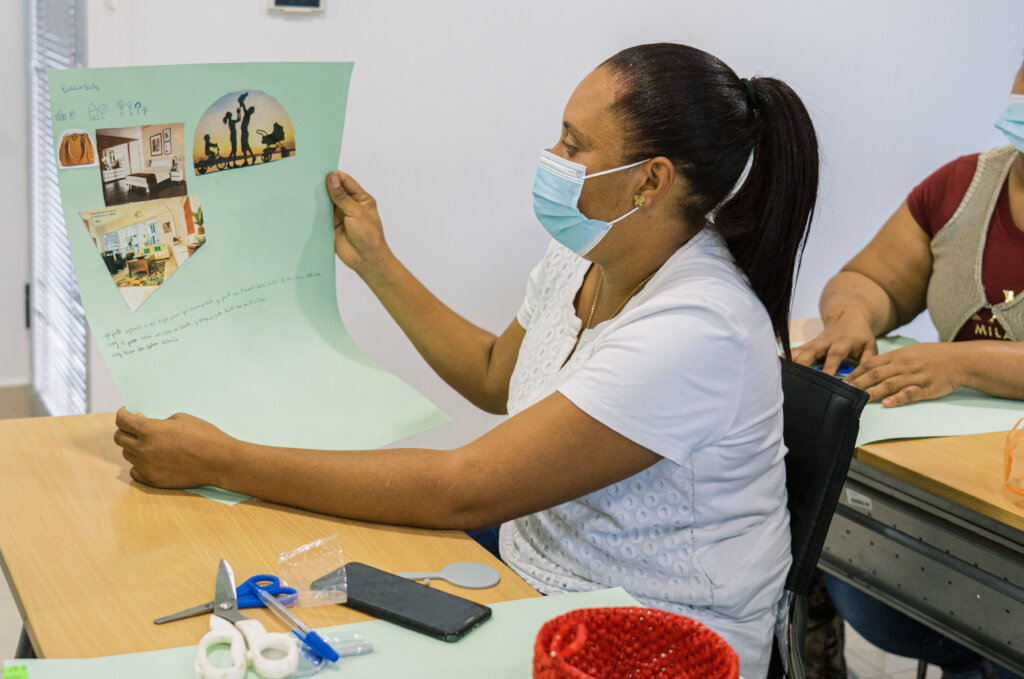 Dear Donor, please receive a warm greeting. Thank you for your donation ! It really makes a difference for the female artisans that our project supports..
Thanks to your generosity and social awareness, these women are being empowered by stimulating their self-esteem and potential for self-development , in an entrepreneurial project to improve their living conditions and those of their families. In this sense, the artisans recently participated in a workshop in which the coach offered them tools to increase their self-esteem and achieve their goals both personally and professionally.
This project is focused on training and empowering women who were at risk of falling into irreversible social exclusion, in order to improve their skills to actively and stably insert themselves in the micro-business world.
This project has demonstrated the validity and effectiveness of their intervention to respond, with the participation of the artisans, to the situation of social marginalization in which they found themselves.
As a Foundation, we continue supporting the artisans by making it possible to sell their handicrafts at the stores of the Fundación Grupo Puntacana, Puntacana Resort and Club and some stores at the Punta Cana International Airport, as part of the marketing strategies.
As the pandemic is under control in the DR, the artisans are increasingly participating as exhibitors in activities that help them promote their products and boost sales, always complying with health and safety protocols
Fortunately the demand for the handicrafts (bags, souvenirs, accessories) continue increasing due to the recovery of the local tourism industry.
The project has been focused on the following as well:
Trainings
Logistical support and transportation for their participation in bazaars, fairs and various events
Institutional strengthening of the association of artisans
Please see the 3 pictures attached.
This project undoubtedly contributes to the reduction of poverty levels, since it promotes the socioeconomic development of artisans, their families and their communities. The search for an economic benefit for artisans goes hand in hand with caring for the environment, through the reduction of pollution caused by uncontrolled discarded plastic bags.
We look forward to a continuing partnership with you.
We will keep you informed about the progress of the project. If you have any comment, advice or question, please feel free to direct them to us and we will answer as best we can.
There is no way to fully express our gratitude for your support.
Thank you again
Best wishes,
.