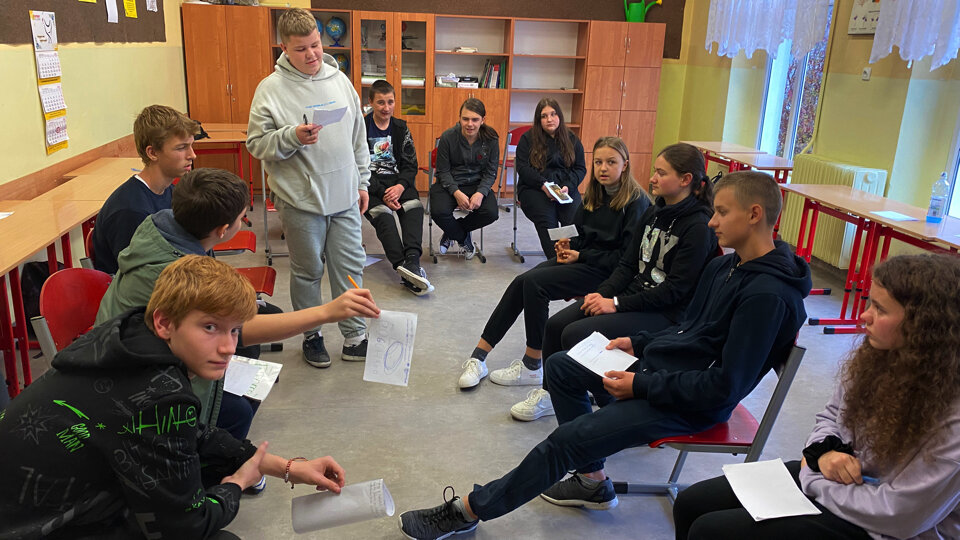 [polish translation below]
Young people from 4 schools participated in the first workshop introducing the subject of Oxford debates.
The workshop emboldened the students who initially had fears of public speaking, but after several hours of workshops, they took up the challenge of participating in a trial debate. It's amazing how quickly young people feel the power of words.
During the workshop, we talked about the principles of debating, searching for sources of information, and practicing public speaking. At the end of the workshop, we held a trial debate in each school, in which the thesis was "Money does not buy happiness". Young people gave very interesting arguments, both for and against the thesis.
Now young participants are preparing for the 1st Masurian Debate League in their debating teams. The League begins in mid-March with intra-school debates, followed by inter-school eliminations, to organize the final of the Oxford debates in April.
We do count on your support! Without it, we will not be able to finance travel to the semi-finals and final of the debates or reward brave young debaters. So help us, please!
Pierwszy warsztat za nami!
Uczniowie z 4 szkol uczestniczyli w pierwszym warsztacie, wprowadzajacym do tematyki debat oksfordzkich.
Warsztaty osmieliy uczniow, ktorzy poczatkowo mieli obawy przed wystapieniami publicznymi, ale po kilkugodzinnych warsztatach podejmowali juz wyzwanie udzialu w probnej debacie. To niesamowite, jak szybko mlodzi ludzie czuja moc slow.
Podczas warsztatow, opowiedzielismy o zasadach debatowania, poszukiwaniu zrode informacji oraz trenowalismy wystapienia publiczne. Na koniec warsztatu w kazdej szkole przeprowadzilismy probna debate, w ktorej teza brzmiala "Pieniadze szczescia nie daja". Mlodziez podawaa bardzo ciekawe argumenty, zarowno za teza jak i przeciw niej.
Teraz uczestnicy warsztatow przygotowuja sie do I Mazurskiej Ligi Debat w zespoach debatanckich. Liga rozpoczyna sie w poowie marca debatami wewnatrzszkolnymi, a nastepnie odbeda sie miedzyszkolne eliminacje, aby w kwietniu zorganizowac fina debat oksfordzkich.
Bardzo mocno liczymy na Wasze wsparcie! Bez niego, nie bedziemy w stanie sfinansowac przejazdow na polfinay i final debat ani nagrodzic odwaznych modych debatantow. Pomozcie nam, prosimy!