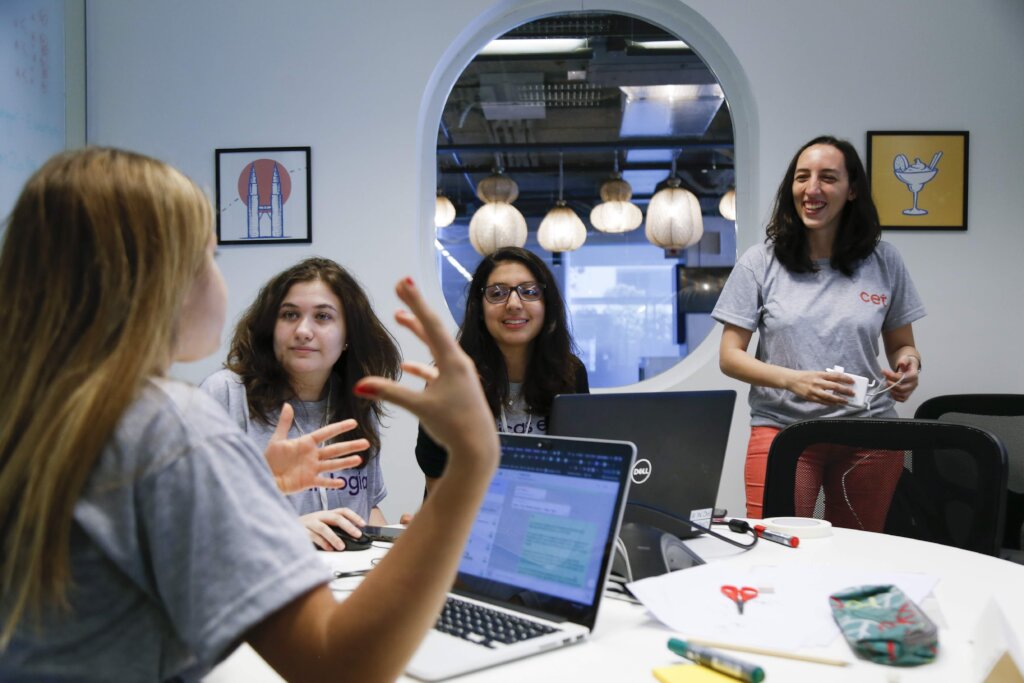 13 important investigations and surveys of our own data on perspectives and challenges associated with the gender gap in technology, in collaboration with important institutions such as INTAL-BID, equal, Ashoka, and NextJournal, have allowed Chicas en Tecnología to design and develop evidence-based programs that, since 2015, have already strengthened interest among more than 11,600 young women from 18 countries in Latin America.
With an integral roadmap that addresses concepts ranging from motivation and training to professional development, CET achieves a real transformation of thousands of young women who acquire soft, impact and technical skills,as the last years survey shows: 80.2% clarified their vision regarding their work or academic future; 88.4% arouse their interest in studying, working or conducting research in technological areas; 93.2% addressed the issues on technology that are relevant to them; 80.7% aimed to learn more about the training and development opportunities in technology.
In addition, interest in further training is reflected among more than 5000 young women who make up the CommunityCET, which is an innovative space of reference, accompaniment and networking for graduates of the programs with more opportunities to enhance their projects and trajectories, consolidate their vocation and deepen their knowledge.
CET co-created its solutions alongside more than 100 partnerships from the public sector, civil society, universities, the scientific world and companies in the region. With its partnership strategy, CET creates sustainable value and multiplies connections in the ecosystem, mobilizing and exchanging knowledge, technical capacity, technology and financial resources to mainstream a gender perspective across all sectors.
Lucia S. testimony and success story reinforces the impact of CET´s integral strategyto tackle young women's fears about studying and pursuing careers in STEM:
"Until age 16, I thought sitting in front of the computer was the most boring thing to do. I participated in a Chicas en Tecnología program that took place in my town, and that's when I first stepped into the exciting world of technology. I realized that I could make a living from technology and also help people in many ways. (...) Over the years, Chicas en Tecnología has always been supporting me and helping me grow. In 2020 I was going through my last year of high school and at that time they helped me start studying web development, through a scholarship at Acamica. And in 2021 I decided to move home to Buenos Aires, where I acquired my first formal position in technology."
Links: