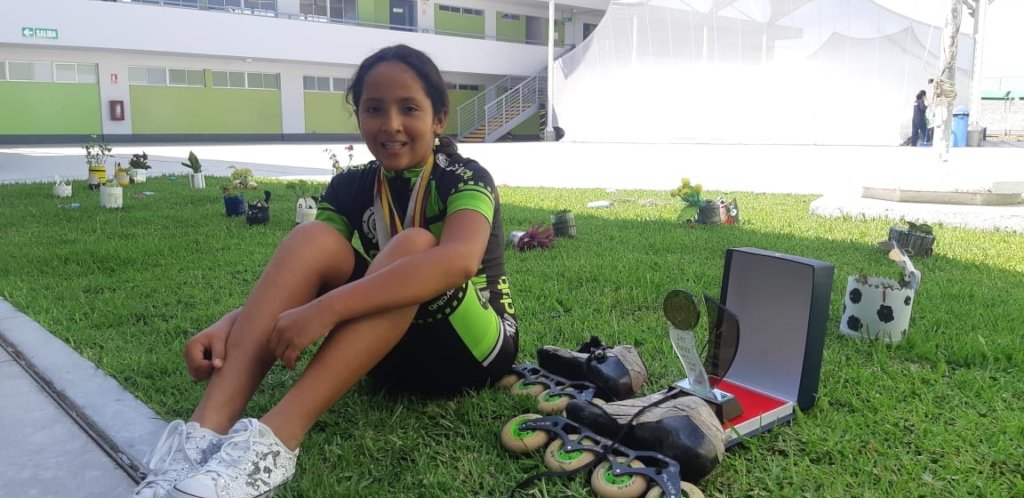 Mery is 11 years old and lives in Chiclayo, Peru. From a young age, thanks to her family's example, she has been a Champ dedicated to sports. She has practiced since she was 3 and continues to train every day. This dedication has earned her the national skating champion of Peru. Ricardo, her father and coach, drives her to improve. He's the one who puts the training plan together for her and the selective team she belongs to. In addition, Mary is an excellent student and maintains a good academic average. One of the achievements she considers the most important are the two medals she received at the Panamericano, a major sporting event, in Buga, Colombia in 2016.
Her dream is to represent Peru at the Youth Olympics and dedicate a medal to Perú Champs.
Even though skating is not yet recognized as an Olympic sport among the major categories, Mery is confident that she will have her chance to compete and continues to strive to further develop her talent. When Mery started skating, there was no skating federation in Peru, so she was not recognized as an athlete and the complications to compete were always present. What motivated her to give the sport a chance was her family environment. Years ago, her older brother, Italo, was already practicing skating and was the one who showed their father everything about the sport. Ricardo decided to leave his profession as administrator, to which he had dedicated 15 years, to become a coach and be the one who gives his children the opportunity to live the dream of being athletes.
With the support of the Olympic Committee, he was able to study abroad to be a coach and then returned to teach Katherine, his wife and Mery's mother, to also become a skater. Both contributed to the initiative to found the Peruvian Skating Federation and are dedicated to teaching skating. In addition, Mery's parents also work as mobility drivers for students at Innova in a minivan that they've had from before Ricardo left his old profession.
For a long time, Ricardo thought that the possibility of enrolling Mery and Italo in a high-quality school would be impossible due to their economic situation, but thanks to the Peruvian Skating Federation, they were able to take an exam and obtain the scholarship from Peru Champs. Both parents are coaches and continue transporting students, but this time they also take their daughter to the same high-quality school they thought was impossible to afford.
Mery continues to improve her skating ability and simultaneously receives a quality education so that she can train as an agent of change and enhance her talent.