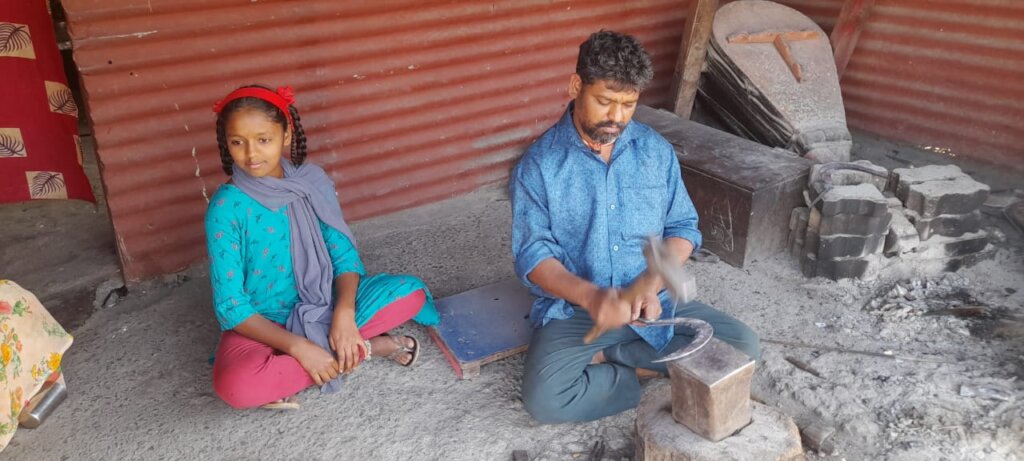 Despite the horrific reality of child marriage, its causes are not a mystery. Social and cultural pressure, combined with extreme financial insecurity, is more than enough to persuade many families living in extreme poverty to do the unthinkable and marry off their underage daughters into a life of potential abuse and household slavery.
Mangesh knows these pressures well. Illiterate and with a family of 6, including 3 daughters, too often he was unable to find work as a blacksmith in Maharashtra. Struggling even to feed his daughters, it wasn't long before his own relatives began encouraging them to marry them off to alleviate the financial strain, despite them barely being teenagers.
His daughters, of course, had other ambitions – they wanted to stay in school. But with barely enough to put food on the table, the cost of education for his daughters was impossible.
Fortunately, one of our partners was conducting a free workshop that Mangesh's wife attended. While there, she learnt about the illegality of child marriage and the importance of girls' education. When she returned home she persuaded Mangesh to attend one of these workshops himself.
He was glad he did. He was able to meet community representatives who gave him advice on how to handle his finances and communicated the importance of educating his daughters.
The knowledge he received over multiple discussions transformed his thinking. Now, he champions his daughter's education and autonomy over their own life choices. He even spreads the word to other men in the community, too.
"I decided to give her a good education that would help her get a good job in the future. Now her future will definitely be bright," Mangesh says.
Your donations mean that fathers just like Mangesh can get the support they need to transform their thinking; becoming the biggest champions of their daughters' education, instead of the greatest obstacles to it. Thank you.