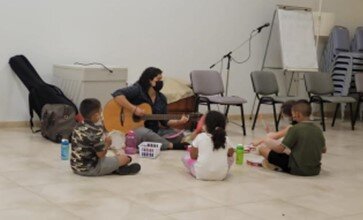 Este inicio del 2022 lo comenzamos llenos de energía ofreciendo nuestros servicios de sicología y consejería desde nuestras oficinas. Hemos podido ver la necesidad y aumento en la demanda de un acompañamiento individual para el crecimiento personal y también para grupos de familias con niños. Como parte de los servicios de consejería, trabajamos con la orientación vocacional, ayudando a los jóvenes a identificar sus opciones de estudio y trabajo al acercarse el fin de su escuela superior. Utilizando pruebas de intereses les ayudamos a ver sus fortalezas e intereses para que puedan hacer una transición apropiada al terminar su escuela superior.
Durante el mes de febrero estuvimos encontrándonos todos los jueves con un grupo de 38 mujeres maravillosas a través de los Talleres Estima. Las invitamos a separar un espacio para su crecimiento y fortalecimiento personal. Abordamos los temas de autoconocimiento, comunicación e inteligencia emocional, manejo de ansiedad y estrés y la sanación de heridas emocionales. Fue una experiencia muy enriquecedora poder compartir las experiencias de vida de estas valientes mujeres y acompañarlas en su camino personal.
El miércoles 2 de marzo nuestra Terapista de Danza Movimiento, Hecbel Rodríguez Crespo, DMT, tuvo la oportunidad de participar del podcast de Ruga Korpo, Construyendo Comunidad desde la DMT, dirigido por la especialista en DMT Paulina Meléndez Aranda. Desde México, Paulina dirige este programa para orientar y abordar los temas relacionados a la Danza Movimiento Terapia (DMT). Hecbel tuvo la oportunidad de explicar el trabajo que realiza desde Casa sin Fronteras en Puerto Rico y hablar sobre el Primer Simposio Internacional de las Terapias Artístico Creativas que organiza desde la isla. Fue un honor haber sido invitada a participar de este programa y continuar la labor de divulgación de las Terapias Artístico Creativas, tanto en Puerto Rico, como en otros países.
Para continuar promoviendo el bienestar a través de la DMT, Hecbel ofreció el taller "Cuerpo, mente y emoción: conectando lo que anda suelto". Utilizando la plataforma ZOOM, nos pudimos conectar con este grupo de personas el martes 8 de marzo. Mediante los ejercicios dirigidos por la terapista logramos relajarnos, escuchar a nuestro cuerpo y conectar con los sentimientos. Nuestro propósito siempre es mejorar el bienestar del ser humano.
Por 4 años Casa Sin Fronteras ha celebrado la Jornada de Terapias Artístico Creativas. Después de una pausa por la pandemia de COVID-19, este 19 de marzo volvimos a abrir nuestras puertas a la comunidad para llevar a cabo esta actividad. Tomando las precauciones necesarias, celebramos la 5ta Jornada con experiencias creativas de musicoterapia, danza/movimiento terapia y arte terapia. Tanto adultos como niños participaron de los talleres ofrecidos por nuestros terapistas en un ambiente festivo y alegre. Hasta el pueblo de Arecibo llegaron participantes de otros pueblos distantes como Yauco, Río Grande, Mayagüez, Las Piedras y San Juan, entre otros. Agradecemos a los voluntarios que generosamente nos ayudaron a que esta actividad fuera un éxito.
Por primera vez, desde el miércoles 30 de marzo comenzamos un ciclo de talleres de musicoterapia para niños entre las edades de 6 a 9 años. Estos encuentros semanales en nuestras facilidades estuvieron dirigidos por la musicoterapeuta certificada Adriana Lizardi Vázquez, MM, MT. Utilizando la música, Adriana trabajó con los niños ejercicios de estimulación cerebral, autoestima y para mejorar su motricidad. Fue una bella experiencia ver el entusiasmo de los niños y esperamos poder repetir estos talleres próximamente.
El mes de abril lo comenzamos con broche de oro con el 1er Simposio Internacional de Terapias Artístico Creativas el 9 de abril. A través de la plataforma ZOOM organizamos un encuentro con panelistas y recursos de Chile, España, México, Venezuela y Puerto Rico. Con la participación de más de 85 personas de diferentes países, tuvimos talleres de las diferentes modalidades de terapias creativas, tales como improterapia, musicoterapia, Danza movimiento terapia, arteterapia, sicodrama y risoterapia. Estos profesionales compartieron sus experiencias con los proyectos que lideran en sus respectivos países y los efectos positivos que han podido evidenciar en los participantes. Estas terapias son innovadoras y todavía hay un largo camino para que sean conocidas por el público general, por lo que este Simposio es de gran relevancia para el desarrollo y avance de estas profesiones que trabajan con la salud mental.
Este semestre lo cerramos con el taller grupal "Conociéndome a través del movimiento" que realizaremos los sábados 21 y 28 de mayo. A través de estos dos talleres demostraremos los beneficios del movimiento a nivel grupal y como podemos transformar nuestro interior en un ambiente agradable y seguro.
Estamos muy agradecidos de todas las personas que con sus generosas aportaciones hacen posible todo este trabajo en beneficio de nuestra comunidad.
----------------------------------
We started this 2022 full of energy hosting our psychology and counseling services from our offices. We have seen an increase in the need and demand for support and personal growth of individuals and groups of families with children. As part of counseling services, we work with vocational guidance, helping youth identify their study and work options as they approach the end of their high school through the use of tests and counseling. We help them see their strengths and interests so they can make an appropriate transition as they finish high school.
On February we met every Thursday with a group of 38 wonderful women through the Estima Workshops. We invited them to set aside a space for their personal growth and strengthening. We addressed the topics of self-knowledge, communication and emotional intelligence, anxiety and stress management and the healing of emotional wounds. It was a very enriching experience to be able to share the life experiences of these brave women and accompany them on their personal journey.
On Wednesday, March 2, our Movement Dance Therapist, Hecbel Rodríguez Crespo, DMT, had the opportunity to participate in Ruga Korpo's podcast, Building Community from DMT, directed by DMT specialist Paulina Meléndez Aranda. From Mexico, Paulina directs this program to guide and address issues related to Dance Movement Therapy (DMT). Hecbel explained the work she does in Casa sin Fronteras, Puerto Rico and talked about the 1st International Symposium of Creative Artistic Therapies that we organized. It was an honor to have been invited to this program and continue working in disseminating Creative Artistic Therapies, both in Puerto Rico and in other countries.
To continue promoting well-being through DMT, Hecbel offered the workshop "Body, Mind and Emotion: Connecting What's on the Loose." Using the ZOOM platform, we were able to connect with this group of people on Tuesday, March 8. Through the exercises directed by the therapist we managed to relax, listen to our bodies and connect with feelings. Our purpose is always to improve the well-being of the human being.
For 4 years Casa Sin Fronteras has celebrated the Day of Creative Artistic Therapies. After a pause due to the COVID-19 pandemic, this March 19 we reopened our doors to the community to carry out this activity. Taking the necessary precautions, we celebrated the 5th Day with creative experiences of music therapy, dance/movement therapy and art therapy. Both adults and children participated in the workshops directed by our therapists in a festive and cheerful atmosphere. People from distant towns such as Yauco, Río Grande, Mayagüez, Las Piedras and San Juan, among others, came to Arecibo. We thank the volunteers who generously helped us make this activity a success.
For the first time, from Wednesday, March 30, we began a cycle of music therapy workshops for children between the ages of 6 and 9 years. These weekly meetings in our facilities were led by certified music therapist Adriana Lizardi Vázquez, MM, MT. Using music, Adriana worked with the children on brain stimulation exercises, self-esteem and to improve their motor skills. It was a beautiful experience to see the enthusiasm of the children and we hope to be able to repeat these workshops soon.
The month of April began with a flourish with the 1st International Symposium on Creative Artistic Therapies on April 9. Through the ZOOM platform we organized a meeting with panelists and resources from Chile, Spain, Mexico, Venezuela and Puerto Rico. With the participation of more than 85 people from different countries, we had workshops on the different modalities of creative therapies, such as improtherapy, music therapy, dance movement therapy, art therapy, psychodrama and laughter therapy. These professionals shared their experiences with the projects they lead in their respective countries and the positive effects they have been able to show in participants. These therapies are innovative and there is still a long way to get them to be known by the general public, so this Symposium is of great relevance for the development and advancement of these mental health professions.
We close this semester with the group workshop "Getting to know myself through movement". Through these two workshops on Saturdays, May 21 and 28 we will demonstrate the benefits of movement to the group of attendees and how it can transform our interior and wellbeing.
We are very grateful to all the people who made all this work possible for the benefit of our community with their generous contributions.