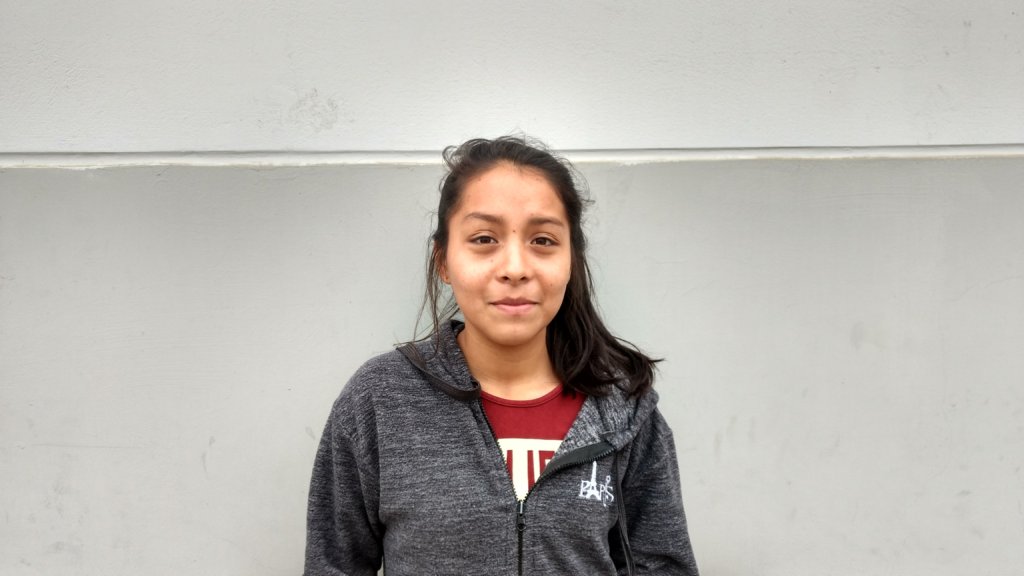 Wilson is a 15 year-old that at the beginning of our School of Entrepreneurs wouldn't even look at us in the eyes, he would be very daring against anyone. However, he would never miss any of our classes every Saturday, full day, which gave us the continuity to get to know him better. At the 5th session, everyone was proposing posible projects to help their community and he suggested working with children in Manchay. At the end of the day we went to explore the nature and do some dynamics to increase their creativity, and he opened up and told us he had a little baby brother with special needs and he wanted to create a better community so his brother could grow up happy and secure.
After all this time, he's become a referent amongst other youngster and is more confident and has an excellent attituted to teamwork. He shared with us: "I met a lot of people that I get to admired, people that inspired me with their stories. They motivated us to have a future, to be what we really feel. When the people that visited us told us about their problems and how they overcome it, I felt identified with them. They helped me to show my feelings and inspired me to see my potential".
During the School of Entrepreneurs, different activities are generated in spaces of synergy. Stories, laughter, opening up and learning are emerging from dynamics that awaken in the youngsters their creativity without limits or judgments. Our "Believe in yourself to Create" methodology is a cross key aspect in the workshop, because it brings different knowledge; as well as it invites to be part of the joint creation, in order to solve social problems that the workshop participants evidence or experience.
Like Wilson, many other youngster have been part of the following workshops, starting to develop skills such as Active Listening, Leadership, Confidence, Empathy, Humility, Teamwork, Effective Communication, Creativity and Self-esteem.
A. Active Listening and Effective Communication: Workshop executed with the aim that the young people develop a conscious, respectful and real listening. In addition to developing different activities and workshops to improve communication and to be able to express themselves in a more authentic and trustworthy way.
B. Inspiration and Motivation: Different moments and stories from people with different experiences shared to inspire and give young people a different perspective on their futures, options and opportunities.
C. Singing and Body Expression: With rhythm, music and sounds, the young people were awakening their interest in singing. The singer Merian, with all her experience, gave the young people different tools and techniques to express themselves and to reach out to others.
D. Creativity through Dynamics: Different socio-emotional skills are developed, through games and playful dynamics, awakening the abilities and competences of the youngster. Every activity made in spaces of respect, companionship and trust. Avoiding judgments and losing the fear of error/mistake.
Other youngster have also shared their experience with us:
"I learned to express myself better, I met new people, I developed my creativity without being judged. I liked that we could express and say things as a child, think crazy ideas and become leaders". - Katiuska
"I've learned about solidarity, respect, empathy, teamwork, loved the dynamics and get to make more friends". - Frank
"My way of being has improved. At first I did not speak and I did not want to speak, now I can speak when is my turn. I used to be quiet, and now I am not, I got free and I feel that I am freer. Share my thoughts of leadership with others. Since I'm shy, I do not like expressing myself, now I'm free. " - Nilsa
Our impact in numbers
50 Young People worked with
9 Successful Workshops
45 Hours of Training
20 Identified Leaders
15 People in charge of the workshop and volunteers involved
5 Leaders visited us (David Trezeguet, World Cup Football Champion France 98 amongst others)
From all of our youth, thank you so much for being part of this transformation, we would love you to visit us or even send us a video and share your own experience. ¡Thank you for inspiring all of us from all around!