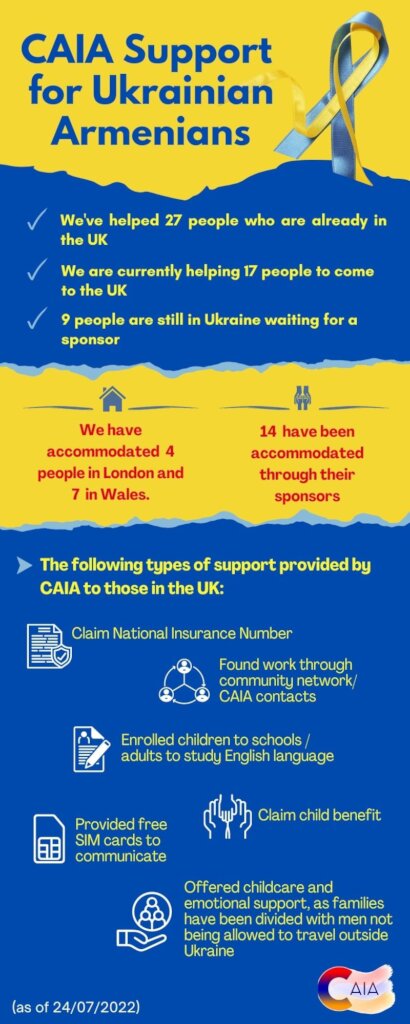 CAIA is the only organisation in London that combines high-quality, professional, quality-assured social welfare advice with capacity to respond to the specific needs of the Armenian community in the UK. On average, annually we help 500+ Armenians living in the UK but born in 25 different countries with various obstacles they experience to settle and integrate. Each person has their own story of flight, survival and rebuilding. We are very sensitive to this and always strive to treat each person/family with respect. Offer practical pathways to get their voice heard through advice and advocacy services to greater independence, empowerment and fulfilment in a very dangerous and uncertain society.
During 2022 a large part of our time and resources has been taken up by supporting Armenian refugees from Ukraine seeking sanctuary in the UK.
In August, we welcomed a family of a mother with her two daughters, who had travelled for 5 days across Europe by land to reach London after CAIA arranged their visa and registered them to stay in Wales.
Staff, members and volunteers made the family feel very welcome at CAIA's Hayashen Centre which also included providing free phone SIM cards to enable essential communications (see photo below).
They were kindly put up overnight at the London Visitors Hotel and our thanks goes to the generosity of proprietor Steve Mouradian (see photo outside the hotel).
The following day, CAIA's adviser Arthur M Cahill accompanied the newly arrived family to St Pancras International station for their onward journey back to Wales which was arranged with Wales: Nation of Sanctuary - Cymru: Cenedl Noddfa
While at St Pancras International station, Arthur met and introduced CAIA to the Manager of the "Welcome Hub" which opened in April 2022 with the aim of helping the arriving Ukrainian refugees.
We urgently need your help! We ask for donations to provide immigration advice and other practical services for Ukrainian-Armenians in the UK and those who will arrive. CAIA's funding is restricted to help only those in London so this is why we are making this appeal. Anything from £10 to £1,000 will make a difference.
Please donate now:
https://donate.kindlink.com/centre-for-armenian-information---advice/1775
Armenian refugee parents & children from Ukraine at Hayashen
For more information about CAIA please visit our website and like/share our social media
https://www.facebook.com/Hayashen
https://twitter.com/caia_hayashen
https://www.youtube.com/user/CAIAHayashen
https://www.instagram.com/CAIA_Hayashen/
https://www.linkedin.com/company/2706396