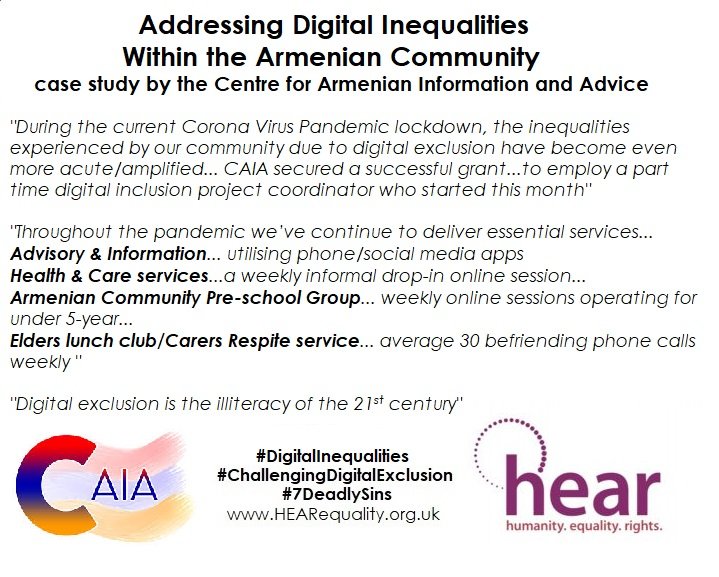 Empowering Disadvantaged Armenians
From 6 April 2019 to 5 April 2020, the Centre for Armenian Information and Advice ("CAIA") helped 476 predominately disadvantaged and vulnerable Armenians of all age groups who were born in 27 different countries, including the UK.
CAIA provides advice and practical support on many areas with the aim of addressing poverty and inequality people experience through social and cultural exclusion and language and digital barriers and helps people in their personal development and becoming more independent. CAIA's legal advice worker mainly engages on matters relating to housing and homelessness, immigration and nationality including refugees, migrants and asylum seekers, welfare benefits including age related and disability benefits, those on low income and income maximisation, consumer, debt and money advice etc.
An example of a housing and welfare benefits case involved a retired Armenian woman who arrived in England with her husband from a European Union ("EU") country. After the death of her husband, she began to experience financial difficulties, which not only forced her back to work but led to her homelessness when she was illegally evicted by her landlord from her privately rented accommodation. She was prevented from claiming welfare benefits as she was wrongly categorised as a "migrant worker" who could not have access to UK public funds and therefore unable to claim welfare benefits. CAIA's advice worker successfully secured a temporary accommodation as a homeless person provided by the local authority pending provision of permanent accommodation in due course, as well as successfully establishing an EU "worker" status thereby eligible to claim welfare benefits. Being a retired person, she was ultimately awarded Pension Credit as well as other welfare benefits. CAIA having helped her secure a living accommodation and all the welfare benefits she was entitled to her situation was stabilized and she was able to pursue her life in the UK.
An example of an immigration case involved a young woman who arrived in UK as the spouse of a person who had limited visa to stay in the UK. Whilst in the UK, she gave birth to two children, but when her husband's visa was about to expire, she faced risk of deportation as she did not have her own independent visa to continue to live in the UK. CAIA's advice worker successfully applied for "indefinite leave to remain" which meant she could live in the UK indefinitely with her children and in due course, normally after 12 months, she would be eligible to apply for British citizenship.
The Covid 19 pandemic lockdowns have also exposed the major digital inequalities the poorest experience in our community. Something that CAIA is now working to address too, via 1-2-1 sessions as part of its mission to Empower Disadvantaged Armenians
Follow CAIA's work via social media
https://www.facebook.com/Hayashen
https://twitter.com/caia_hayashen
https://www.youtube.com/user/CAIAHayashen
https://www.instagram.com/CAIA_Hayashen/
https://www.linkedin.com/company/2706396/admin/