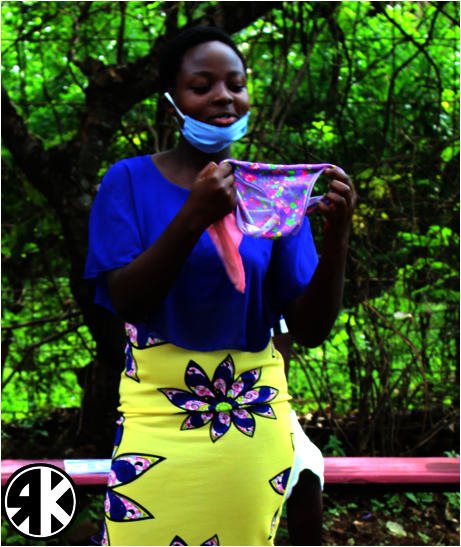 A Powerful Story of Girls Empowering Girls
Hildah is a high school student who attended one of our Menstrual Hygiene workshops with her younger sister. Towards the end of it, she volunteered to stand up and explain to the younger girls how to put on a reusable pad and she did that with so much confidence!
We were so impressed by her confidence, we asked her about her experience of speaking to a group of younger girls and older women. This is what she had to say:
"I was shy but I gathered some courage and stood up because I wanted my sister to learn and not miss out on these important issues. We don't have these talks or program in our school. I wish we did though, because me and girls in my school would have benefited so much.
I will always be ready to attend another workshop!"
Here is to girls empowering girls!!
International Women's Week
8th March is International Women's Day and this year we are #ChoosingToChallenge. Our girls project, Empower and Educate the Girls of Rural Kisumu makes sanitary kits and menstrual hygiene workshops accessible to young girls. This ensures:
we make education more accessible and empower girls to continue with their academic journey
we stand up against 'sex for pads' and bring down the number of teenage pregnancies in our community
we teach girls how to care for themselves
So far, this program has reached over 440 girls and 200 mums. This year, we are hoping to take that number to 1,000 girls and 550 mums. And this depends entirely on your support and continued generosity.
To celebrate International Women's Week, GlobalGiving is matching all donations of up to US$50 by 50% from 8th March to 12th March.
Continued COVID Relief Work
We continue to be in awe of the impact that has been created by your generosity over the past year. As we continue to support families that were impacted adversely by the economic downturn caused by the pandemic, we feel a deep sense of gratitude for the support YOU – our incredible community of donors – have given to us.
By the end of February, we have been able to support 881 families (4,172 beneficiaries) providing a total of nearly 75,000 meals. Prior to the re-opening of schools, we were able to support 607 students with education packs that helped them continue to learn at home. We were also able to support 140 teenage girls and their mothers through our menstrual hygiene workshops where we discussed important issues like: personal and menstrual hygiene, body image and sex education. Each girl also received a sanitary kit that will last them at least 12 months and enable them to continue to go to school.
The relief we have been able to provide over the past year has resulted in savings of over KES 1.5 million (US$ 15,000) for the 881 families that have helped them cover bills and other expenses like rent in these difficult times.