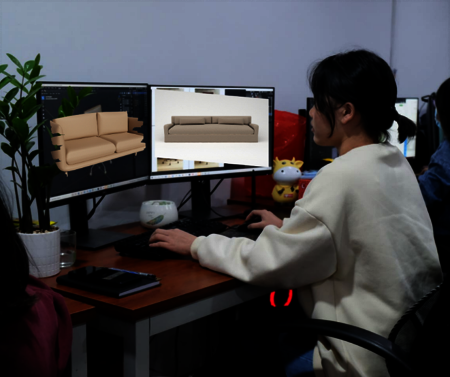 REACH has been focusing on gender quality in recruiting and training as we have been promoting our media message and offering tuition-free to female IT students. REACH also has organized Gender mainstreaming training to REACH trainers and staff. The Gender training was expected to improve trainers and staff's awareness and skills in integrating gender quality into training and class management.
Despite the stereotype that females are difficult to work in the technology fields, the growing number of IT female students is one of the positive results of REACH's efforts toward gender equality in vocational training. Di is one of our graduates who succeeded to overcome the difficulties of the Covid-19 pandemic to explore and build up herself in graphic design. She was born and raised in a mountainous village near the border of Dien Bien province, Vietnam where there is only farming and almost no source of income. Her family with her five siblings, parents and grandfather is a big family like other families in her hometown.
"My childhood was only associated with going to the fields in the morning, going to school in the afternoon, tending buffaloes on weekends, wandering around in the mountains without thinking about the future. When I was in secondary school, my classmates in the village all dropped out of school to help their parents work in the fields. At that time, I was the only one who went to school with a super big dream that I would try to study to become a kindergarten teacher in the future or to become a doctor to wear pure white clothes and treat the poor." – Di said
After graduating from high school, Di also prepared for a dream of becoming a doctor, but due to economic difficulties and no specific direction, she had to give up right from the first step.
One day, when Di was surfing on Facebook and saw a post shared by REACH. She accessed to REACH page and researched courses at REACH. "I was worried but I decided to choose 3D Modelling because I see that nowadays, information technology is very popular. I live in a mountainous area where it is difficult to access technology but I decided to endeavor because the more I don't know the more I need to try." – Di shared
"When I was announced that I was accepted, I was really happy but I was also worried if I would be able to study well this 3D course. I even faced many difficulties and I wanted to give up but I overcame those obstacles with the support from REACH, my main teacher, and my classmates". – Di continued
During her studying at REACH, she received life skills, interview skills, work readiness skills training, etc, and participated in events at REACH. "I was able to renew myself and REACH is like my second home". – Di said
With a market-driven curriculum and a clear career orientation from trainers, Di succeed to find a job at a company that specialized in furniture construction with an income of 5,670,000 VND (about 250 USD) per month. It is a positive figure for her.
"My job is quite brainy and it requires high attention to detail which asks me to try to learn more. It helps me to improve my observation and working skills. My colleagues are extremely friendly, everyone is sociable and non-discriminatory. It is a good environment for me to develop". – Di happily shared
"I am trying to learn more from my colleagues to gain more knowledge and I will study a higher level of graphics, I want to become a successful designer in the future" – Di added
Message from Di to her fellows "Learning is a very important thing to start your future journey if you still do not know what to study and what to do. Come to REACH!"
Links: