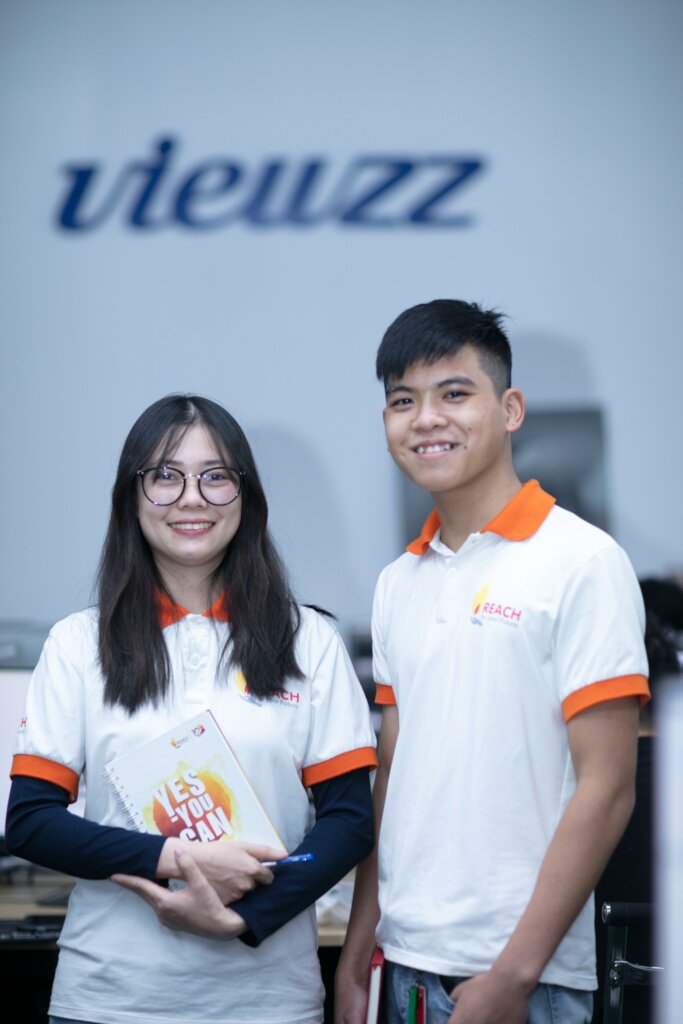 Despite the difficult situations of the pandemic, REACH has maintained vocational training and received positive results. In 2021, 1105 youth were enrolled (included 6-month, 3-month, and short courses) in 5 training locations: Hanoi, Hai Duong, Hue, Da Nang, and Ho Chi Minh City. 733 students completed their training; 248 students are on their training; 72% graduates were placed in employment despite the fact that 800,000 businesses closed and the Hospitality sector offered few jobs in the whole year. Of that 72%(who had jobs), 56% receiving an income that was higher than the minimum wage defined by the government; 78% had an income increase comparing to before participating in the program. REACH also conducted the quality of life survey on our graduates. The survey showed that 77.35% of surveyed people reported to have the quality of life improved after they completed the training.
Families of the students are indirect beneficiaries who will be financially supported by the students placed at jobs. The total number of family members who have benefited from the program are 6,678 people as our data on students' documents.
Encountering the fourth COVID-19 outbreak started in April 2021 which not only severely impacted the economy, human lives, and business but also interrupted classroom training and official workplaces, REACH has managed to maintain the current program in various forms. REACH opened and conducted 3-month courses Food and Beverages, Cooking, Hairdressing, Sales and Marketing and Graphic Design and 6-month courses which were 3D Modelling and Code Web for prospective labour demand as these sectors are forecast to have sky-high demand of labour in early 2022 when Vietnam may successfully control the pandemic. For people living with disabilities, REACH opened Hairdressing for Deaf, Massage Therapy and Customer Services for Blind in Step Up Project.
REACH also initiated courses of less than 01-month: Basic Marketing Online, Food Arts and Sales & Marketing and Photoshop Online. These courses are offered to REACH alumni who lost jobs during COVID and for disadvantaged youth to provide them additional skills to make some income and prepare for post-Covid-19 job requirements.
Besides the vocational training program, the sharp growth of REACH real estate visual social enterprise VIEWZZ and the effective integration of EM Hair Salon and Hair Dressing Class have been positive results in the pandemic circumstances. Established in 2018, VIEWZZ now not only sustained but also achieved 300% growth rate compared to the same period of last year. Da Nang office was opened with a dynamic 3D team contributing to the above-mentioned rate. REACH also has started an apprenticeship program at VIEWZZ for 3D Modelling classes in Hanoi and Da Nang.
Established in 2016, EM HAIR SALON has been a harmonious combination between business and training by organizing class and salon in the same building. The Hairdressing trainer is also the Salon Manager. The salon staffs are former students who has solid professional skills to be the main hairdressers. Current students support basic tasks such as cleaning, hair washing and support harder tasks such as colouring and modelling.
Links: