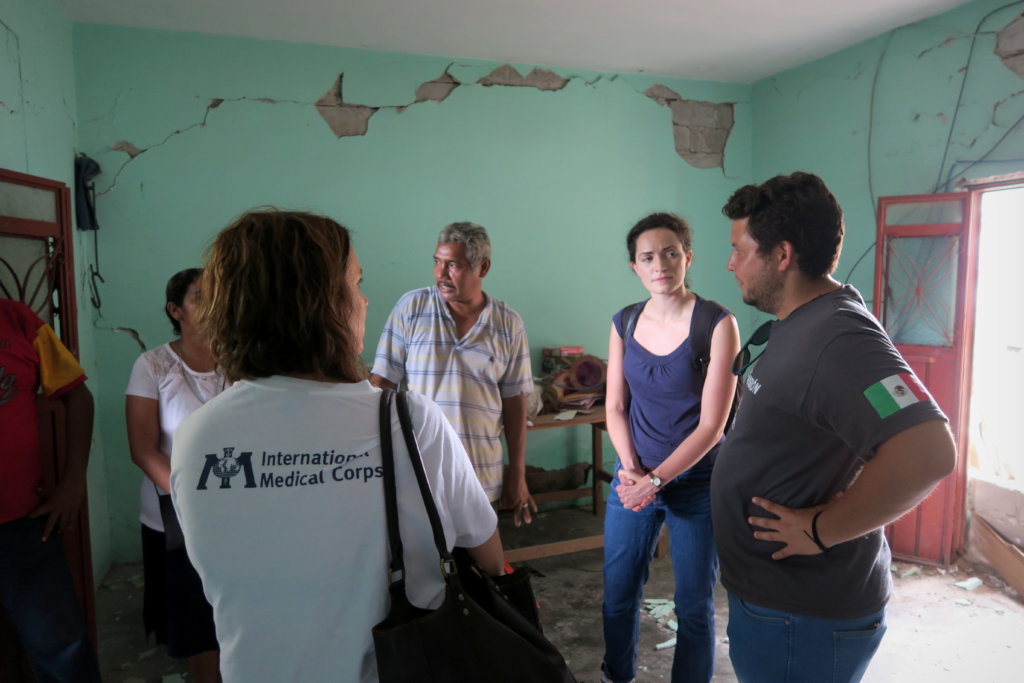 On September 7at 11:49pm, an 8.2 magnitude earthquake struck of the southern coast of Mexico, killing 98 people, damaging 41,000 homes, and affecting approximately 1.5 million individuals. It was the strongest earthquake recorded in the country in over a century, with the vast majority of the damage and loss of life occurring in the southwestern Oaxaca and Chiapas States— two of the poorest States in Mexico. Just 12 days later, a 7.1 magnitude earthquake struck central Mexico near the city of Puebla, causing the collapse of more than 40 buildings, leading to the death of 370 people and injuring over 6,000 more.
International Medical Corps deployed an emergency response team to Mexico to assess the survivors' most urgent needs. Because of the swift and assertive efforts of the Mexican Government to clear debris, pull people out from the building rubble, and treat the injured, we found the greatest need to be the mental health of survivors in Oaxaca.
Trauma from the event and the loss of loved ones, homes and livelihoods caused immeasurable grief in the aftermath of the earthquake and left individuals in Oaxaca, particularly children, vulnerable to depression and post-traumatic stress disorder. Making matters worse, thousands of aftershocks tormented southwestern Mexico for weeks after the initial devastation and continuously reignited fear in communities trying to recover. The aftershocks kept many awake at night with anxiety and pushed others to sleep outside in the streets, exacerbating an already challenging grieving process.
To support the communities in Oaxaca, where the aftershocks were most relentless, International Medical Corps is partnering with a local organization to deliver mental health and psychosocial support to families and communities of three Oaxacan municipalities affected by the earthquakes. Activities may include art therapy workshops to help children overcome stress and psychological trauma through art; youth-built community memorials to honor what was lost during the disaster; story-telling workshops involving groups of elders; youth-produced and directed short documentaries to record community history; and more.
As the mission of International Medical Corps is to provide the people we serve with the knowledge and skills they need to be their own First Responders in the future, more than one hundred men and women will receive training in psychological first aid. They will in turn spread awareness in their communities of basic steps that can be taken during an emergency to better manage the physiological impact of disaster.
In the coming weeks and months, International Medical Corps will continue to collaborate with the Mexican Government to explore other ways in which we can support the needs of communities in Oaxaca. We thank all of you in the GlobalGiving community for your continued support and look forward to reporting on our work in future updates.