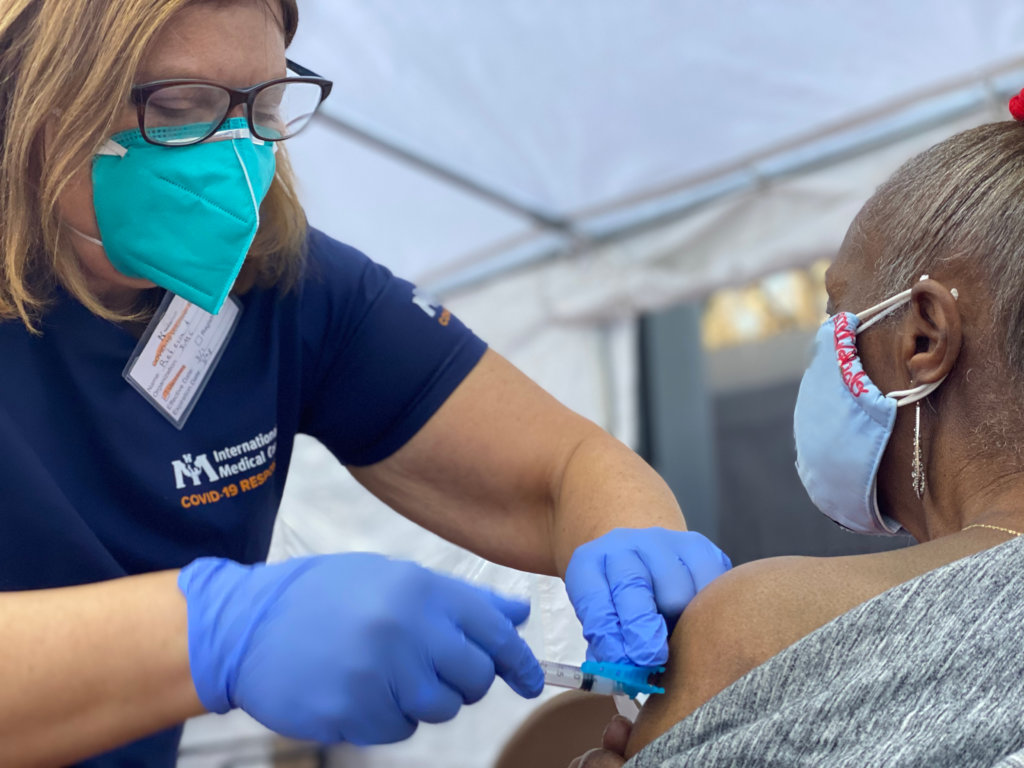 International Medical Corps has been responding to the global COVID-19 pandemic since February 2020. Now, in addition to providing personal protective equipment, training frontline health workers and treating COVID-19 patients, our teams are supporting government and local agencies to implement successful vaccination campaigns in the United States and around the world.
At Martin Luther King Jr. Community Hospital in South Los Angeles, exactly one year from deploying initially to combat COVID-19, we deployed additional medical field units and mobile units to support the community hospital's vaccination efforts. At Kedren Community Health Center, our volunteer medical teams have been providing an average of 1,000 vaccines per day.
According to Maureen, one of our volunteer vaccinators at Kedren Community Health Center and a recently retired emergency department nurse from UC Irvine Medical Center, "It's nice to be on the other side, to be on the preventive side of this awful pandemic. And I'm so grateful to be giving vaccines. It's so exciting, because people are happy. They're not complaining. They're excited to get this vaccine, because they know it's part of the recovery process. There's hope now."
Between March 1 and May 8, 2021, International Medical Corps has supported 130,829 vaccine doses at Martin Luther King Jr. Community Hospital and Kedren Community Health Center, including 91,580 vaccine doses administered by our team of volunteers.
Some 7,500 miles away, in Jordan, our teams are playing a central role in coordinating vaccination efforts for Syrian refugees residing in Azraq and Zaatari refugee camps. In partnership with the Jordanian Ministry of Health and the United Nations, our teams are identifying and registering refugees based on vulnerability, addressing vaccine hesitancy through awareness-raising activities, transporting patients to vaccine sites, conducting post-vaccine observation, ensuring refugees receive the second dose and providing any health support needed. As of April 26, our teams have supported the administration of more than 5,200 vaccine doses in Azraq and Zaatari refugee camps.
While the vaccine rollout is just beginning in many countries, thanks to the support of the GlobalGiving community and other donors, International Medical Corps' teams are prepared to support COVID-19 vaccination efforts around the world.