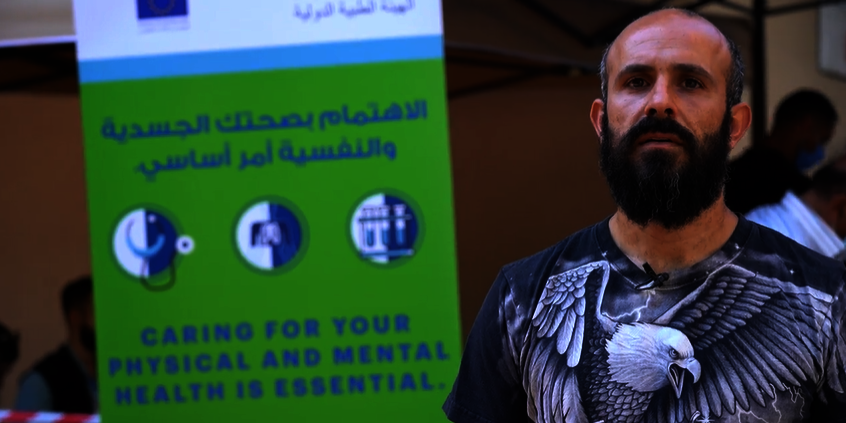 It has been nearly a year since large amounts of ammonium nitrate stored in the port city of Beirut exploded on August 4, 2020. According to Sarkis, who was driving to his house when the explosion occurred, "It was horrific, nothing I have ever seen in my life before. We only see such devastation in the movies – however, we just experienced it in Lebanon."
After the blast, which displaced more than 300,000 people, injured 6,500 and left at least 220 people dead, International Medical Corps immediately launched an emergency response to meet the needs of those affected, reaching more than 54,300 men, women and children in the first two weeks.
The explosion greatly impacted Beirut's health infrastructure, destroying three major hospitals, and damaging numerous primary healthcare centers (PHCCs), dispensaries, private clinics, pharmacies and standalone laboratories. Altogether, the blast resulted in the loss of 500 hospital beds and impacted approximately 36% of health facilities. The need for care rapidly increased with the injuries, displacement and COVID-19 pandemic, overwhelming healthcare facilities. For example, COVID-19 cases rose from 5,000 prior to the explosion to more than 115,000 within three months.
In response, International Medical Corps' team in Lebanon has provided more than 525,000 health consultations and distributed more than 4.6 million pieces of personal protective equipment and infection prevention and control supplies, such as masks, gloves, bandages and sanitizer. We also rehabilitated three PHCCs: Karaguezian PHCC, Voix de la Femme and Al Zahraa PHCC. These health facilities are now fully functional and offering much-needed healthcare services to members of the most vulnerable communities in Lebanon.
Additionally, the blast significantly affected the livelihoods of many people with disabilities; many lost their jobs and reliable access to healthcare as a result of the explosion. Our team provided more than 16,000 assistive devices such as hearing aids, visual aids, eyeglasses, mobility devices and more. We have also provided over 7,000 rehabilitation services in the form of physiotherapy, occupational therapy, and speech therapy to help those disabled.
Thanks to the support of the GlobalGiving community and other donors, we have been able to reach more than 276,000 people affected by the Beirut blast. Our team continues to serve vulnerable communities in Beirut and across Lebanon.