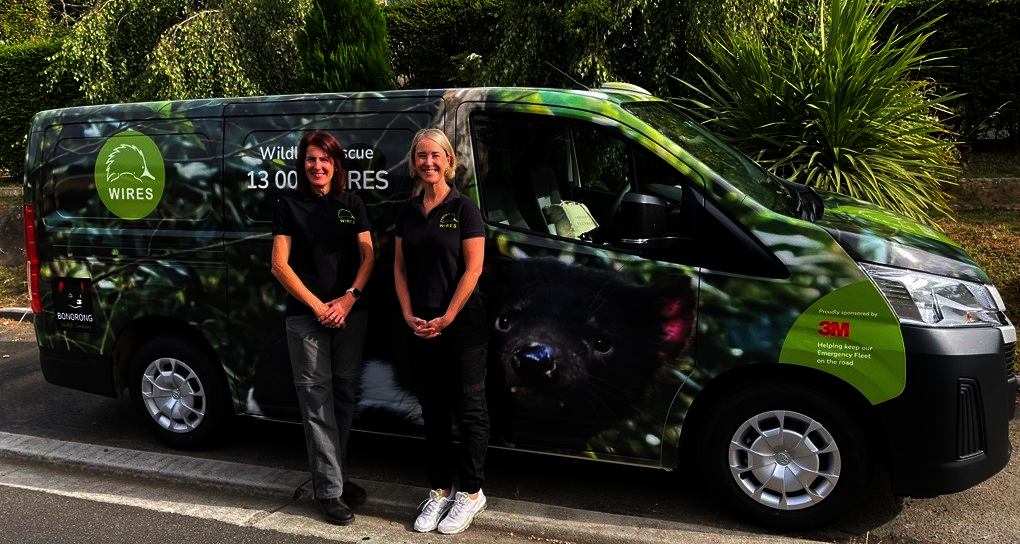 Your dedicated support is helping us build the capacity of wildlife rescue and rehabilitation across Australia to safeguard our most vulnerable native species and populations.
One particular area requiring urgent support has been on the island of Tasmania, where thousands of native animals need urgent rescue and rehabilitation assistance every year.
To help provide more highly trained wildlife rehabilitators across the state, your support has assisted WIRES to work closely with Bonorong Wildlife Sanctuary, and The Department of Natural Resources and Environment Tasmania to launch new comprehensive training programs for wildlife rehabilitators, and we are assisting with the daily coordination and placement of rescued native animals needing care.
The step before expert rehabilitation and care, of course, is to make sure distressed native animals are rescued quickly and receive the best possible triage for the strongest chance of survival.
To that end, in October 2020 WIRES established our Tasmanian-based Emergency Response Team (ERT). These highly skilled, full time Emergency Responders are trained in the rescue and care of all Tasmanian species,including the most venomous and are equipped with an all-terrain Wildlife Ambulance so they can travel long distances to transport sick, injured, and orphaned wildlife to vets,and onto rehabilitation and care.
Each Wildlife Ambulance is fully equipped with rescue and medical equipment including incubators, oxygen concentrator units, heat pads, medical supplies and specialist formulas for orphaned infants needing acute care.
Our Emergency Response Team in Tasmania has already responded to more than 1000 'critical' Tasmanian rescues since its launch, with numbers rising significantly each year. In the first 5 months of 2023 our ERT across North and South Tasmania had already responded to 488 native animals requiring urgent assistance, with many being classified as endangered or critically endangered.
An example of just one of the endangered native animals requiring urgent assistance is the Tasmanian Devil joey below.
Found late at night in Northern Tasmania, his mother likely killed by a car, he was rescued by our Emergency Responder Megan and provided vital fluids and critical care in our Wildlife Ambulance.
Megan then transported the revived joey to a local wildlife carer where he's now learning all the skills he'll need for an eventual life in the wild.As a healthy young male, his isvital to the genetic viability of his now endangered species.
Expanding our Emergency Response Teams Across Australia.
Thanks to your support, WIRES now has seven fully equipped Wildlife Ambulances, and our Emergency Response Teams are expanding across NSW, Tasmania and Southern Queensland.
These teams are supported by more than 100 fully trained volunteers, who are also extensively trained and ready to be deployed during emergency events.In addition to very specific species training our Emergency Response Teams complete training in bushfire and flood safety, emergency response,incident managementandfirst aid.
All members have specialised skills and can be deployed across a range of incidents, from a routine, small-scale operation, right through to a large-scale incident involving a widespread impact, such as flooding and bushfires.
They are able to respond to events within their own regional areas as well as in surrounding areas, with their key operational activities including search and rescue, recovery of wildlife, basic animal first aid and the transportation of wildlife to vets, triage centres and carers.
With more than 1,000 native species in Australia threatened with extinction, our Emergency Response Teams are not just vital in times of disaster, but every single day and night of the year. We are extremely grateful for your role in making sure they are fully equipped, to support the long term survival of Australia's wildlife.