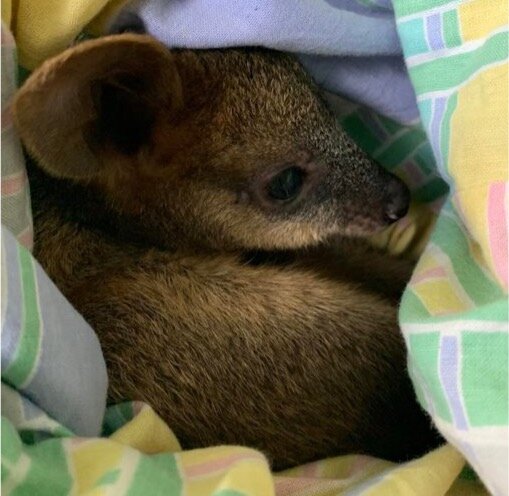 Dear Friend,
Throughout late February and the month of March, many parts of the east coast of Australia were in the grips of catastrophic floods. These floods have been unprecedented in their scale, and the repercussions on communities, the environment and our wildlife have been devastating. These instances are what our Emergency Preparedness project is for, and why your support is so vital.
There have been many instances where wildlife has been rescued. Like this swamp wallaby pulled from water by a member of the public, Owen is now in care with another orphaned joey. With time he will hopefully be released back into his natural habitat. Others were sadly not so lucky.
These kinds of catastrophic weather events are what we try our best to be prepared for, with these events only becoming more frequent in the coming years.
WIRES Emergency Flood Response
During the floods
WIRES rapidly made contact with volunteers and rescue groups across the impacted areas to see how they were and find out what assistance may be needed for impacted wildlife.
Our rescue teams conducted search and rescue operations across flood affected districts where water had receded, and areas were safe to access. Our Emergency Response Van was active in search and rescue activities, attending critical rescues, providing vital advice, and supporting our thousands of volunteers as they care for sick, injured, and displaced wildlife.
Exhausted seabirds, drenched possums, orphaned wallaby's and kangaroo joeys, were just a few rescued by our Emergency Response Van and volunteers. We ordered and coordinated the delivery of support food for wildlife that were isolated or surrounded by water.
In some areas our very experienced volunteers assisted in vet clinics to triage native animals as vets were cut off from their clinics.
We worked with local emergency support partners to ensure that volunteers and impacted wildlife got access to essential provisions as quickly as possible.
This is the work we do, day in, day out, for Australia's vulnerable wildlife.
Post-Flood recovery
As the floods recede and access becomes possible, our teams have continued to reach into flood affected areas to rescue native animals in desperate need.
Vital supplies, including equipment, medical kits, foods and supplements are now hitting the ground, and our fully equipped emergency rescue vans are conducting search and rescue missions across flood impacted areas.
WIRES Rescue Office continues to operate 24/7 and our dedicated staff are managing floods calls from the community, vets and volunteers. WIRES have received 4,932 calls to our Emergency Rescue line since 1st March. We believe this is only a fraction of the real impact on wildlife as mobile reception in flood areas is still limited.
We have two full-time Emergency Responders attending urgent rescues, collecting fruit from the supermarket Woolworths for wildlife in need, and dropping off supplies to volunteers.
In addition to our network of volunteer carers, WIRES has been distributing urgent items to external wildlife rescue organisations and groups, thanks to the Woolworths WIRES Food for Wildlife Program.
We're also continuing to work with our partner Animal Rescue Cooperative (ARC), which mobilised quickly after floods hit. WIRES and ARC are providing wildlife food, cleaning products, rescue and care equipment, medical supplies and clean water to those in need.
Research Grant
On a brighter note, WIRES has announced it will fund a $1.5 million wildlife research grants program to be launched early 2022. This program will be run in-conjunction with the Royal Zoological Society of New South Wales (RSZ NSW).
The objective of the WIRES RSZ Wildlife Research Grants program is to address the significant knowledge gaps surrounding Australian native species including biology, ecology, and conservation. Recent major ecological tragedies including drought, fires, and floods as well as an ever-growing threatened species list have clearly highlighted the vulnerability of native animals and the need to find effective strategies to mitigate major threats.
Focus of research will cover habitat and species recovery post emergencies, emergency risk reduction and preparedness, and species conservation.
Looking Foward
It's apparent that after the disastrous Black Summer fires, drought and now floods, Australian wildlife needs our help more than ever, and will continue doing so.
We are sincerely grateful to the members of the public who've taken the time to call WIRES when they've encountered sick, injured and orphaned native animals - and for those who are helping in so many other ways.
Everybody who has contributed to this project is playing an important role in the preservation and ongoing health and welfare of Australia's very unique and special native animals. Thank you again for your support.
Links: