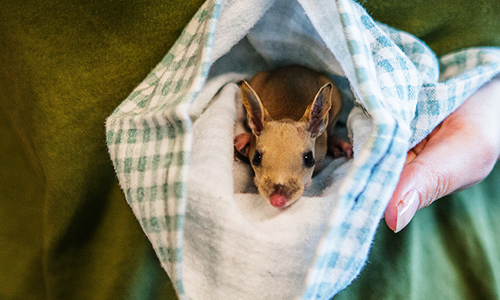 When I reflect on the past twelve months it's hard to believe what the world has endured - it has truly been a year like no other. Extreme weather events, bushfires and COVID-19 have provided the backdrop to major challenges for humanity and the environment across the globe.
For Australia the devastating impact of ongoing drought and bushfires has left an indelible scar on our country and tragically our wildlife populations.
However along with these challenges I have never witnessed such a groundswell of interest, care and support for our native animals. People just like you have united in the cause to halt the decline of threatened species, fight habitat destruction and value the role wildlife plays in our national identity. This unprecedented support clearly demonstrates people across Australia and around the world understand our native animals need saving – now.
I hope this is just the beginning of a new chapter for Australia – one where our wildlife is valued by all levels of our community including those who are in the position of power.
Thank you so much for being a part of this movement and standing up for Australian wildlife.
It's unimaginable that an estimated three billion native animals have been killed or displaced by the Summer bushfires, and millions of hectares of land burnt. Unprecedented disasters of this scale require unprecedented collaboration to help wildlife recover which is why we have partnered with leading environmental groups, conservation organisations and universities, to implement programs designed to deliver the best long-term impact for wildlife.
With the support of generous donors like you, together we have funded:
64 projects to support the national recovery of wildlife and wildlife habitat.

the planting of over 92,000 plants for habitat revegetation

installation of 1554 nest boxes

long term species recovery and habitat programs, expanding threatened species care and breeding programs

national veterinary vaccination grants to increase veterinary capacity to treat flying-foxes

the building and distribu

tion of $1 million worth of arboreal water stations for native wildlife

the construction and expansion of wildlife hospital extensions and medical fit out costs

bushfire recovery projects to protect

over 17 threatened and endangered species including

the endangered Northern Bettong and Kangaroo Island Dunnart from extinction

a full-time emergency rescuer out of Currumbin Wildlife Hospital to support the local rehabilitation network, ensuring animals needing urgent rescue attention can be assisted faster

free training for wildlife rescue groups across the country so that they can implement best practice response and care for wildlife
And that's just the start, a lot of recovery work is well underway, and though progress has been significantly impacted by COVID-19, we adapted quickly and continue to provide rescue support 24/7, 365 days a year.
We are focused on increasing our capacity to rescue and care for more wildlife on an ongoing basis and improving emergency preparedness to better respond to major wildlife emergencies like the Black Summer Bushfires. Another priority focus is recovery, as without healthy, sustainable habitat and wild species populations, the animals we rescue and rehabilitate have nowhere safe to be released. Simply put, without the wild, there is no future for wildlife.
The lead up to Christmas is always our busiest time of year for rescues, with carers looking after many sick, injured and often orphaned animals. With your ongoing support it is our privilege to keep working to ensure native animals can be returned to the wild now and in the future.
We have done a lot this year and there is a lot more planned for 2021. Thank you for all that you have done to assist wildlife. We are deeply grateful for your support and wish you and your loved ones a safe and happy holiday season.
Warm regards,
Leanne Taylor
WIRES CEO
P.S. Without you, none of this is possible. If you are able to give a gift to support the ongoing rescue, rehabilitation and recovery of wildlife, please donate today. Our bushfire projects are just one part of our work, but we have many ongoing projects that need funding. In October alone we received over 21,000 calls for help. Thank you.