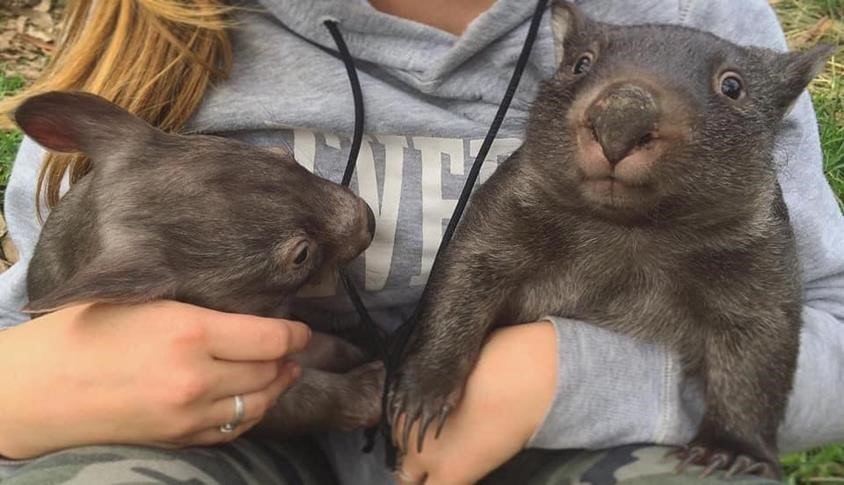 You are a very valued member of the WIRES community and we are thinking of you at this difficult time and hope you, your family and loved ones are keeping safe and well.
As always WIRES continues to prioritise the rescue and care of wildlife in distress. During the long and catastrophic bushfire season, we were immersed in the crisis and in the provision of immediate rescue and care for the many animals suffering burns and habitat loss.
Nellie and Declan - Orphaned Wombat Joeys
Even as the bushfires raged and our volunteers began search and rescue activities there were already many animals in our care and possibly none more endearing than Nellie and Declan, two orphaned wombat joeys.
Nellie and Declan were in care with WIRES volunteers before the fires hit the area. When the fire began threatening local communities they had to be evacuated as the fires approached their carers homes.
Nellie spent one very long night snuggled in her pouch on the beach, along with her carer and hundreds of frightened local residents, as the fire approached.

Both Nellie and Declan came through unscathed and we are pleased to report they are still doing well and growing up fast.
Learn more about wombats.
Bushfire Relief and Recovery Update
Thanks to you we have spent recent months getting much-needed emergency funds out to, not only our own 3,000 WIRES volunteers, but also to a further 6,247 wildlife carers. WIRES has provided funding for 240 projects through our Emergency Relief Grants to rescue groups and licensed carers across Australia. Being in a position to be able to help wildlife and volunteer carers in all Australian states and territories has been a huge privilege.
As you can see in the graph below these grants have funded food, water, vital rescue and care equipment, medical costs and also enabled the vital rebuilding of enclosures lost in the fires. This response has allowed many dedicated rescue groups to focus on animal rescue and care at a time when it was most needed.
In addition to continuing to rescue wildlife, WIRES is now also working with a wide range of groups to ensure the best possible longer-term outcomes for our wildlife. You have made it possible for us to collaborate and provide funding for partners like; the Animal Rescue Collective (ARC) who are providing a constant supply of food and goods to wildlife carers, with Landcare Australia who have expertise in habitat and land recovery and with veterinary clinical teams to provide the best treatment advice to wildlife volunteers for the wildlife in their care.
These projects would not have been possible without your support and will ensure Australia's native species are given the best chance to thrive in a post-bushfire world. We look forward to sharing more details about these initiatives with you.
Thank you for your ongoing support and for being a valued member of the WIRES community.
If you have not found us already we would love you to register to receive our monthly enews for more inspiring wildlife stories.
Yours sincerely,
Dianne Browning
WIRES Digital Communications Manager