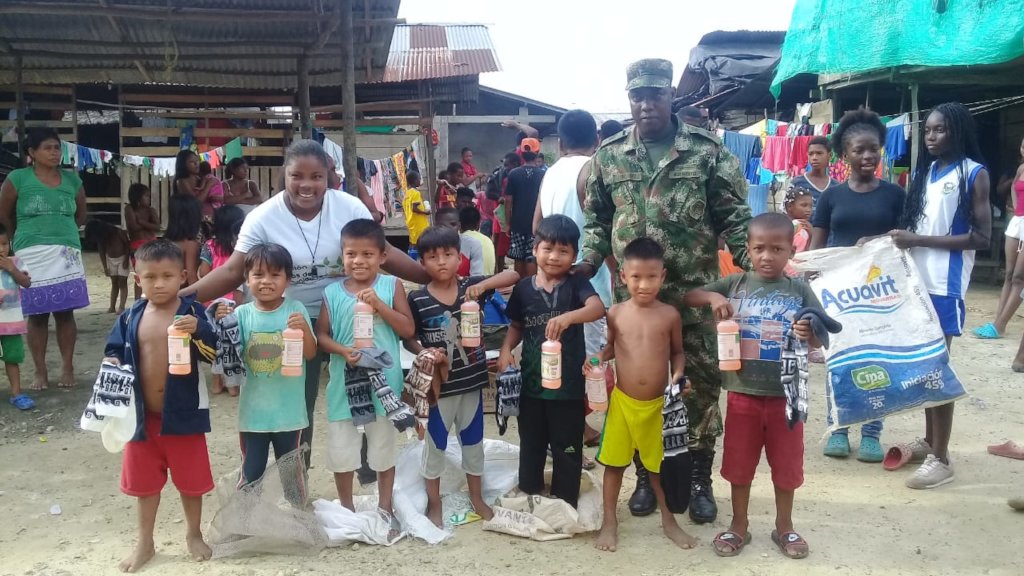 On October 5, 2018 the San Agustin River flowed out of its banks and into the homes of families living in Sipi, Choco, Colombia. The quickly rising river poured into homes and businesses. Crops were destroyed by the massive force of the flood waters. Eventually the rains subsided, and the water receded. But for many families it was too late. Over 250 families lost all their belongings, with many also losing their homes.
But with the amazing support of you, our generous donors, we are bringing medical care, basic needs packages and most importantly HOPE to the families impacted by this tragedy. Working through the National unity for disaster risk management (UNGRD), The Colombian Family Welfare Institute ICBF (regional Chocó) and The Comprehensive Professional Association for the Development of Chocó (ASOPRIDECHO), together we have contributed to the initial humanitarian aid necessary for these families to cope with the impacts of the flooding. To date, 190 people have been assisted through these efforts, the vast majority of indigenous population. They received general medicine, food assistance, clothing and psychosocial support.
The inhabitants in and around the municipality of Sipi have not yet recovered from so devastating a flood, and your generosity means that we are able to continue to support the recovery in the area. Because the area is remote, and their still exists some level of conflict, Conviventia has joined with the National Army to develop a one-week mission toward the month of June which will increase the scope of the efforts. The rainy season continues, and flooding continues to affect several precincts around Sipi. For this mission trip, Conviventia will mobilize teams of health practitioners and humanitarian assistance personnel, who will provide primary medical and dental care, and channel aid to the victims in the area of Sipi and Choco. The team will deliver non-perishable food, water, personal care and hygiene products, medicines and more to those impacted by the flooding. We will also provide psycho-social support to those in need.
We cannot thank you enough for making all this possible. We will send you updates in a few months when the June outreach trip occurs. On behalf of the many families in Sipi and the Choco region, thank you for your generous hearts.