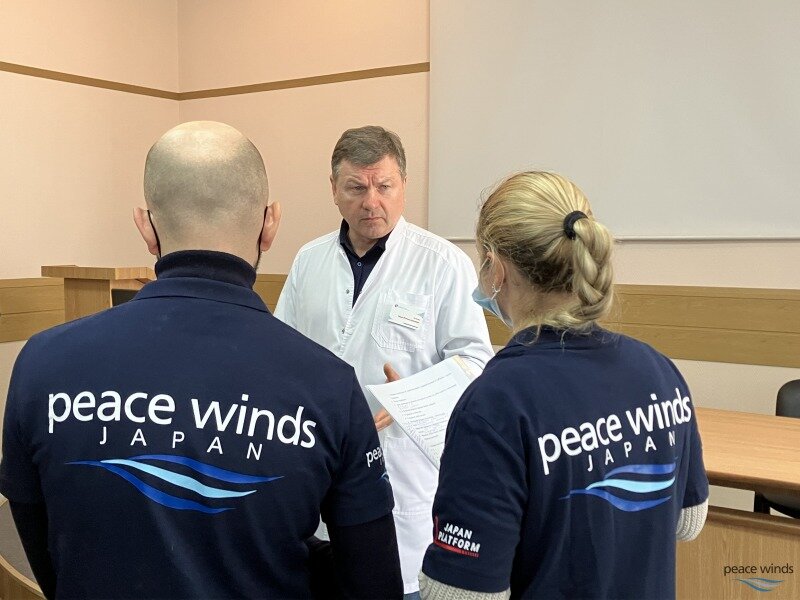 Peace Winds Japan (PWJ) continues its humanitarian aid activities in the war-affected areas of Ukraine and its support for Ukrainian refugees in Moldova.
Among those activities, in an effort to support the continuation of medical services in war-torn regions of Ukraine, PWJ is working with local partner organization 100% Life to provide medical supplies to facilities in northern and eastern Ukraine that have been severely impacted by the military invasion.
Since the start of the invasion, seven oblasts—Kharkiv, Kyiv, Sumy, Chernihiv, Zapoizhzhia, Donetsk, and Luhansk—have experienced severe shortages of basic medical supplies, making it difficult to provide continuous medical care.
PWJ, along with 100% Life, is looking to correct that shortage, delivering medicines to local medical institutions in these affected areas.
For this project, PWJ coordinated with Ukraine's Ministry of Health and the national pharmaceutical procurement agency to earmark the hospitals and other medical institutions most in need of support. After surveying the needs of each one, PWJ delivered medicines such as anesthetics, antibiotics, medications to prevent nausea and hypertension, as well as those to reduce hemorrhaging, among others. Since May 2022, more than 20 medical facilities have received such medical supplies.
With the assistance of local organizations such as 100% Life, PWJ is determined to continue our support activities in the region so that as many patients as possible can receive medical treatment during the prolonged conflict in Ukraine.
This is one of several projects that PWJ is carrying out in Ukraine and Moldova as part of its humanitarian aid activities there. None of them would be possible without your help and we are very grateful for your continued support.
Additionally, children from Ukraine are among those from war-torn regions worldwide who have contributed artworks for the 2023 charity calendar, which PWJ has been producing in collaboration with World Children's Arts Festival since 2022. The theme of the 2023 calendar is "Your Dream." It was chosen to let people know the dreams and thoughts of children in the midst of war and conflict, and also to protect the environment in which they can freely dream and fulfill their dreams. The World Children's Art Festival 2023 Charity Calendar is now on sale at the following URL:
https://pwshop.ocnk.net/product/2531