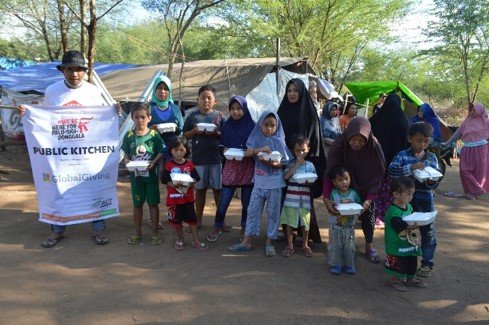 Dear Our Generous GlobalGiving Donors,

Aksi Cepat Tanggap Foundation Indonesia kindly inform to all of the GlobalGiving donors across the world that Aksi Cepat Tanggap Foundation has been completed to distribute the relief for the earthquake and tsunami's victims in Palu - Central Sulawesi.

Aksi Cepat Tanggap Foundation ground team has been working hard to deliver the aid. Here are some details from the ground team:
1. Public Kitchen: The ground team cooked meals for 6000 porsion for 30days.
2. Food Package: The ground team distributed 584 food aid, the package contains: rice, cooking oil, sugar, tea, canned sardinnes small and big.
3. Medical Services: The volunteer doctor had been diagnosed and helped 200 patient.
4. Personal Hygiene: The ground team distributed 175package, the package contains: soap, tooth paste, tooth brush, towel, shampoo, sanitary napkin, baby diaper, washing soap.
5. Water Tank: The ground team distribute water distribution for 15 days .
ACT Foundation kindly thank to all of the generous donors across the world, Your help is really benefit to the community and to the state of Central Sulawesi and the country Indonesia. Please keep donate generously through the Global Giving USA.
Warm regards from the ground,
Mohamad Amrullah