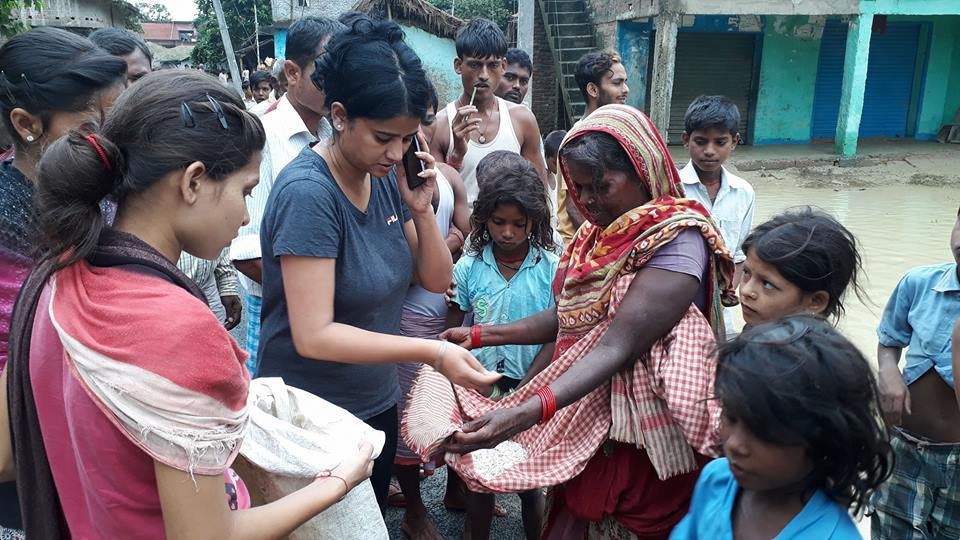 Singbahini village in Bihar has suffered unprecedented loss of life and property in the recent floods. Hundreds died and thousands were stranded with no food and water. Sickness prevailed all round creating epidemic situation. Also, as most of us are aware, the immediate impacts of flooding included loss of human life, damage to property, destruction of crops, loss of livestock, and deterioration of health conditions owing to waterborne diseases. Singhbahini was on a zoom phase towards development as link roads and bridges were recently made by local administration (panchayat), but this disaster caused damage to life and property which was unprecedented, as thousands became homeless, newly made roads caved in and along with physical damages, dreams and hopes were swept away too.Floods had traumatised these victims and their families for longer periods of time. The loss of loved ones has deep impacts, especially on children. Displacement from one's home, loss of property and disruption to business and social affairs has caused continuing stress.
As the relief phase is in full swing, and people were coming back to their homes, there was an urgent need to support the recovery of the flood-affected population from the impact of the recent floods.
AROH Foundation, in aid with local panchayat of Singhbahini has so far supported around hundreds of flood affected people with initial relief support of dry ration, emergency shelter along with water, physical support and intense psychological counselling. Millions of affected people have now returned to their native places only to find their homes destroyed and disruption of essential facilities such as hand pumps, toilets, roads, dreams, memories etc. but hopes are not shattered as they begin to rebuild their homes and communities on their path to recovery.
The damage caused by the flood is immense in many areas and people are in dire need of support. With the recent floods, livelihood opportunities have decreased up to a very large extent. A lot of work needs to go in to bring the life of people back on track. We are determined to provide all possible support for the rehabilitation of the affected area and people and help them survive through immense stress. We have joined hands with selfless local panchayat to recover and develop with a pace which Singhbahini has dreamt of.
We thank our generous donors who have supported the cause. We cannot change the whole world, but with a mere thought of change, we can change one life, and that's the beginning of changing of whole world. Thank you for walking through the path that has a long way to go.