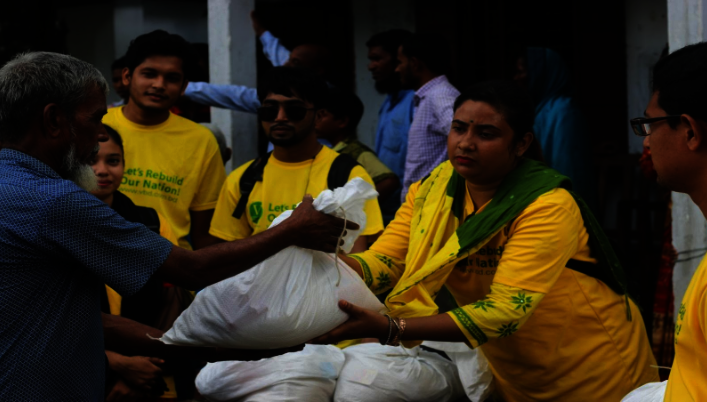 Bangladesh is among one of the most densely populated countries in the world as well as one of the most susceptible countries to flood disasters. Bangladesh has one of the world's most powerful rivers running through it, Branhmaputra. In addition, approximately half of the land area in Bangladesh is at an elevation of less than 8 meters above sea level. This in conjunction with Bangladesh's heavy monsoon rains and snowmelt from the Himalayas that enter the river at its source, creates terrible flood affecting approximately 7 million people.
In July, Bangladesh faced massive floods in many districts such as Rangpur, Gaibandha, Mankiganj, Tangil, Bogura, Sylhet and several other districts. The flooding has resulted in many other issues such as inundated crop fields, breached dams, snapped road and rail links, river erosion as well as the evacuation and closure of education institutions. This includes our JAGGO school in Lokkhipur that has recently closed down due to the consequences of river erosion in that area. In addition, thousands of people have been displaced across Bangladesh due to the downpower and flooding.
JAAGO and Volunteer for Bangladesh (VBD), a platform for the youth of Bangladesh, have come together to provide emergency relief support in the form of food, medicine, clean water, clothes etc. in order to help families get back on their feet so they are able to be self-sufficient faster.
The people of Tahirpur Upazila and Gongachora live in the inaccessible part of rural Sunamganj and Rangpur, respectively. With the majority of its residents living under the poverty line they were unable to afford the daily necessities, especially when affected by the flood. With the generous support from our GlobalGiving donors and the support provided by Habib Bank, our volunteers were able to provide 800 total families with relief kits in both Sunamganj and Rangpur. Clean water was an essential part of our relief kits as it allowed for us to help an outbreak of several waterborne diseases, such as cholera, as floodwaters plays a role in overflowing sanitation systems and can contaminate water sources.
We would like to sincerely thank you all for the donations to this project, it was through your generous donations that we were able to make an impact and provide relief to to so many individuals during such a crucial time. Our volunteers have come together to work towards a safer and stronger Bangladesh and we would like to express our deepest appreciation to all our donors for supporting this special cause.