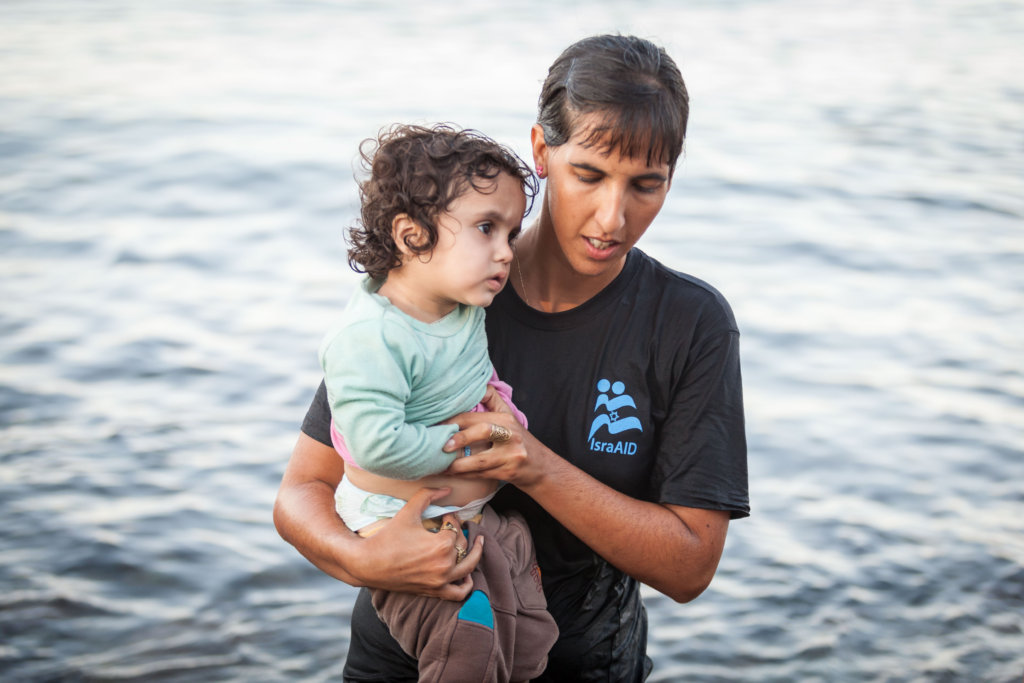 It's been 7 months since the April 25th earthquake in Nepal, and the need for long term recovery programs is even more urgent due to the blockade in the India Nepal border. While we continue to provide emergency support for the Nepali people, IsraAID is also providing medical and psycho social support for thousands of Syrian refugees in Greece and Croatia.
For more details about this program please follow this link:
https://www.globalgiving.org/projects/emergency-relief-for-refugees-arriving-in-europe/
Below is a summary of our activities in Nepal:
Search and Rescue (SAR): A 15 member team was in Nepal for 9 days retrieving bodies, and even against all odds rescuing a survivor after 5 days stuck under the rubble. Her incredible story can be found at
http://www.timesofisrael.com/israeli-aid-team-reunited-with-nepalese-woman-rescued-fromrubble/.
The team focused on the worst hit areas of Gongabu in Kathmandu (where hundreds of people were buried alive), and Sindhupalchok district. The team collaborated closely with the Nepalese army and armed police force, as well as with international teams from Mexico, Korea, Poland, France and Norway.Following a request from the Nepalese government, all SAR teams left the country by the end of the following week.
Health: IsraAID Medical Emergency Relief (MER) team headed by epidemiologist expert Prof. Mick Elkan, was dispatched to Nepal within days after the earthquake to respond to the emerging needs, and assist the Nepalese government and international actors in the short- and long-term recovery plans. The medical team has worked in five main locations: Kathmandu (Bir Hospital), Sidhupalchowk (Dhap VDC), Gorkha (Uhiya VDC), Nuwakot (Khani Gaun) and Lalitpur (Karyabikayak Municipality) assisting with patient treatment and providing on-going support to clinics and hospitals, hand-inhand with the Nepalese medical staff. By the end of the project the team has examined and treated over 4000 patients. In the months of September and October 2015, we held two medical camps in one of the worst affected district (sindhopalchok) which included a woman gynecologist and treated more than 500 patients and provided free medicine. The medical team also provided a check-up visit to a mentally challenged women center.
Shelter IsraAID launched its "A Roof for All" program in 3 earthquake affected districts to provide safe and sturdy transitional shelter for thousands of displaced families who have lost their homes. As a partner of the Shelter Cluster in Nepal, IsraAID's technical teams are working alongside government agencies, and other INGOs to provide transitional housing solutions that are low cost and suitable for the conditions in Nepal. IsraAID's "A Roof for All" program provided 420 houses to families in 3 districts, and on the process of building 300 more in a fourth district. In Lalitpur Districts we have built a "town shelter" community compound in which beside housing, we also provided clean drinking water, safe toilets, kitchen garden, solar electricity and study centre for children of the community.
Psycho - Social Support (PSS) In Nepal IsraAID is a key technical partner in the effort to build and implement a national PSS response strategy, and resulting PSS activities. The program so far has targeted social workers, mental health clinicians, and outreach staff (of local and international NGOs) from the most affected districts, and has provided training on Psychological First Aid (PFA), resilience building, diversifying coping mechanism, gender-based violence, grief care, and self-care. The ultimate purpose of these activities is to prevent long-term trauma related disorders, build resilience and social connection for communities heavily affected by the 2015 earthquake, and to encourage the reintegration of child and adult survivors and the processing of grief for those who have lost family or friends. The team is working with more partners to provide technical support and supervision in the area of Mental Health and Psycho-Social Support. The project will provide technical assistance to the local NGOs and other institutions in the areas of PSS and PFA (Psycho-social First Aid), art therapy, drama therapy, music therapy, and group counseling.
Livelihood IsraAID have initiated the "HoneyAID" project, a women empowerment by beekeeping. In this program, groups of women from villages affected by the earthquake will get beekeeping training and support, 3 beehives with local bee, environmental friendly methods and a support centre that will be the packaging and marketing centre and will provide more beehives. The women will form a agro enterprise cooperative that is owned by them and will invest some of the profit back in the community (as in auxiliary training, scholarships for girls). Till date, we have trained the first 2 groups of a total of 69 women. In addition, we renovated and established "HoneyAID farm" which will support the project as it scale up.
Thanks for all your support and happy thanks giving!!
Links: