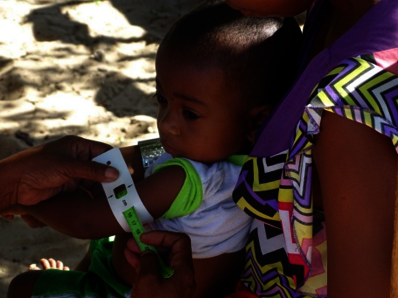 The food security situation in southern Madagascar has sadly deteriorated with the Integrated Food Security Phase Classification (IPC) projecting 22% of the population in the Anosy region (213,595 people) will be in a food crisis (IPC 3) between April and July 2023. In response, we continue to implement a community-centred food distribution programme.
Working with 18 local health centres, and 95 communities across five rural communes in the Fort Dauphin District of southeast Madagascar, SEED continues working to improve the immediate health and long-term resilience of malnourished children and their families.
In February SEED began its sixth (VI) round of emergency food distribution in the northern regions of Fort Dauphin, currently supporting 386 children and their families. Over the course of round V, completed in December, SEED supported an further 467 children with modern acute malnutrition (MAM) and the families of 32 children with severe acute malnutrition (SAM), distributing 28,020 sachets of ready-to-use supplementary food (RUSF),alongside parcels of unprepared food for households. In April, we completed round IV in the southern region of Fort Dauphin, supporting 382 children and their families with MAM and 13 children with SAM. The project distributed 22,920 sachets of RUTF, again, alongside parcels of unprepared food for households.
The project continues to strengthen health systems in the communities through training and working with 190 community health workers,facilitating technical clinical training to 28 health centre midwives, and improving health centre WASH infrastructure.
Thanks to our amazing supporters we celebrate the recent success of SEED's '24-in-24' campaign, raising £24,000 in 24 days, enabling the programme to continue. Thanks to these funds, SEED is now ready to implement round V, the final round of food distribution in the south sites, continuing to support malnourished children and their communities.