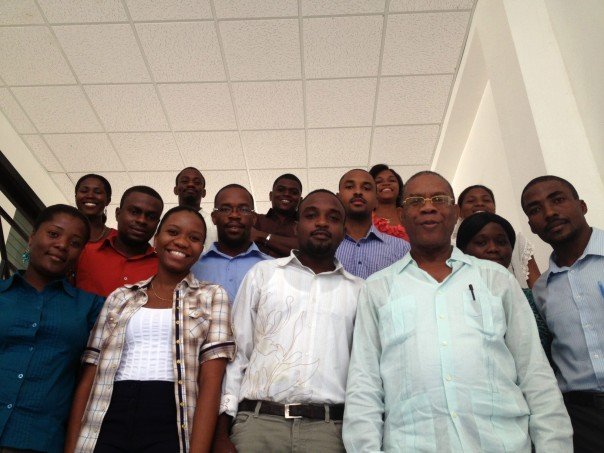 Four years have past since the tragic 7.0 magnitutde earthquake that struck Haiti in January 2010. This disaster took the lives of over 200,000 and affected around three million others. Today I am going to tell you about just one of the amazing projects that have been accomplished thanks to amazing GlobalGivers like you!
Partners in Health strives to bring modern medicine to those less privileged and often most in need of the care. In this particular project they are responding to the medical needs of the 2010 earthquake and subsequent disasters that have struck Haiti. Their most recent report details the journey of the 14 doctors in residence in Haiti's first ever specialized teaching hospital!
After the 2010 earthquake Partners in Health set out on the huge task to construct a teaching hospital in Mirebalais, Haiti. University Hospital of Mirebalais (HUM) opened in 2012 and welcomed its first class of medical residents in October 2013. In order to qualify for membership in this program the all Haitian doctors had to go through an intensive merit-based application process. 238 people applied and took an entrance exam. Of those, 45 were interviewed, and 14 men and women were selected for the program.
In their several year residence the doctors will participate in hands-on training in pediatrics, general surgery, and internal medicine. They will also rotate departments such as emergency medicine, TB/HIV clinic, and oncology, as well as conduct research to improve the quality of care. The program will also train the doctors in social medicine with regard to the root causes of disease, such as poverty.
This is only the first class of doctors to train outside of Port-au-Prince, the traditional medical training facility. Every fall University Hospital will take a new class of doctors eager to expand the basis of care in Haiti. There are only 25 physicians per 100,000 Haitians. The United States has more than tenfold that number: 280 doctors for every 100,000 Americans. This is why the progress at University Hospital is so important. And it is due to GlobalGivers like you that this progress is possible!
Dr Pierre Paul, PIH senior advisor at HUM, has this to say about the future of the hospital and Haitian medicine: "University Hospital and its new residency program stand as formidable evidence of the efforts that young Haitian health professionals are making to restore, in a sustainable way, hope and dignity in the future of health in Haiti."
GlobalGiving and Partners in Health cannot thank you enough for your awesome donations to this project! It is because of you that not only hundreds of lives will be saved, but also the future sustainability of healthcare in Haiti is bright and hopeful!