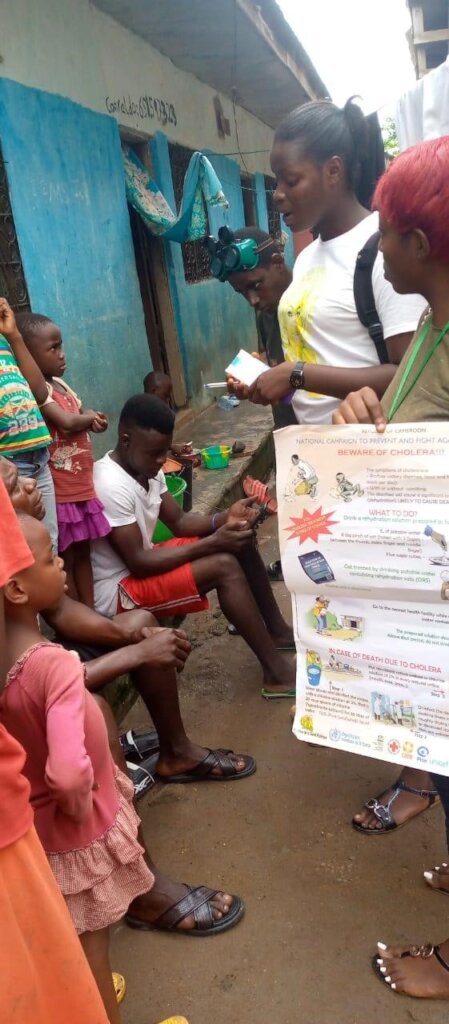 BACKGROUND
With regards to the recent cholera outbreak from 2021 till date, the first cholera case in the South-West region was first reported on the 27th of October 2021 in Ekondo-Titi health district precisely in the Bamusso health area (Cholera Sitrep #1, WHO); and has ever since spread to other health districts in the South-West region. These health districts are Limbe, Buea, Tiko, and Kumba in which as at date, 428 new cases have been reported in 9 days and 6 dead (Cholera Sitrep # 20, WHO)). In all, Vibrio cholerae variants have been identified in 1,967 people. The case definition of Cholera in the SW is "anyone presenting with diarrhea with/without vomiting in Ekondo Titi, Bakassi, Mbonge, Limbe, Buea, Kumba N&S and Muyuka HD from the 5th October 2021 (Cholera Sitrep #1, WHO).
Under the coordination of a rapid outbreak response by the Ministry of Public Health (MoH), there was a rapid mobilization of human resources, materials and medications by the MoH, international NGOs and few local organizations to execute a response. Responses to the recent outbreak have been centered around coordination, case management, Oral Cholera Vaccine, WASH and surveillance. Although community engagement was targeted by first-responders, over the course of the outbreak attention has now been diverted away from community engagement. With the recent escalation of the number of cholera cases in Limbe, Tiko and Buea; the recent media coverage has further diverted mobilized outbreak response resources from community engagement to facility-based management.
A worth noting pointer is the seeming eradication of the outbreak in the hard-to-access maritime health district; in which the first cases were confirmed in 2021 and from where the outbreak spread. In over 83 days, no new cases have been reported from Ekondo Titi HD (Bamusso) and in 34 days, no new cases have been reported from Bakassi HD. Particularly for Ekondo-titi, no cases were reported since 29th of December 2021. The nature of the response implemented by first responders in Ekondo-titi focused on community engagement alongside, case management, and WASH. Strategies implemented in communities were the disinfection of contaminated areas (of household, fishing boats, toilets), door-to-door community sensitization and distribution of 2 weeks' worth of aqua tabs. In the month of February 2022, Ekondo-titi health district was part of a mass cholera vaccination campaign alongside Buea. Lime and Tiko. The nature of the response in Ekondo-Titi which focused on community engagement had significant differences from those implemented in Limbe, Buea and Tiko and can account for the attainment of the seeming eradication of the outbreak in that health district.
A focus on case management without providing the vulnerable population with both the right information and an assured supply of clean water for at least two weeks will eventually lead to a slow unnoticed community spread and eventually a cholera emergency across multiple health districts as is the case currently. This proves that community engagement is essential in stopping the spread of this outbreak and with proper coordination and the availability of resources directed to community engagement, this cholera outbreak can be ended in 6 weeks.
Main Objective
To reduce the incidence and prevalence of cholera in the Buea, Limbe, Tiko, Muyuka, and Kumba health districts by at least 65% by the 1st May 2022 compared to baseline as at 29th March 2022.
Specific objectives
To build the capacity of 212 community health volunteers from Buea, Limbe, Tiko, and Kumba health districts to carry out community sensitization on cholera reaching a minimum of 600 000 inhabitants.
To increase the consumption of safe drinking water in the Buea, Limbe, Muyuka, Tiko and Kumba health districts through the distribution of a minimum of 1,200,000 aqua tabs to 26,664 households.
RESULTS
1.1 Training of Volunteers
The campaign activities were finally realized in only 3 health districts namely; Limbe, Kumba and Buea health Districts. The activities of the campaign commenced with the training of 21 trainers by consultants from the RDPH and WHO on the approved communication dialogues for Cholera sensitisation (TOT Activity report) in the South West region and the reception of communication materials for field work These trainers in turn trained 120 volunteers in Limbe (48 volunteers), Kumba (60 volunteers) and Buea (12 volunteers)
1.2 Cholera Sensitisation per health DistrictThe 120 campaign volunteers engaged 25,077 people (5566 Limbe HD, 17769 Kumba HD and 1742 Buea HD) in community sensitisation from 16 churches (Kumba HD), 5 markets (2 Limbe, 2 Kumba and 1 Buea), 1 primary school (Buea HD) and 2910 households ( 1069 Limbe HD, 1440 Kumba HD and 401 Buea HD) adopting the agreed communication dialogue from the trainers and provided posters.
1.3 Distribution of Aqua tabs
Under the supervision of 3 District Health Coordinators, 120 volunteers engaged in field sensitisation and distribution of aqua tabs for an average number of 5 days in all three health districts. A total of 2910 households were reached with 15,991 people sensitized at home who were provided with 192,850 aqua tabs.NB: Buea reached 401 households with sensitisation only. There was no distribution of aqua tabs in Buea HD. This explains why the total number of households reached is 2910.
1.4 Donation of Doxycycline to RDPHReach Out donated 3,000 Tablets of Doxycycline to the Regional Delegate of Public Health in the South west region during a partners' meeting on Thursday 21st of Apri 2022l at the delegation. The support was accepted and the Delegate appreciated the donation.
Challenges and Lessons Learnt
The registration of volunteers for the campaign was slow causing a delay in the execution of planned activities. Some willing volunteers had no android phones for registration on google forms and others were unwilling to register on the portal. In the future a more convenient mechanism of registration should be provided for both people with and without android phones.
The number of volunteers trained for this campaign was 52% lower than the original target. Students were either occupied with end of semester activities such as defense (RAPHA) and exams (SRN, FHS). Others were for first term vacations or were already engaged in another response pillar led by other partners (MAFLEKUMEN). In future, planners should consider the calendar of activities for each institution and the activities of other partners.
People in Buea were not receptive to sensitisation because they claimed they had already taken the Cholera vaccine or were too busy to be sensitized.
Conclusion
In April 2022 Reachout NGO trained 120 volunteers who were engaged in field sensitisation and distribution of aqua tabs in Buea, Limbe and Kumba health districts. A total of 2,910 households were reached with 15,991 people sensitized at home who were provided with 192,850 aqua tabs.